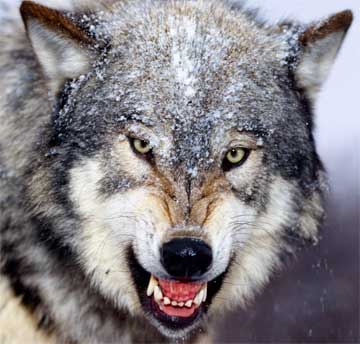 This is part two of a series providing the essential marketing strategies you MUST drive during this economic downturn.
Like a hungry wolf circling the weakest lamb, the recession will cull the weakest competitors in any industry. When you get to the other side, will you be gasping for life or positioned to be the leader of the pack for the long-term? That is the idea behind imperative number two: DEFEND YOUR MARKETSHARE.
First, a caveat. If you're burning the furniture to heat the office, you're excluded from this conversation. I understand that desperate times call for desperate measures. But as I look out for you, gentle reader, I want to assure that you have the best marketing wind (hot air?) filling your sail and puffing you toward a profitable future. And in that case, we need to talk about your budget.
At this point in the economic downturn, the pressure is really on. Accounting wants you to cut across the board. Manufacturing is pressuring you to do anything to increase short-term sales and reduce inventories. As a marketing professional, you are sworn to look-out for the long-term interests of the company. So before you take a hatchet to the budget, please lodge a management appeal for sanity, armed with your quiver of marketing fundamentals.
Here's the first fundamental. Cutting your budget without a view of your competitor's marketing activity is foolish. If competitors are INCREASING their ad spend while you cut, you will certainly lose customers, and maybe lose big. Remember, we're trying to be the wolf, not the lamb by the end of this recession.
Second, what do you know about the economic health of your competitors? Do you need to simply OUTLAST them? I recently met with a metals industry executive who had returned from a customer visit. The customer told him that that his major competitor was on the ropes. Although my friend had lost 60% of his business in 12 months, he decided to INCREASE his spend on sales and marketing activities rather than let his competitor come up for air. Now that is the wolf thing to do.
Third, don't cut your budget by an equal proportion across the board. Not all products and not all customers are equally profitable. Cut from the bottom and keep spending where you can maintain or even grow share.
Fourth, adjust your budget to focus on short-term activities aimed at driving marketshare. Here are some ideas:
Focus on selling more to existing customers. Acquiring new customers is time-consuming and expensive.
Pause marketing campaigns aimed at "feel good" values like green and sustainability and focus on projects that deliver short-term value to your customers. I'm not here to help you be PC. I'm here to help you stay employed!
Consider spending ad dollars on couponing and specials. Coupon use is up more than 40% in 12 months.
Re-negotiate your advertising contracts. It's a buyer's market. Plow those savings into customer retention.
Use small incremental spends to improve web sales and eCommerce. If you already have a website, optimizing is almost always the cheapest way to acquire new customers.
Finally, I want to address social media as a part of a recession marketing plan. It's free, and that is a good thing. It's getting more buzz than Britney Spears on the town with Paris Hilton. So I know it's calling you, calling you … like the mythological siren's irresistible song, luring mariners to their destruction on the rocky islands.
Keep an open mind in this area. Keep experimenting and learning. But be cautious where you spend your precious time and resources. The potential of the social media platforms is undeniably vast and we are starting to see some interesting lead-generating applications. But no company in the throes of a meltdown is going to Twitter its way to profitability unless they are, well, Twitter. Prepare to be flogged and shown the door if you hand your boss a recession marketing plan built around Facebook.
OK, you're prepared now. Go forth, prey on your weak competitors, and don't give an inch of marketshare!