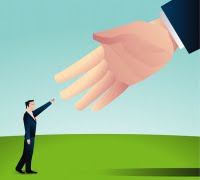 This is part three of a series providing the essential marketing strategies you MUST drive during this economic downturn.
Allow me to start with a story. It's short and you'll love it!More than 50 years ago, Alcoa helped a struggling start-up who had a big idea – make pie pans and other shallow containers from formed aluminum. The company had some early financial setbacks but Alcoa saw the potential of the new company and helped them with R&D and favorable credit terms to ease them through their early growing pains.
The company's founder was so grateful, he promised he would always give Alcoa 100 percent of his business. On his deathbed, he whispered to his son, "Stick with Alcoa. They brought us to the dance."
In a time of struggle and turmoil, Alcoa took this customer under its wing and literally earned loyalty beyond the grave! This is a great story to illustrate my final imperative in this recession marketing series: EMBRACE YOUR CUSTOMER.
Your customers are probably struggling during this recession. So acknowledge that. Reach out to them. Help them. Treat them like human beings who are suffering.
This is the time to show customers what you're made of. You tell them you care – now show it. You want to find mutually-beneficial solutions – work even harder for those win-win business offerings. Really listen and understand what you can do – together – to make it to the other side of the downturn. This is an opportunity to build rock-solid, long-term relationships and deep customer loyalty.
In the teeth of this recession, one car company actually INCREASED sales. Hyundai. How did they do it? They told their customers that if they bought a new car and then lost their jobs, they could walk away from their payments. Now THAT is a bold, meaningful statement. They have embraced their customers and demonstrated compassion when it was needed most. Only time will tell, but this corporate compassion will probably pay off for years.
What bold and compassionate move can you make to build long-lasting customer loyalty in their time of need?