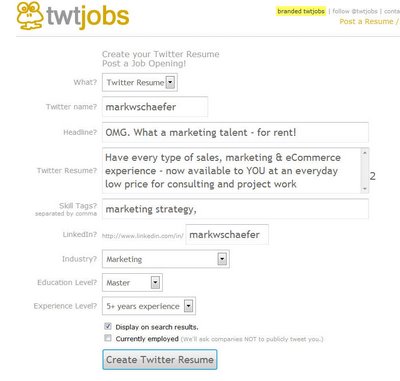 Twitter mania has become hysterical. And I do mean FUNNY! : )
Today I learned of a new site called Twtjobs where job seekers can create a "Twitter Resume." For the uninitiated, Twitter is a micro-blog limited to 140 characters. My friends, how do you post a meaningful resume in 140 characters? To demonstrate, gentle reader, I became your guinea pig. I'm not looking for a job, but I am always looking for new opportunities, so above is your first glimpse of a Twitter resume. Perhaps your last, too.
More comic relief — In the drop down field for "experience," the upper limit is five years! I guess they think nobody over 30 is looking for a job, or perhaps their target demographic under 30 is the only group thinking a 140-character resume is a good idea.
So after I posted, what happened? Nothing. I don't know where it went. I don't know who read it, or if anybody read it. Are there elf-like recruiters out their looking through these 140-character resumes?
By the way, if you Google Twtjobs, Google will try to correct you by asking, "did you mean titjobs?" (gasp) I guess this is an accurate comment … Both sites are looking for boobs. : )