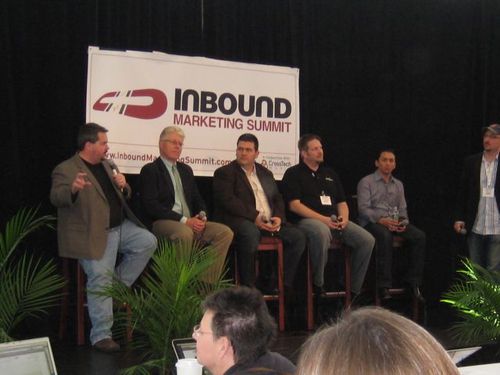 A few months ago, one of my Twitter followers sent me a link to a blog post by Alexa Clark claiming there is a bias against women on the social media speaking circuit.   My friend was outraged that most panels were made up of men and she further hinted that I was part of the white male problem.
I resisted this notion violently and responded impolitely.  I abhor bigotry in any form.  But since this shot across my bow, I've paid attention to the notices and invitations I receive for social media events and discovered something astounding.  She's right.  Guest speakers and panelists on the social media circuit are 90% white males between the ages of 35-45.
This is not statistically-scientific proof, but represents a tally of the same invitations you probably receive, too. As I dug a little deeper, I've since discovered that this phenomenon has also been noted by Fast Company magazine, and other publications/blog posts.
The problem becomes even more mystifying by looking at the line-up for Blog World, which takes place this week in Las Vegas. The representative guest speakers from the entire blogosphere are wonderfully balanced and diverse at this event.  So it's not a problem with women being inactive.  By comparison, there were just three women out of the 30 keynote speakers at the last social media-focused SXSW Interactive Conferences.
In my previous article on social media success factors, I hinted that there might be another predictor of social media success other than personality, writing ability, confidence, and hard work.  There is. Gender.
And now that we've opened this topic, let's push it a step further.  Where are the minorities?
I want to be extremely careful here so don't skip over this sentence when you're composing your nasty-gram to me:  I am not claiming that anybody is overtly, consciously, systematically biased.  In fact, my bias is that people in general are NOT biased. I'm also not suggesting that the very talented men who lead these conferences don't deserve to be there.
But what conclusion SHOULD we draw? Conference organizers want to attract the best talent they can find regardless of gender or race. If they do, they will be economically-rewarded with high attendance. So either I'm wrong —  and there IS bias regardless of the economic consequences — or 90 percent of the most talented and available social media speakers are men.  Right?
Neither seems to be a reasonable conclusion.
So what IS going on here?  Why don't social media "expert" panels reflect the demographics of the general population?
This is Part three of a series on "Self and Social Media."
Illustration: This photo appeared last week in Valeria Maltoni's excellent blog "Conversation Agent." She was also a presenter at this Inbound Marketing conference.