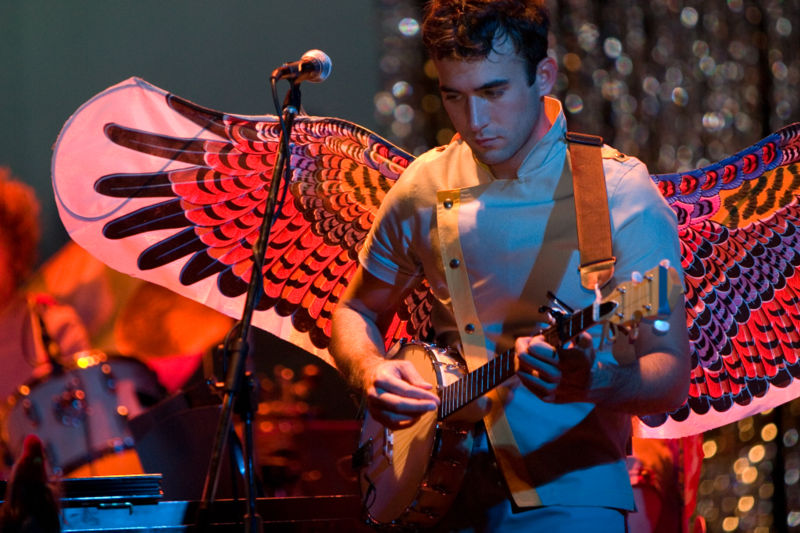 When was the last time you experienced a moment that made you pause and consider your approach to life?
I had one of those rare experiences last night when I attended a concert by the eclectic Sufjan Stevens. I am admittedly a huge fan of this incredibly talented performer but was unprepared for the onslaught that occurred in the intimate confines of an old vaudeville theater.
Stevens is best know for his quirky, banjo-infused tunes and an angelic voice that lifts up songs about the darkest and funniest sides of human nature.  His music is usually categorized as folk or folk-rock but last night the acoustic instruments were put aside for a computer and synthesizers as every corner of the room was filled with pulsing space-rock bleeps, pops and crackles.
Like most fans, I was looking forward to hearing his old acoustic songs but the concert instead blazed through epic new anthems. At first it was dis-orienting, maybe even a little disappointing, but slowly his musical vision was peeled back song by song and I was moved by his courage and artistry.
He told a story of experimenting with electronic sounds so deeply he felt he couldn't get out.  He described the kinship he felt with an Alabama primitive artist who struggled to create through bouts of insanity. It was a centuries-old artistic struggle to create something entirely new out of uncomfortable places.  I didn't like every song. Some seemed monotonous and repetitive. But others soared in epic beauty. What music could I compare this to?  There is none.  And that is the achievement.
His music reminded me of a Jackson Pollock painting. Drips and drops filling every space, lush colors spilling over a canvas. Sometimes difficult to understand, but undeniably unique.
The other signature element of Sufjan's music is his deeply personal, spirtual and courageous lyrics.
After two hours of bombastic music filled with two drummers, a horn section, three keyboard players and every electronic gizmo in the music industry, he stood alone on the stage, playing a guitar, singing his hauntingly beautiful "John Wayne Gacy Jr." — yes a song about a serial murderer who raped and tortured young boys.  But the song is not about this criminal horror. It is about himself. The last lines of the song had some in the audience in tears:
"In my best behavior, I am really just like him. Look beneath the floorboards for the secrets I have hid."
And with a look of humility and exhaustion that punctuated the song, he looked into the audience, waved, and exited.
Sufjan Stevens leaves nothing on the stage.  He pushes his craft to the edge of every comfort zone … and beyond.
What would it feel like to live like that?  To WRITE like that?  Is that even possible?  What's next? I am unsettled.
If you would like to hear the John Wayne Gacy song, click below: