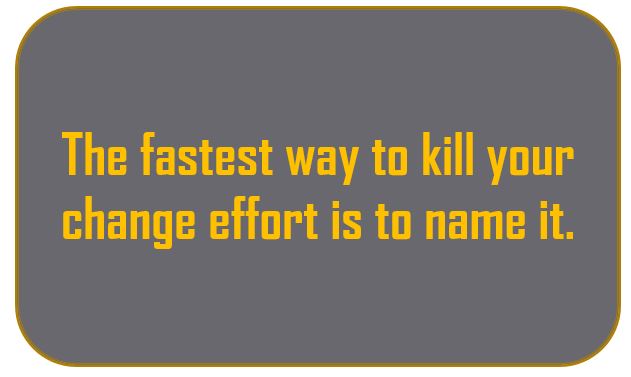 I was thumbing through a recent Seth Godin post on the importance of projects and his advice on tackling them and it served as a good prompt to remind you that not everything is a project. In fact, there are very good reasons to RESIST the idea of identifying something as a "project."
"Projects" are fine when you are identifiying a finite team activity. But making long-term change an identified "project" is probably a momentum-killer.
By and large, people don't want to change. They SAY they want to change. They SAY they will help the company move forward. But humans normally crave stability and they commonly resist change even if they tell you otherwise.
The word "project" is a red flag that something is about to change and that sends shivers down the spines of many people you need to climb onboard. Here is the best way to short-circuit your corporate change effort: Give it a name.
When you name a company initiative (and bring out the posters, etc.), this is a signal to many people that whatever you are working on is the flavor of the month and all they have to do is ignore it, wait it out, and watch it crumble.
If you are trying to adjust a long-term behavior like an approach to customer service, implementation of a content strategy, or beginning a social media plan, just do it, don't name it. If you implemented a new phone system or email platform, you wouldn't name it because it is just part of business now. Approach cultural change the same way.
True cultural change is difficult enough without making it harder on yourself. Beware "the project!"