Sometimes I get concerned when my friends get caught in the social media bubble and start to lose touch with the language of real business.
In this short video, I give some advice that might help you make progress with your internal and external customers: Sometimes what we're selling is not necessarily what they're buying!
If you can't view the video above, you can see it on YouTube: The language of business.
Transcription of the video:
Hey everybody. Remember me? It's been a while since I've made a video and I have something on my mind and instead of writing a blog post, I thought I would just talk it out. So, welcome to Casa Schaefer and my video today.
The subject I want to talk about is the language of business and I want to start out with a little story.
I teach graduate classes at Rutgers University, and people in these classes are mid-level to senior marketing managers at companies in the New York area, in the New Jersey area. And they come, typically, from big companies like Verizon, and Prudential, some of the pharma companies in the area. So, these people are really knowledgeable and experienced.
And in a class of 30 people, I'll say, "How many have heard of content marketing?" Maybe, at the most, 10 will raise their hand. Then I'll say, "How many people have heard of inbound marketing?" And, at the most, two out of 30 students, will raise their hand.
Now, this might be shocking to you, but I see this all the time. These are words that we use consistently in our social media bubble, among our Facebook friend and our LinkedIn friends, but they're not widely used terms.
And the reason this came to my mind is I had separate discussions recently with a couple of marketing friends who are trying to build traction for their business around "storytelling." And I think storytelling, in some ways, is in the same category with most business professionals as content marketing or inbound marketing. It might be something that we're confident with, we're familiar with, but most business might not be thinking that way. I mean, they want to make money. They want to attract new customers.
I'm not saying that you can't do that with content or inbound or with storytelling. But it may not be the language that they use. So, what I proposed, what I suggested to my friends who are trying to build business in this area, is listen to the language that the customers use. And even if you suspect that what they really need is storytelling, sometimes when you work with a customer, first you have to give them what they want. Then after they trust you, maybe you can give them what they need.
So, a little lesson today about the language of business. Often, what customers are buying are not what we're selling. Listen to them. Listen to the words they use and incorporate that into your business and into your proposals. Thanks!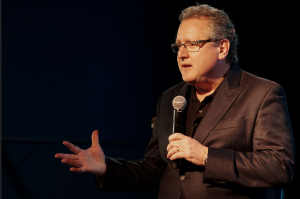 Mark Schaefer is the chief blogger for this site, executive director of Schaefer Marketing Solutions, and the author of several best-selling digital marketing books. He is an acclaimed keynote speaker, college educator, and business consultant.  The Marketing Companion podcast is among the top business podcasts in the world.  Contact Mark to have him speak to your company event or conference soon.