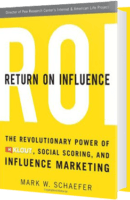 Buy at:

Return On Influence: Winner of the American Library Association's business book of the year award. We are on the cusp of a marketing revolution.  And it's being led by you! This is the path-finding book that led the influence marketing revolution! Hundreds of companies are slicing, dicing, and dissecting the billions of bits of information published on social media sites such as Twitter and Facebook each day and grading your ability to create buzz.
The most powerful of these new "Citizen Influencers" are rewarded by the world's biggest brands with trips, merchandise, and luxury cars. Today, anyone can get behind the velvet rope … if you know how! Mark Schaefer's break-through international best-selling book is an essential guide to the latest trends in social networking.
Return On Influence shows you how to measure, adapt, and grow your influence online using groundbreaking new technologies and field-tested marketing tools. This is a step-by-step guide that shows you how to take advantage of social scoring systems to measure online influence, harness it, and leverage it for your business.
This book has received rave reviews by the CBS Morning News, The Wall Street Journal, Fox News,and many other leading media channels. Whether you're the CEO of a large corporation, run your own small business, or are seeking your own place of power on the social web, Return On Influence is the essential field guide for the new influence marketing. Official book website: Return On Influence