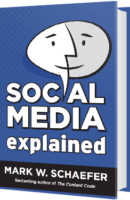 Buy at:

The best-selling social media book of 2014! — This is the essential guide to succeeding in the complex world of social media — Social Media Explained: Untangling the World's Most Misunderstood Business Trend Too busy to spend hours trying to learn the fundamentals of social media marketing? This is the book for you! Here are the key deliverables of Social Media Explained:
An enlightening examination of the five foundational principles of social media. If you understand these ideas, you can handle anything they throw at you.
The five biggest social media questions facing every single company. You're the leader. You need the answers. Here they are.
At the end of each chapter there is a list of the key questions you need to be asking to effectively guide a strategy.
The final section is a pithy overview of the main social media platforms. Just enough so you can hold a conversation if you need to.
This is the must-have guide for understanding the sociological and psychological drivers that make social media marketing work. Here are the people who can benefit most from this book:
Are you leading a marketing, advertising, or PR agency and you're frustrated because your clients "don't get it?" Buy this book for them and then they'll have a more realistic expectation of what you can deliver and why.
If you are a senior marketing person who needs to understand social media and fast, this is the guide you have been waiting for!
Anybody who is starting or leading a small business and is trying to figure out how to make an entrance on the social web — relief is here!
Students trying to understand the fundamentals in a way that will help you make an impact now. Social Media Explained is being used as a text in many universities including Northestern University, University of Oregon and Ohio State.