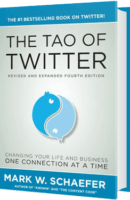 Buy at:

The best-selling book on Twitter! 
Twitter may be the most powerful business and personal networking platform ever created but it remains a frustrating, strange world for most people. In his best-selling book The Tao of Twitter, Revised and Expanded New Edition: Changing Your Life and Business 140 Characters at a Time, Mark W. Schaefer explores the path, the majestic random synergy of Twitter that has the potential to change your business and your life forever — if you know the way! This popular marketing book is designed for busy people who can't spend hours in experimentation and research trying to find success. In one hour you will know enough strategies, tactics, and time-savers to create an effective presence on Twitter that will result in meaningful and measurable benefits. In an all-new edition of this beloved book, Schaefer provides colorful examples and easy-to-follow, non-technical ideas and tips, including:
Building business benefits through Twitter
The formula behind every Twitter success
Applying Twitter for competitive advantage
A daily Twitter regimen
How to use Twitter advertising
Finding your relevant, engaged audience
Specific business and personal benefits
25 Ways to attract targeted followers
… plus hundreds of fresh ideas that will make Twitter fun and profitable. Jump-start your journey toward social media success by learning the Tao of Twitter! This beloved book has helped thousands of readers around the world and propelled thousands fo businesses to Twitter success.
Official book website: The Tao Of Twitter