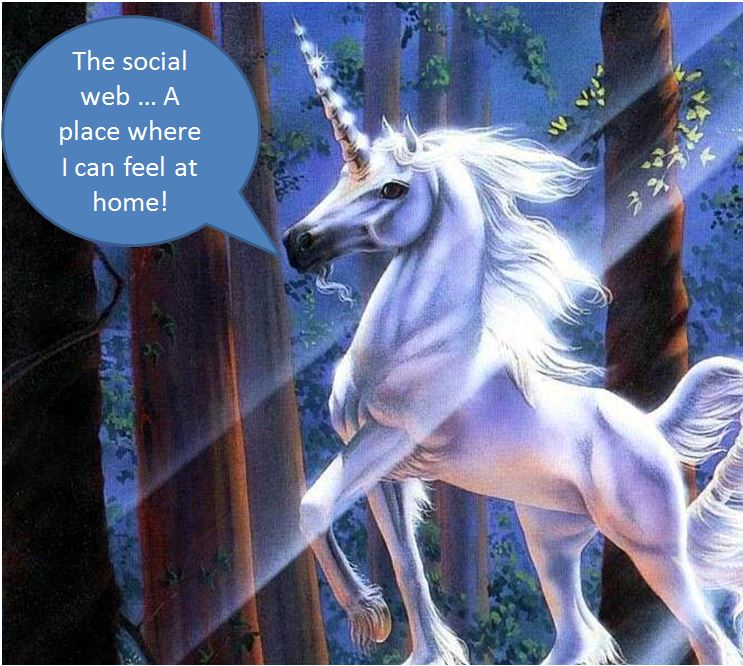 A few months ago I wrote a post about  The Five Social Media Myths that called out some of the mis-guided "rules" of the social web:
To be effective in social media, you must give up control of the conversation
It's all about engagement.
Never sell.

Emphasize quality over quantity.
Social media is all about authenticity.
Some time has gone by and three more myths have creeped into the dialogue.  Humbly, may I suggest we also need to stop them too!
1) You can, and must, measure the ROI of social media programs.
This cracks me up. We have come full circle!
A year ago many A-List bloggers were suggesting that it was a waste of time measuring social media marketing campaigns because it would be tantamount to measuring the ROI of email. Now, some of them suggest that not only is it desirable, it is possible and necessary to measure the ROI of every social media initiative.
For these folks, I have to ask: "Have you ever really worked in a company that has a BUDGET?"
Let me state emphatically that it is critical to measure the results of marketing initiatives in some manner and that you must tie your efforts to the creation of shareholder value.  But many times it's not practical to drive measurement all the way down to ROI because it may be too time-consuming and expensive to do so.  Many times a leading indicator such as sales leads or downloads can be a reasonable and cost-effective proxy, especially for small companies.  Don't miss the forest for the trees. Sometimes simple measurements will do just fine — spend most of your time on the actual doing!
2) Your number of friends/followers don't matter.
I recently observed this ridiculous Twitter conversation — celebrity-grade tweeters arguing over which of them cared less about the number of followers they had.
Last week Mari Smith left this comment on my post: "I'm with Guy Kawasaki on the two types of people on Twitter:  Those who say they want more followers and liars."  That sums it up for me, too.  Chris Brogan also had the guts to write a blog post about the practical advantages of large number of followers.
If you've built your meaningful and relevant audience carefully, why wouldn't bigger be better?  Why not learn more, make more friends, build more connections?
And if you're on here to sell, developmental sales and marketing is usually a numbers game.  You connect with lots of people.  A small number of those become business leads. An even smaller number result in real business.
It's an honor that a lot of great people care enough to follow you. Why be cavalier about it?
3) Every business needs to be on the social web.
Here is the most pompous tweet I've seen in a while: "If you don't use the social web for your business, it's not that you don't understand the social web. You don't understand your business."
Excuse me?  The successful business owners I know are very smart, highly in tune with their customers, and have an extraordinarily good sense of what it takes to succeed.  While many businesses may realize tremendous benefits from the social web, I think we have to respect the fact that it might not be the wisest place to focus precious time and resources in every case.
If you're selling Depends adult diapers, you should probably spend most of your marketing dollars elsewhere.
If you're selling coal to electric utilities, you're probably not going to tweet your way to success.
If you're in a down and dirty business like buying and re-selling scrap metal, neither suppliers nor customers typically even have computers.
In some nations and cultures, marketing through the social web may be less effective than in Western business models.
Let's use common sense and resist the temptation to force-feed any communication channel on anybody.  And if we're in a consultative role, we need to respect the inherent wisdom that resides in experienced business owners and listen more than preach.
So that's a take on the latest mythologies on the social web. What's your view?  Any I missed?