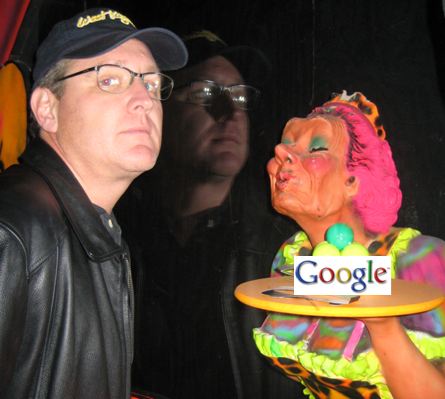 I have always struggled to balance the time needed for SEO with the organic attention I might get through the social web. Through the encouragement of others, I've decided to pay more attention to SEO and aggressively populate my posts with key words to drive hoards of people to my website. This is my first attempt — let me know what you think <send me cash>.
One of the things I learned < brilliance personified > is that keywords should be near the top of your blog < son of zeus >.  This tempts the search engines < bing makes me tingly > to pump up your jams.
If blogs are going to be mere vessels for sales pitches < "mark schaefer + george clooney + einstein" >.   I can play that game as well as anybody .
I've tried to stay above the fray < I'm too sexy for my blog, too sexy for my blog > but you know, I've got a family to feed too < now accepting credit cards > so I'm all in now.  Prepare for battle Mr. Google <man I wish I had a real light saber that would be so cool > .
However dear reader < both of you > you'll hardly notice a difference <megan fox please stop ignoring me >.  I'm committed to doing this in a classy and respectful manner that puts the focus on excellence and integrity .
This blog means something to me and I must find a way to be tasteful < mark schaefer + whipped cream + Bay Watch > intelligent and uplifting < like those new Victoria Secret bras. Damn how many things can you do to underwear?  I mean really. They are the Taco Bell of lingerie.>
So thanks for the encouragement < mom > and please keep the feedback coming < no send me money instead I really mean it >.
As always, thanks for caring and sharing < your ATM PIN numbers >.