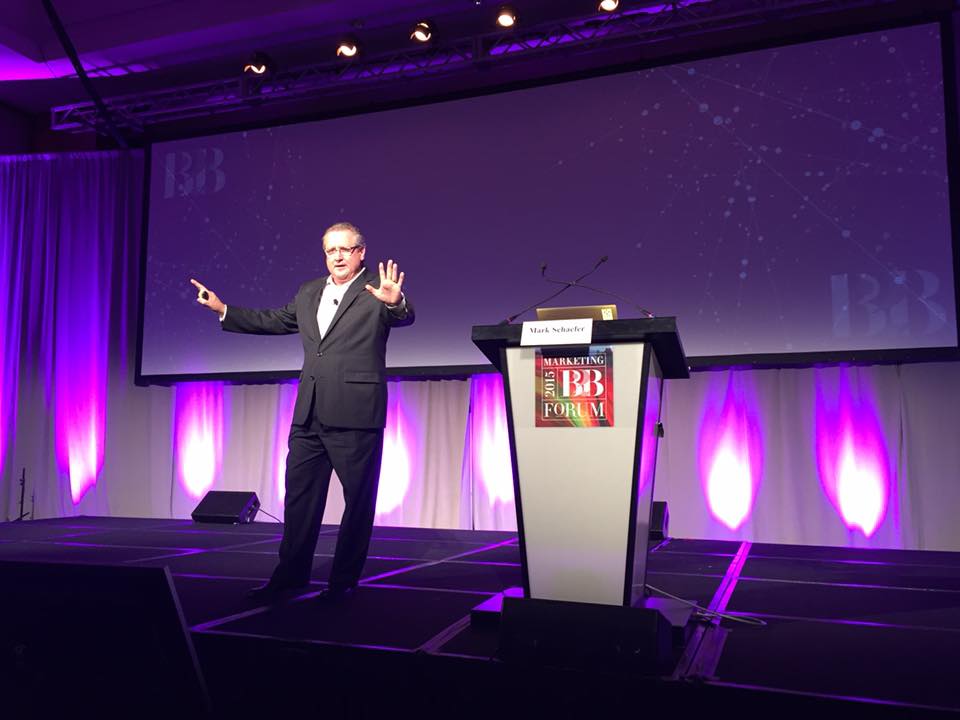 By Mark W. Schaefer
In my career as a keynote speaker, I know that something can (and will) go wrong, and I like to think I'm prepared for anything. But after eight years as a keynote speaker, I came up against a crisis that turned into one of my most successful presentations ever. I wanted to share some lessons from a speaking disaster.
If you've ever seen one of my talks, you know I work hard to make it a very entertaining performance as well as something that is educational and inspirational. A big part of the entertainment value comes from my carefully-crafted visuals. I use photos to punctuate, animations to add sizzle, and graphics to teach and explain.
Slides also serve as course markers for my talk … it's hard to stand in front of a crowd and tell a story for an hour without a few prompts along the way.
All those best-laid plans came to a crashing halt when the audio visual people could not get the visuals to project from my computer — or any computer — at a recent talk before several hundred sophisticated marketers in Boston.
It was time for my talk to start. The room was packed, hushed, and ready. The spotlight was on me. Three AV people were looking at each other in panic. I gently told them that it was time for them to get off the stage … I would handle it.
I pushed down my fear and disappointment and announced I would be doing a new speech that day — "Mark Schaefer … Unplugged." It was just me, telling stories on the stage for an hour.
The reaction to my talk was quite unexpected. Some of the tweets:
"Amazing. Best talk of the event. Maybe best talk I have ever seen."
"You just gave us a lesson in what it means to be human and vulnerable."
"Everybody's talking about your speech. People are buzzing about what you did today!"
Arguably, this disaster was the most successful talk of my career.
I've thought a lot about what went on that day. What did I learn from this experience that I can carry forward? What I can pass on to you?
Here are five lessons I learned from my biggest speaking disaster.
1. The value of preparation
When I develop a major speech, I rehearse it like an actor would rehearse for a play. By the time I hit the stage, it is smooth, it is ready, it is great.
I'm convinced that this intense preparation saved me in this situation. If I had "whipped it up" the night before the talk I would have had no guideposts to get me through the talk.
The slides did not own me. I owned the slides. And when I didn't have slides to rely on, my story was still ready.
2. Don't panic.
Honestly, this would have been worse if I had time to think about it. But this hit me right at "show time" so my instinct took over.
The biggest challenge was that I had to adjust the timing and pace of the slide-free story on the fly. Instead of letting a powerful graphic make an impact, I had to describe the feeling to my audience. Instead of allowing an animation to tell a story, I had to act it out.
As I spoke, my mind raced ahead, trying to anticipate what was supposed to be next, and how I would overcome the fact that the entire visual element of my story had evaporated.
The key was staying calm. There was nothing I could do about the situation. I just had figure it out step by step as my story unfolded.
3. Don't whine
One participant told me that he thought the talk was impactful because I didn't dwell on the fact that I was screwed. I announced that I had a problem at the beginning and then moved on. So, something to remember.
4. Being an underdog
Dozens of people came up to me over the next two days thanking me for the talk and for demonstrating grace under pressure. Many of them said they would have collapsed under similar circumstances. One friend said he would have assumed the fetal position in the middle of the stage and cried.
In a strange way, people could connect with my situation in a very strong and emotional way. I think people were holding their breath to see what would happen — would I crack? I was the underdog and perhaps they were silently cheering me through the thing.
I don't know how you can re-create that emotional connection — or if you would even want to — but it worked in the moment, on that day.
5. Confidence
When I help people get into the speaking business, I encourage them to take every event they can get because the more you do it, the more problems you overcome, and this builds confidence.
I am already a confident speaker. I don't get nervous any more, precisely because I've done this so many times and faced so many problems before. The years of preparation forged a level of confidence that allowed me to know that this would be OK. If this had happened five years ago … who knows?
My point is, if you are developing a speaking career. Get out there and do it, do it, do it, so when it is time for YOUR disaster on the big stage, you too will have the best speech of your life.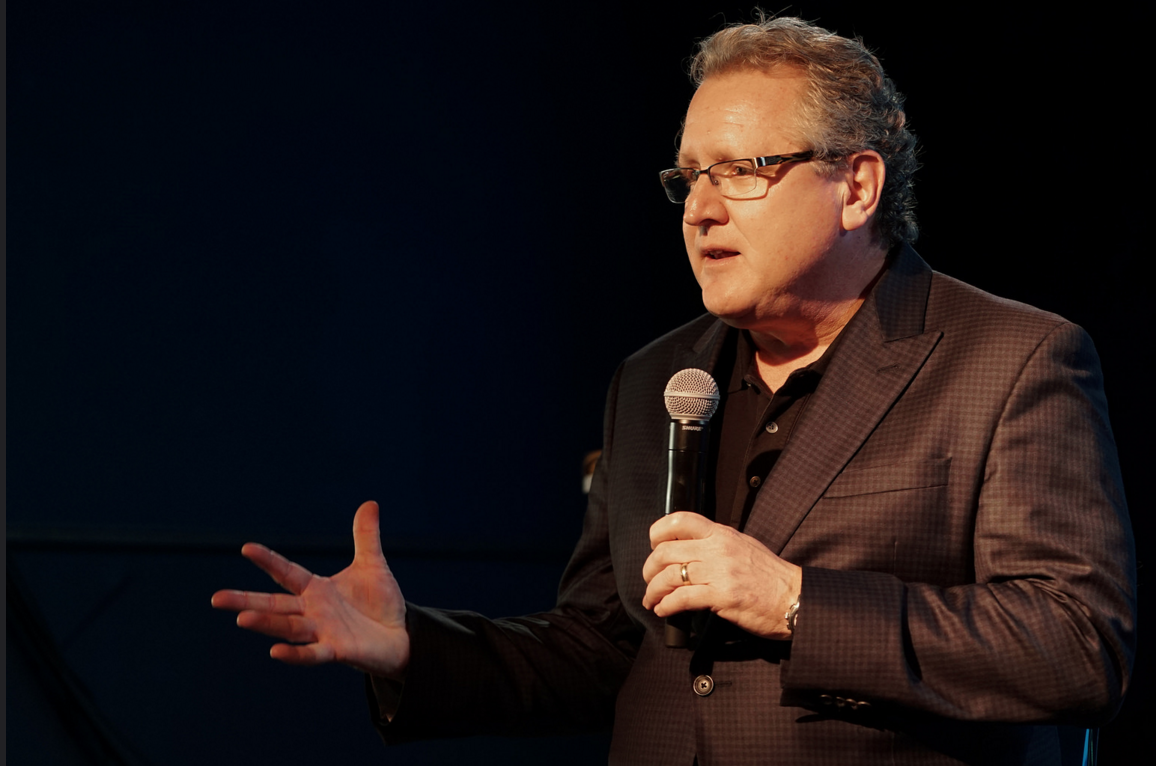 Mark Schaefer is the chief blogger for this site, executive director of Schaefer Marketing Solutions, and the author of several best-selling digital marketing books. He is an acclaimed keynote speaker, college educator, and business consultant. The Marketing Companion podcast is among the top business podcasts in the world. Contact Mark to have him speak to your company event or conference soon.