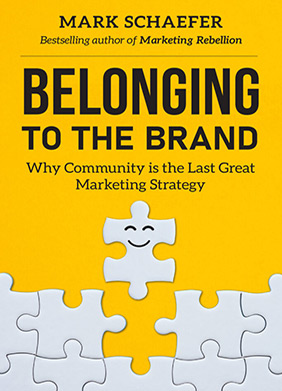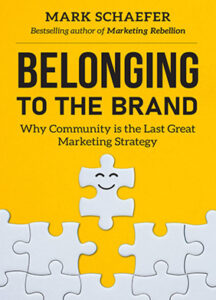 Mark Schaefer has published his tenth book, an exploration of the role of community in the context of brand marketing.
In Belonging to the Brand: Why Community is the last Great Marketing Strategy, Schaefer sets out on another future-view of the marketing world. He posits that three mega-trends are coming together in a way that point to community as an important part of the future of marketing:
Traditional marketing doesn't work like it used to. Month by month, the power of our marketing is diluted by waves of content, ad-free streaming services, unpredictable trends, fickle consumers, a decline in loyalty, and other factors he called out in Marketing Rebellion. We need a bold new way to connect with consumers in meaningful and lasting ways.
Tech investments enable belonging. Where is much of the VC money going these days? Web3. Metaverse. AI. NFTs. If you cut through the complicated jargon, you'll find an emerging infrastructure to help people connect and belong in new communities.
Mental health crisis. Perhaps the most significant trend of our time is the crisis in mental health. As many social institutions crumble, people today are lonelier, more isolated, and more depressed than ever. Customers are literally longing to belong.
Schaefer said there are new ideas and inspirations readers will find nowhere else. For example:
The connection between social media and content marketing in an "emotional continuum"
The 10 overlooked business benefits of community-based marketing
A unique and definitive view of brand community measurement
The unexpected marketing leadership challenges posed by community
Technological and sociological changes making social listening platforms obsolete
When the book launched, it hit the number one mark on Amazon in both the Consumer Behavior and Marketing categories.
Belonging to the Brand is available in paperback, hard cover, eBook, and an audio version narrated by the author.