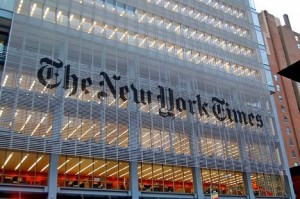 We are about to witness an extremely important experiment in journalism, marketing and the economics of the Internet.
Last Friday, the 159-year-old New York Times, arguably the nation's most important newspaper, announced it would be charging a subscription for the online version of its product.
In an email to current subscribers, the newspaper announced a hybrid plan that would still allow non-subscribers to read breaking news:
On NYTimes.com, any one can view 20 articles each month at no charge. After 20 articles, you will have to subscribe.
On smartphone and tablet apps, the Top News section will remain free of charge.
The Times is offering three digital subscription packages:  $15 every four weeks for access to the Web site and a mobile phone app (or $195 for a full year); $20 for Web access and an iPad app ($260 a year); or $35 for an all-access plan ($455 a year).
New York Times home delivery subscribers will receive free access to NYTimes.com
Readers who come to Times articles through links from search, blogs and social media like Facebook and Twitter will be able to read those articles, even if they have reached their monthly reading limit.
My response is, "Hurray!"  We need to keep journalism vital in our country and to do that it has to be funded.  When my subscription offer hits my inbox this week, I will be the first to subscribe.
The risks in this plan are significant.  The company might jeopardize its huge online reach and drive away advertisers, which now represent more than a quarter of the newspaper's revenues.
Plus, it has already failed at this attempt once before. The Times had experimented with a pay model from 2005 to 2007.  That program brought in 227,000 subscribers at $49.95 a year, generating about $10 million in revenue.
But after they commissioned a study to examine how TimesSelect was working, company executives became convinced that restricting access to the site was constricting its potential for more readers and more advertising.  When that program ended, traffic to the site almost doubled. It now stands at more than 30 million unique domestic visitors a month.
With the decline of their traditional reader base, this new subscription model is the most urgent development since the advent of the Internet itself.
What's your take on this?  Are people going to pay for content or are they permanently conditioned to find their news and information for free?
Note: This morning Mashable reported on Twitter-based scams individuals are setting up to get around the 20-article limit. Is this enterprising or is this stealing?