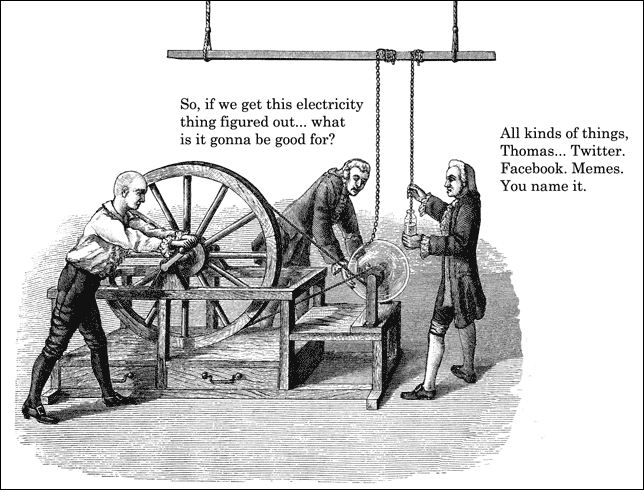 How many Twitter accounts should I have?
I have been asked this question three times in 24 hours, most recently by Edwin Mysogland of Indiana who writes:
I received your book for my birthday last month and I have found it to be a fascinating read.  Forgive me in advance if I missed it, but what is your position regarding handles?  For instance I have two accounts, business and personal.  From what I can gather with the intent of making Twitter so much more personal I assume you would say one? 
The beauty of Twitter is that it can be used by many people in many ways. But let's start with my philosophy about it, which has also served many other people very well.
Twitter is not about being B2B or B2C.  It's P2P — person to person.  Twitter is a powerful networking tool and a historic opportunity to connect with people you never would have met before.  It's an incredible opportunity to build a real, emotional connection with people who can lead to substantial new business benefits. And I'm sorry … but it is just really hard to build an emotional connection with a company logo or a picture of your building.  I want to know YOU.
We're all SICK of being marketed to, advertised to, and sold to. But we do want to make new friends who will pay attention and help us get by in this crazy world.
Twitter is no different than any other networking venue.  If you attended a chamber of commerce meeting or an industry get-together, you wouldn't cover your face with a logo and hand out ads. If you've done personal networking, you know it takes time, but after the fourth or fifth meeting, you start to recognize people, you know their stories, you find common interests, and you actually look forward to attending the meeting to see your friends.
And then one day, this is what happens. A friend from the networking group calls you up and says, "Hey, my client is looking for some (fill in the blank for your business).  I thought this would be right up your alley."
And the business benefits start to accrue.
I was on the receiving end of these conversations, all of them resulting from friendships that started on Twitter:
"Would you be interested in working for the UK government?"
"Rutgers University is creating a graduate-level social media education curriculum. Would you be interested in helping them?"
"I'm looking for speakers for my national economic development conference. Are you interested?"
All of these calls resulted in significant new business opportunities. Even the seeds of the national Social Slam Conference I founded were planted with Twitter connections.
There are exceptions to every Twitter rule, but generally my recommendation is that to create an organization that is BEING social instead of DOING social you need to get your skin in the game and stop hiding behind corporate pronouncements and logos. That is not easy, which is why so few companies are succeeding in this channel.
The best practice is to have a social media policy that encourages your employees to tweet for themselves and your company. Why not have everyone be a beacon for your brand in some small way? This is a big decision for many companies. Put time into your policy, start small, experiment, have patience.
And above all, be human.  It's OK to tweet about your interests. It's part of who you are. In most cases, you don't need two Twitter accounts.  Just be congruent and honest.  Be you.
What do you think?  What differing Twitter strategies are you employing?
Illustration courtesy of www.marriedtothesea.com
Take the Mystery Out of Twitter!
Become a Twitter Ninja in just 90 minutes with the
The Tao of Twitter
,
 the best-selling Twitter book in the world!  Learn the three elements behind every Twitter success, 22 ways to build a relevant audience, strategies to create personal and business benefits, and hundreds of amazing tips and time-savers.