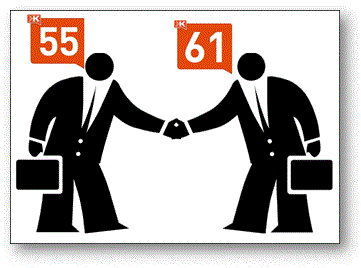 One of the things I have been interested in is examining practical applications of Klout and social scoring to an internal enterprise.
If you are unclear about social scoring systems and what they attempt to measure, it might be useful to start with this blog post about Why Klout Matters.  Like a credit score, let's assume that companies like Klout, Kred and Appinions are beginning to measure something that correlates to an individual's social media effectiveness.
I had an opporunity to test some of these ideas last week when I conducted a social influence workshop with a global services company in the UK.
I began with an overview of the basics behind these systems and what we can really learn from them.
Then, thanks to Andrew Grill, president of Kred, we were able to construct an internal dashboard that approximated the relative social media effectiveness of many company employees. It was nothing short af a revelation to these top executives. Here are a couple of observations:
Who is the real company spokesperson?
One of the executives said, "I don't know any of these people on this list! You mean they are representing our company?"
Indeed.  I told him the story about how one of his IT employees — the person with the second-highest Kred score in the company — connected with me through this blog and on Twitter, and over a period of two years we had become friends. When he found out I was coming to London, he offered to introduce me to the company's marketing team. That led to organizing the workshop.
"You see," I said, "to me, this web developer IS the face of your company. The only reason I am here today is because he is representing you so effectively on the social web."
This was a profound lesson for the executives. They were discovering their most effective representatives on the social web — and it was quite eye-opening.  Now they are wondering about: How do we thank them, learn from them, and find ways we can work more closely together? How do we transfer their expertise to other parts of the organization?
Where is marketing?
It was illustrative that 80% of the top influencers where in no way associated with PR, sales, service, or marketing. This was an equally shocking revelation. Shouldn't these departments be highly visible on the social web, especially in a technology and services-oriented company?
This company prided itself in being on the forefront of technology and best management practices but this simple ranking made them realize they were missing an enormous opportunity to discover gaps with their customer-facing strategies.  This led to a lively discussion about further training and how some of the key ideas from Return On Influence could be incorporated into basic sales best practices.
Influencer Outreach
The exercise also started them thinking about using these scores to discover unknown or under-utilized resources at prospect companies, possible partner companies or even as a way to find high-potential new employees. How could they find like-minded and passionate individuals who have a natural interest in their ideas and technologies?  They had already observed how it could be used to find a resource like me. The possibilities seemed vast.
It was exciting for me to see some of the core ideas of Return On Influence come alive in this corporate setting and I wanted to pass along some of the experiences to you.  Can you see how some of these simple lists can help you and your sales efforts?