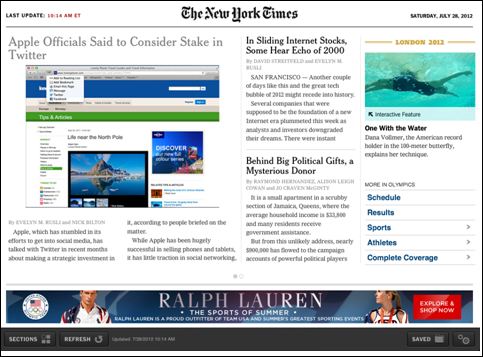 I was somewhat surprised to be reading the New York Times today and see a Ralph Lauren ad touting its line of Olympic-related clothing (above).
Last week, the company admitted that its official Olympic uniforms were manufactured in China, setting off a highly-politicized flare-up on the patriotic considerations of dressing America's athletes with foreign-produced goods.  Some federal elected officials called for the team to abandon the uniforms.
Now that the Games have begun in a glorious setting of beauty and peace created by the City Of London, this will blow over.
Or will it?
It seems like Ralph Lauren is almost rubbing salt in the wounds of the issue, boldly promoting its products in the wake of a national PR nightmare.
On the other hand, being an Olympic sponsor is a huge commitment. How could the company abandon the expensive promotions already in progress?
What do you think? Let's set aside political feelings about the issue and look at this from a business perspective. Is Ralph Lauren asking for trouble by promoting its controversial line of Olympic clothing? What would you do?