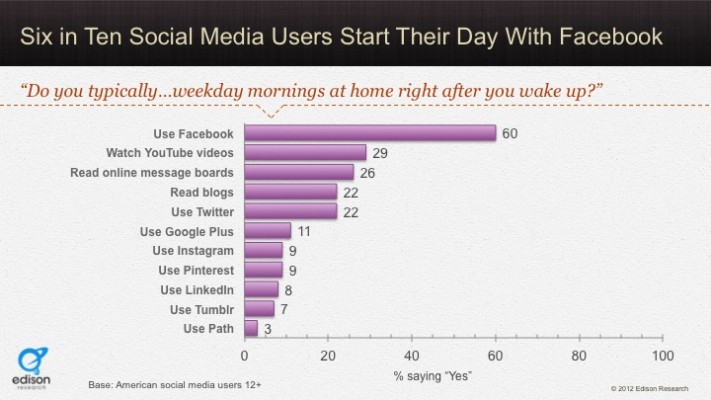 Has Facebook replaced the morning newspaper and cup of coffee?
According to the latest data from The Social Habit, American social media users 12+ roll out of bed and check Facebook … and another survey question confirms that about the same number check it out right before they go to sleep!
As you can see in the chart above, nearly 30% of Americans who use social media check out YouTube in the morning and more than 20% read message boards, blogs and Twitter.
This is just the tip of the iceberg of some of the amazing data Edison Research has collected and displayed in the new Social Habit report. The survey looks at detailed social media habits and usage levels across demographic categories and includes other questions such as …
Is the usage of social media platforms such as Facebook, Google Plus and Pinterest going up or going down?
Trends regarding clicking links, social sharing and other online habits.
Social media versus other types of recommendations and the influence on purchasing decisions.
Where people are getting information about their favorite brands.
Critical links between social media and expectations for service response.
And there is so much more. This is incredibly important and impactful research because it isn't your typical social media survey of "my blog readers" or "magazine subscribers." It was completed by Edison Research, one of the most respected research firms in the world.
When I first saw the first cut of the information that is going to be available in this report, my reaction was "WOW. This is mind-blowing."
There's still time to subscribe to this edition and also to connect with myself, Jay Baer, Tom Webster and Jason Falls on an October 11 webinar discussing the results. This is a great value that even small companies and solopreneurs can afford. I'm not prone to the use of grandiose adjectives, but this truly is the most valuable piece of social media research I have seen. And I hope you'll take advantage of this opportunity to create competitive advantage for yourself and your company!