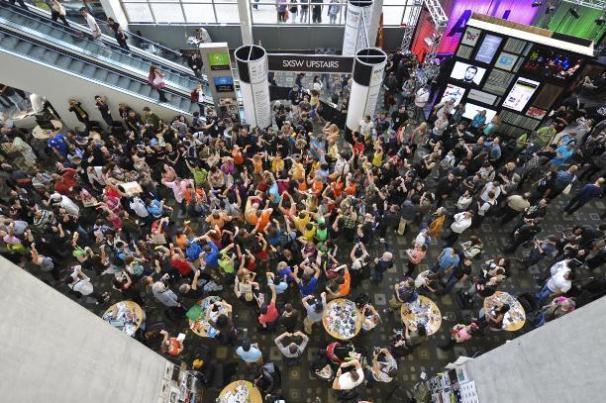 For me, there are two MUST go-to events in the digital marketing space — Social Slam (naturally) and SXSW.
If Social Slam is friendly, inexpensive and accessible, Austin's SXSW Festival is its alter-ego!  But SXSW is also unparalleled in its showcase of cutting edge content and ideas, its potential for networking with every high flyer in the business, and the diversity of its content.
It is also a painful experience.  SXSW is frightfully expensive to attend. The venues are so spread out across the city of Austin that you cannot hope to see a fraction of what you want to see. But most of all, SXSW is CROWDED.
To anyone visiting this event, it's apparent that SXSW has FAR outgrown the city of Austin's ability to handle it.  The hotel rooms are sold out six months in advance. The convention center corridors are so jammed you can hardly move, let alone find a quiet place to talk. And the sessions are so packed you can't even attend most of the popular keynotes.  Many people sit on the floor and watch popular speeches on TV monitors.  Pretty ridiculous.
So it's not entirely surprising that the event appears to be easing out of Austin for the ultimate convention site — Las Vegas. Here is the announcement from yesterday:
Announcing SXSW V2V!

We are excited to announce SXSW V2V, the newest addition to the SXSW family of events. SXSW V2V is an extension and re-imagining of the 26-year-old Austin event with an emphasis on the creative spark that drives entrepreneurial innovation.

The startup and venture capital space is of major interest to all the creative industries that are at the core of the SXSW family of events. SXSW V2V features four days of informative panels and workshops, inspirational speakers, intensive mentor and coaching programs, networking events and receptions, pitch competitions and startup showcases. This new event will offer an intimate environment for innovators and entrepreneurs across all creative industries learn the skills, make the connections and find the inspiration to take their ideas and talents to the next level. If you are involved in building an app, a service, a business, a brand or a community, then this event is for you.

Join us for this excitement-packed, four-day event Sunday August 11, 2013 through Wednesday August 14, 2013 at The Cosmopolitan of Las Vegas in Las Vegas, Nevada.
SXSW is commonly referred to as the "World Series of Start-ups."  Is that title now moving to a new Las Vegas event?
I think much of the appeal of SXSW is the electricity driven by the start-up community.  Going to SXSW without the start-ups will be like eating cake without the icing. If SXSW migrates the start-up frenzy to a new Las Vegas event the Austin conference will lose its soul.  Bootstrapping entrepreneurs are going to have to place a bet because they more than likely will not be able to attend two different (and expensive) events to try to get attention.
It's not entirely a surprise that SXSW is snapping its funky Austin roots but it makes me wonder if the entire conference is imploding from its success like a star that grows so large that it starts collapsing on itself.
Note: After this post ran, I was contacted by Hugh Forrest, Director of SXSW Interactive, who wanted to clarify the strategy behind Las Vegas versus Austin.  I asked him specifically to address the question, "If I was bootstrapping a new business and had to choose between Austin and Las Vegas, which would I choose and why?"  Here is his response: 
We are very excited about all the excitement that the SXSW V2V announcement generated last week. Las Vegas has a small but fast-growing community of startups and digital creatives — so being a part of this emerging scene in August 2013 offers lots of amazing possibilities.

That said, the SXSW V2V event will NOT preclude SXSW Interactive from hosting dozens and dozens of startup-related programing in March 2013 in Austin. For a list of the 50+ startup-related panels and solo presentations currently planned for spring 2013 in Austin, please see this blog post from the SXSW website on October 15 — http://bit.ly/WdUppm

In short, we feel that there is enough momentum / energy in this startup ecosystem to fuel two very different events in two very different cities (Austin and Las Vegas).

If you are a startup, should you attend the event in Austin or Las Vegas (or both)? That really depends on your particular situation. If your schedule is already booked for spring 2013, then you now have another option to receive the same kind of great startup-related programming by attending the SXSW V2V event in August in Las Vegas.