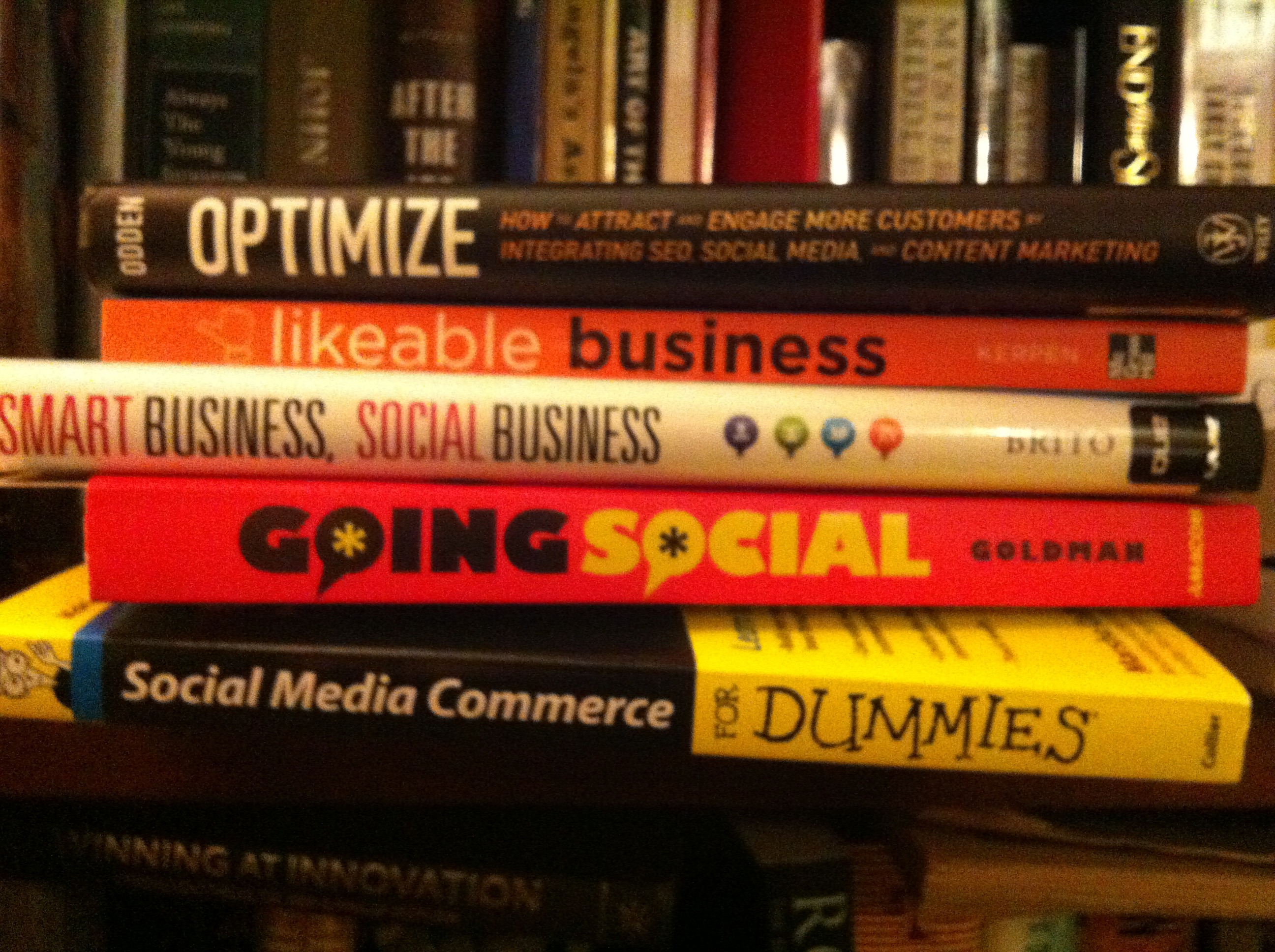 There are SO MANY books out there on social media. Too many, to be honest. And most of them cross my desk.  So to cut through the clutter and help your holiday shopping, I'm providing a succinct view of a few notable new books by highlighting:
Why the book was written
The best and worst things about the book
A Zappos alert.  If you are as sick of hearing about Zappos social media case studies as I am, you will appreciate this feature. I have suggested new international regulations through the U.N. stating that every book should have a Zappos warning on the cover disclosing what percent of the book contains Zappos.  Short of that, you'll have to rely on my alerts.
Here are a few notable new titles that deserve a place on your radar screen:
Optimize: How to Attract and Engage More Customers by Integrating SEO, Social Media, and Content Marketing
Why was this book written?
Lee begins to nudge the digital marketing space away from traditional views of SEO toward a more holistic marketing view of "optimization."
The best thing about the book is …
Optimize
 is one of the most important marketing books of 2012. I took pages of notes from this thing. Nobody knows his craft better than Lee and this is a great opportunity to get inside his mind.
The worst thing about this book is …
This is NOT for beginners. It is a very dense book and Lee starts dropping words like "long tail theory" early on without explanation.
Buy this book if you're …
Ready to think about digital marketing on a new level.
Zappos Alert: This book is Zappos-free. No shoes were harmed in the making of this book.
Likeable Business: Why Today's Consumers Demand More and How Leaders Can Deliver
By Dave Kerpen with Theresa Braun and Valerie Pritchard
Why was this book written?
That's like asking why they would make another Batman movie.  Dave's first book Likeable Social Media
 was one of the best-selling social media books of all-time.
The best thing about this book is …
It's just so darn … likeable. Dave is a great story-teller. Any book that begins with a tale of a how a dying father is saved through a Facebook complaint has my attention!
The worst thing about this book is …
The book is basically a summary of the business imperatives that are pretty well-known by now: Listen to your customers, authenticity, transparency, yada, yada, yada. But this stuff still sells and I'm sure this book will be another big hit for Dave.
Buy this book if you're …
Somebody who has no idea why your company needs to adjust to the consumer-driven economy and embrace a customer-centric organization.
Zappos Alert: Not only does the book highlight Zappos, it also features Comcast, BP, Whole Foods, and United Breaks Guitars. Take cover. It's a hailstorm of over-used case studies! In fairness, Dave also shines a light on many new, wonderful, and delightfully-relevant company tales.
Amazing Things Will Happen: A Real-World Guide on Achieving Success and Happiness
Why was this book written?
C.C. is one of those unique people who is both left-brained and right-brained. He's am-brain-dextrous. In this book of essays, he shares his home-spun wisdom for jump-starting your life and business.
The best thing about this book is …
Although not technically a social media book, C.C. is one of the most accomplished speakers and writers in the digital marketing field and so I am going to pay attention to anything this man says. This is a highly-accessible book that you can read in one sitting and feel a little more pumped up about the possibilities of life. C.C. is a gifted story-teller and you will smile constantly as you read it.
The worst thing about this book is …
Some of the advice is pretty well-worn.  "No more saying I can't." "Follow your passions." "Follow the path less traveled."
Buy this book if you're …
Considering a new path or a new start for 2013.  C.C. provides solid, practical and actionable advice to help you reflect, prioritize, and become inspired to drive to the next level.  It's a little gem of a book for a kick-start.
Zappos Alert: I could not find a Zappos reference in the book. Good job C.C.
Going Social: Excite Customers, Generate Buzz, and Energize Your Brand with the Power of Social Media
Why was this book written?
I don't know.  In his cover note to me, Jeremy admits that "you probably already know 96% of what is in here." There is already a tsunami of  basic social media books out there but Jeremy does add an enjoyable take to the swollen social media library.
The best thing about this book is …
This is a legitimate social media primer and an excellent place for a beginner to get an overview from an experienced practitioner. Going Social contains many "ripped from the headlines" case studies as well as "guest posts" from other social media practitioners which provide a fresh take on the subject.  This is a fast-paced, entertaining, and accurate book. It is one of the first books to include coverage of social influence and blogger outreach as a core competency.
The worst thing about this book is …
The book is a worthwhile read but sits in a netherworld. It is neither a basic how-to guide, nor deep enough to take you though an integrated social media strategy development.
Buy this book if you're …
Trying to understand the basics of social media. It's easy to read and Jeremy is a braniac who absolutely knows his stuff.  Experienced marketers will enjoy the dozens of new case studies.
Zappos Alert: Zappos is mentioned not only once but twice in this book. Danger! Danger!
Smart Business, Social Business: A Playbook for Social Media in Your Organization
Why was this book written?
If I had to re-name this book, I would call it "Beyond the Like."  This is a bold manifesto for the social organization.
The best thing about this book is …
This is a book that the marketplace really needs right now. While books like The NOW Revolution
 and Marketing in the Round
 call for dramatic organizational change, this book actually starts to explore HOW that is to be accomplished. Brito's book examines the most important, and over-looked, aspect of social media success — a culture that supports it.  It's a mind-bending and important book.
The worst thing about this book is … 
You can't skim it.  I realize that this is not really a negative but it might be for some people. This is a book that is jam-packed with wisdom and each chapter builds on the previous one. You won't want to skip anything. Also a minor thing. I suppose to save production costs every business book published by Que has the same dull layout. Very blocky, and gray. Hire a designer fellas.
Buy this book if you're …
Tired of the social media re-hash. This is next-level thinking.
Zappos Alert: The online retailer is prominently featured and even has its own subheading.  Is Tony Hseih paying for these placements?
Social Media Commerce For Dummies
Why was this book written?
Because this subject really has not been covered thoroughly in a book before and Marsha Collier knows what she's talking about.
The best thing about this books is …
Marsha holds your hand through the basic set-up of a variety of social media commercial opportunities. The book is usefully organized by
Prepping for social media commerce
Adapting your web presence
Casting for and catching customers
Supporting social media efforts
The worst thing about this book is …
I am just not a fan of the "Dummies" format.  There are so many icons, sidebars, references, and illustrations shouting at you on each page that it's like trying to follow a Twitter chat on paper.
Buy this book if you're …
A small business owner trying to figure out how to transition your current web presence into social commerce.
Zappos Alert: Page 62 is basically devoted to Zappos, including a photo of CEO Tony Hseih. Stop the insanity!
And while you're looking for awesome gifts for your favorite social media fanatic, why not consider these books that came from my heart and mind …
The Tao of Twitter: Changing Your Life and Business 140 Characters at a Time
This is the best-selling book on Twitter in the world.  If you're struggling with the confusing world of Twitter or want to take your mastery to the next level, Tao will help.  It is certified Zappos-free.
Return On Influence: The Revolutionary Power of Klout, Social Scoring, and Influence Marketing
The first book to explore the emerging world of social influence marketing, Return On Influence is a fun, fast-paced business best-seller that will open your eyes to the possibilities of igniting your power on the web. It has been favorably reviewed and featured on the CBS Morning News, The Wall Street Journal, National Public Radio,  and many other media sites. My favorite chapter of the book features dozens of case studies on how companies are making social influence work for their businesses.  All of the case studies are original and none of them mention Zappos!
Disclosures: All of the links are affiliate links. I received "Going Social," "Social Media Commerce," and "Likeable Business" free from publishers.