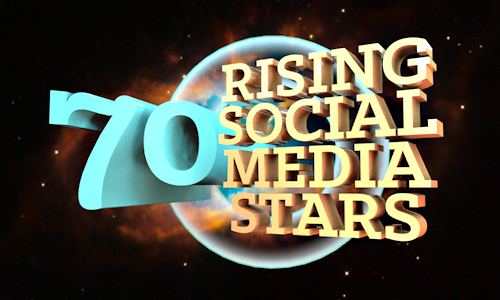 Sometimes I weary of social media lists that are simply popularity contests or a cheap way to promote some start-up or PR agency. And usually the same people are on these lists over and over. There are so many other deserving voices out there.
So, with the help of some friends, I decided to create a different kind of list. I wanted to recognize people in a way that was not derived from who could get out the vote or who was cozy with a corporate sponsor. I wanted to create a list that would celebrate amazing people who do not normally show up on lists. I wanted to find the (dramatic music) Future Gurus.
I asked some of the people who are regulars on these "best of" lists to recommend a few people who they believe are on the rise. Who is impressing them, inspiring them, and challenging them?
Who are the unknown stars who will be rocking the social media conferences two or three years from now?
If you're on this list, I hope you feel good about being recognized by some of the leaders in the field. If you're not on the list, I hope you know that a) this is all rather arbitrary, b) you probably DO deserve to be on the list but this group of leaders may not know you yet, and c) everyone today has the opportunity to be seen, to be heard, and to be recognized. Go for it.
Here are the panelists who contributed names to this list of outstanding social media marketing professionals on the rise: Michael Brenner (SAP); Jeff Bullas (JeffBullas.com); C. C. Chapman (Wediko Children's Services); Gini Dietrich (Arment Dietrich); Jason Falls (Cafe Press); Ann Handley (MarketingProfs); Simon J. Hughes (Microsoft); Dave Kerpen (Likeable Media); Shelly Kramer (V3 Marketing); Lee Odden (TopRank Marketing); Matt Ridings (Sidera Works); Ted Rubin (Brand Innovators); Marcus Sheridan (The Sales Lion); Michael Stelzner (Social Media Examiner); Christopher Penn (SHIFT Communications); Joe Pulizzi (Content Marketing Institute); Mari Smith (Mari Smith Consulting); Scott Stratten (Unmarketing); and Tom Webster (Edison Research).
Here is our list of people on the move, in alphabetical order. You can follow the entire group on this Twitter List.
70 rising social media stars