By Mark Schaefer
It's been a long, strange week.
Somebody hacked my Facebook account and started selling Rayban glasses to my tribe.
At least two people are impersonating me on Tinder. They are using photos they stole from Instagram. One of the dudes is apparently from Russia. PS I am NOT on Tinder.
I have also been impersonated recently on LinkedIn, Facebook, and Instagram.
Lots of people are illegally digitizing my books and selling it on their own sites. They are even advertising my own book for their profit.
Some bottom-feeding scumbag lawyer is threatening to sue me for copyright infringement on an image I used on a blog post in 2010 that had been marked safe for re-use by Google.
And now, Facebook has launched a print magazine called GROW, which has been the name of my blog since 2008.
Facebook is distributing Grow for free in first and business-class airport lounges with the slogan "Grow Your Business. Grow Your Network. Grow Your Mind."
Folks, I've really had enough of this. It's time for me to fight back, beginning with this Facebook thing. OK Facebook, you want to steal my publication name? I am starting a new print and online magazine called "Facebook The Magazine."
I've secured the domain name for FacebookTheMagazine.com (not kidding) and I'm ready to take them on. This will teach you to play in my back yard! Here's the first edition of Facebook The Magazine for your reading pleasure: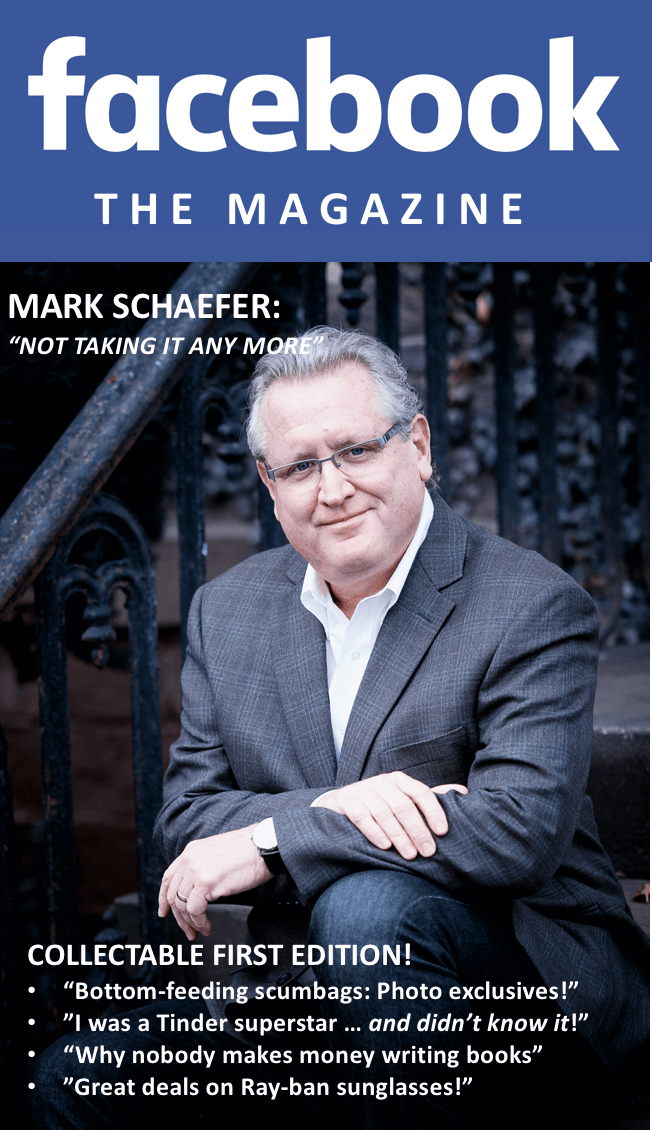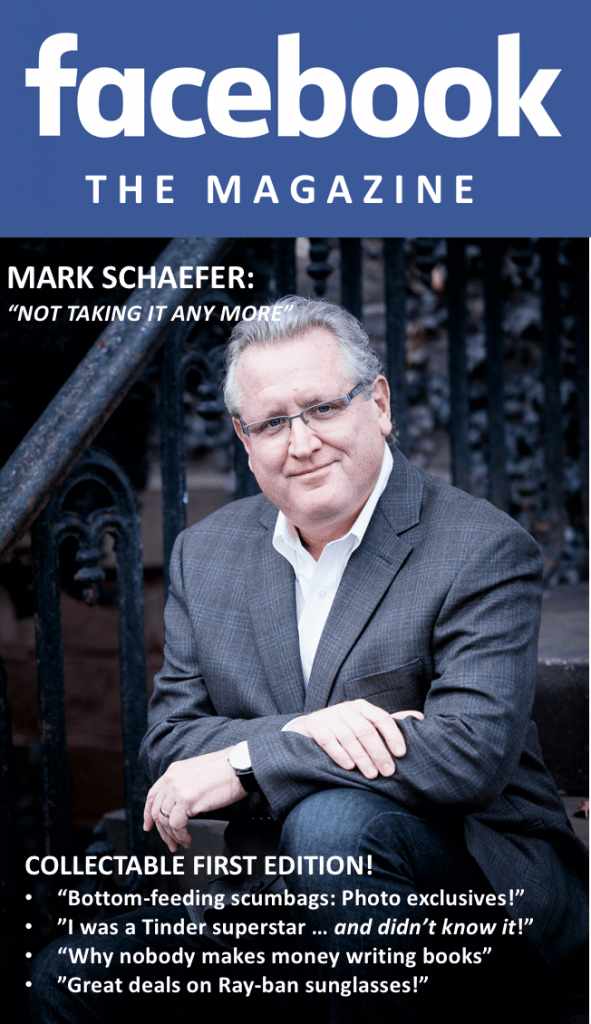 Bring it Zuckerberg.
Love, Mark
*** I know that humor is difficult to achieve across a diverse and global audience. I'm not really starting this magazine. It's a joke … at least for now!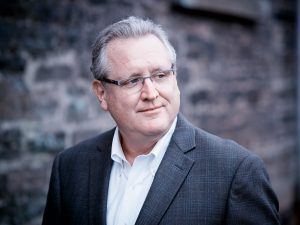 Mark Schaefer is the editor and founder of Facebook The Magazine, chief blogger for this site, and the author of several best-selling digital marketing books which are being swiped and sold for unauthorized profits. He is an acclaimed keynote speaker, college educator, and business consultant.  The Marketing Companion podcast is among the top business podcasts in the world.  Contact Mark to have him speak to your company event or conference soon.