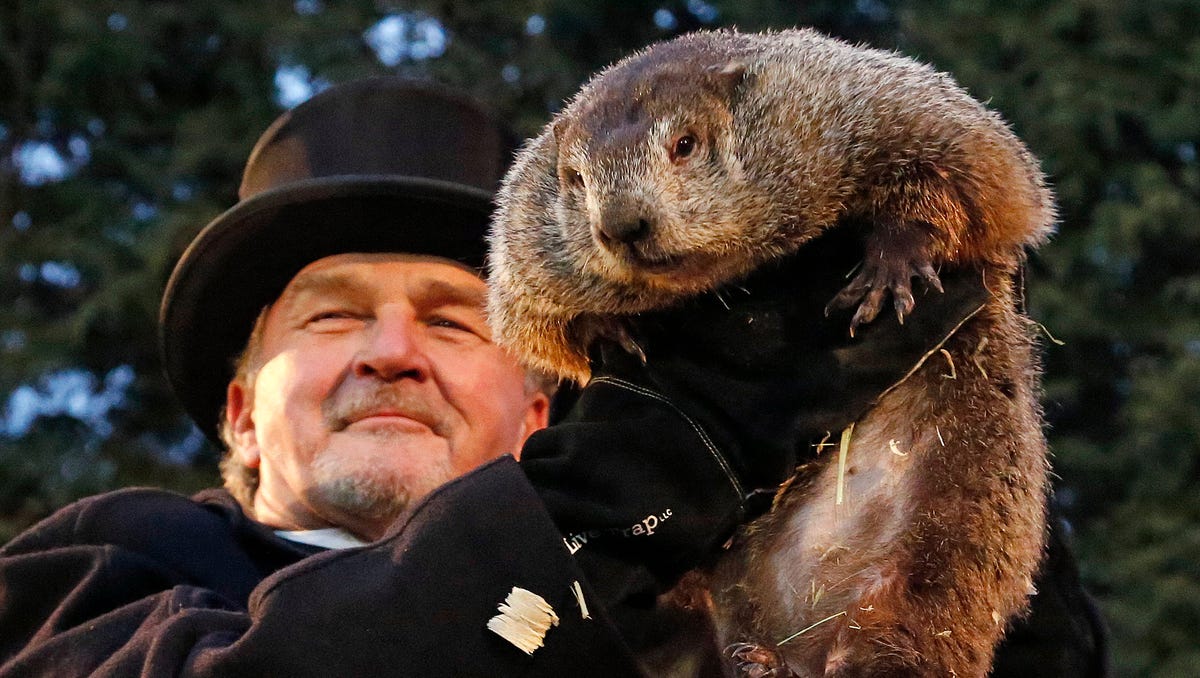 When my kids were little, I used to make a big, fun deal out of Groundhog Day (a weird American holiday).
I would make them giggle by telling them wild and fanciful tales of how we used to celebrate this day in "The Old Country" and even give them little gifts.
Over the years, my kids have kept this funny tradition up. On "Groundhog Day Eve" we send each other hilarious text messages about our made-up holiday celebrations as we prepare to drink "Hog Nog" around the "Hog Tree."
This year the messages were so funny and crazy I thought I would share this Schaefer Family tradition with you. We could all use a little bit of laughter, right?
It all started with a text from my son that said:
CHECK YOUR EMAIL! IMPORTANT!!!!
(email from my son)
IMPORTANT GROUNDHOG DAY NOTICE (RED ALERT)
Family,
As you know, Groundhog Day approaches.
HOWEVER THERE IS SOMETHING YOU NEED TO KNOW!
Groundhog's Day this year falls on 2/2/22 and our COMPUTERS ARE NOT PREPARED TO HANDLE IT.
When the date rolls over at midnight tonight, every computer's internal clock across the world will reset to 0, causing innumerable instances of unpredictable chaos.
Air traffic control will not be able to supervise flights, train schedules will get out of whack, modern life as we know it will grind to a halt.
I wish I were with you all, but unfortunately, I am currently stocking a grocery cart with bottled water, bandages, and iodine and trying to make it home before the rest of the world realizes this same inevitability and panic breaks out.
If the shit goes down, Dad's property probably has the best chances for successful bowhunting, so I suggest we all meet there.
May peace be upon this weary world, and a great groundhog to you both.

(from me)
Of course, this has been all over the news and we are prepared. New water filtration is installed so we can simply suck our nourishment from the lake.
We drove back from Florida today and you should have seen the chaos on the highways. People are building tent cities everywhere. The National Guard presence was strong trying to keep order as people were fighting for the best spots to erect their Ground Hog Poles.
Fortunately, there was a sense of calm and unity around the holiday. Believe it or not, there were quite a few Groundhog Gowns in the encampments and of course the colored lights and singing.
I agree that my place is probably safe. In addition to water for the Hog Punch, I have plenty of cabbage and lightly peppered sausage for the Hog Rolls. Basically, I have a year's worth. Or more.
OK we have started the festivities over here already. Some of the neighbors have come by since they are lacking cabbage.
In the spirit of the season,
Dad

(from my daughter)
.. / .– .. .-.. .-.. / … . . / -.– — ..- / .– .. – …. / — -.– / -… — .– / .- -. -.. / .- / -.-. .- -. / — ..-. / -.. .. . – /
If you all have been practicing your Morse Code weekly, you should get the above. I'll be at my telegraph starting at 11:45PM this evening.
May the hog save us all.

(from me)
So proud of you for keeping the Morse Code skills up all these years. I remember tapping out those messages on your knee when you were just a baby. My love language I guess. Who would have thought it would come in handy all these years later?
Hang on everyone. We're in for a wild night.
Dad

(Text messages after midnight)
Daughter: How's everyone doing? Still have power here.
Son: So far, so good.
Me: – … — . — … .-.-.- .. – . –
Daughter: Dad, you OK?
Me: Can't talk now. Fighting off zombies.

Have a great day everyone. Hope you smiled : )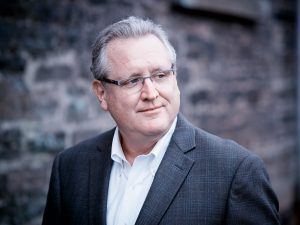 Mark Schaefer is the executive director of Schaefer Marketing Solutions. He is the author of some of the world's bestselling digital marketing books and is an acclaimed keynote speaker, college educator, and business consultant.  The Marketing Companion podcast is among the top business podcasts in the world. Contact Mark to have him speak to your company event or conference soon.
Follow Mark on Twitter, LinkedIn, YouTube, and Instagram.