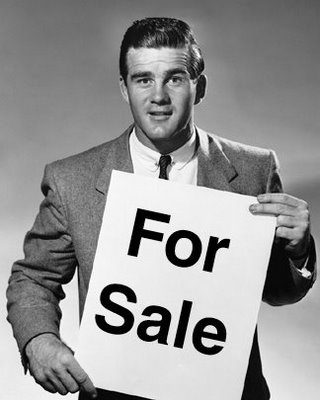 I'm hoping by now the "selling is bad" phase of the social media mantra is passe and we can all freely embrace our inner capitalist.  Right?Earlier this week I wrote about a growing trend toward sponsored posts and outright selling on blogs.  Frankly I think this defeats the community-building aspect of a blog. Why read it when you know the author is taking money to pimp stuff? I personally think this is a trend that will run its course.  One day, sponsors will figure out nobody is reading the blog when it is obviously nothing more than an advertisement. People will self-Tivo.
However, I think there are some appropriate and customer-friendly ways to sell things on a blog. I'm going to focus on the tricky world of B2B …
Feature blog-only special offers and discounts — This can also build readership if you can condition customers and prospects to look to the blog site for exclusive deals.
Post product ads somewhere on your blog — This doesn't have to be in your face and ugly. For example SAP routinely offers ads for their training programs on their blog. Why not? That's a smart thing to do and also helpful.
Involve sales in the blog chats and comments — Why not use the engagement in the comment section of the blog to let your sales folks build connections?
Give away something away that requires an opt-in — Many blogs feature product samples, or eBooks that allow the site to collect info for the company CRM.
Add a feature for customers to opt-in for specials and eNewsletter — Do you have other communication touch points customers might like to know about it? An opt-in for newsletters creates a sales lead.
Write blog topics that feature helpful uses for your products and services that encourage people to buy more stuff.  That's what we want them to do. "Grow"  … remember?
Any other ideas?  Have you seen any great best practices out there?