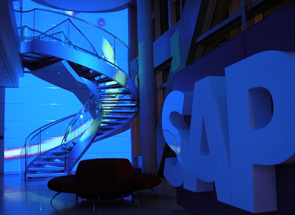 I pleased to present today an interview with William Robb, Director, Social Media Marketing for SAP.
SAP is the world's largest provider of business software and the social media role is extremely complex. In addition to being a true B2B company, the many software users within these client companies act as consumers of the software and are essentially a B2C audience.  Although a global powerhouse, more than two-thirds of SAP customers are classified as small businesses and midsize enterprises (fewer than 2,500 employees).
If you want to see the social web serving communities in a powerful way, I'd encourage you to visit their site.  In my recent corporate blogging webinar, I cited SAP as best practice and the company is also a pioneer in user-driven training and support videos and the establishment of diverse and vibrant  user communities. Here's Bill:
Bill, you hold a premier social media marketing position with one of the world's largest companies. What's your background and how did it prepare you for this role?
I worked at a full-service interactive agency for many years. We excelled in online direct marketing especially in B2B tech (Oracle & Sun were my main clients). I took a position at Cisco in 2005 in Global Demand Generation but while my colleagues were building traditional direct marketing programs, I was tasked with building the case that we could get greater return if our direct marketing was more customer-centric.
One of the guiding principles was to put our customers in control of our marketing. I built Relationship Email Marketing program that was more personalized, targeted, and often 20 times more effective than our traditional efforts.
With that guiding principle in mind, it's not difficult to figure out how I ended up in social media marketing when a small team was assembled in 2007. Brand listening, crowdsourcing, etc. are all manifestations of that same idea. It didn't hurt that personally I was a (relatively) early adopter and active participant in the social web. It's much easier to understand your customers' experiences when you're familiar with the environment yourself.
You could connect to so many possible constituents through the social web. Customers, obviously, but also developers, partners, suppliers. How do you focus your efforts?
I sit in Marketing so end customers are the priority but "customers" at a company like SAP can comprise a variety of audiences (from CxO's to developers). Depending on the product, audience, and objectives, we might focus efforts in technical forums for developers or build a thought leadership blog for a business audience.
The lame but honest answer is: it depends. Partners are also hugely important in B2B tech. Marketing's role is typically in partner enablement, but at Cisco I developed a partner influencer program for a product group as a way to help amplify their launches.
Measurement is always a hot topic when it comes to social media. How are you held accountable for results at SAP?
We're in Corporate so we're responsible for the SAP brand in social. Our team is ultimately accountable for risk management so we're doing our job well when there are 0 crises (i.e. detecting problems early and making sure they are addressed).
Otherwise, our objectives tend to be at the top of the funnel so we look at a variety of brand metrics such as competitive share of conversation in key solution areas and brand sentiment as a proxy for customer satisfaction.
At a more tactical level, our team manages the SAP brand social sites (e.g. www.facebook.com/SAPSoftware) where we track the typical interaction levels and drive-to-SAP metrics. On that front, we're launching a pilot with a social media management tool (Sprinklr) that allows us to aggregate metrics for all SAP social sites and social media interactions. I envision this opening the door for some new measures that we'll track.
Our bigger task is to measure more of the business impact of social and we are working on a unified view of measurement across three of the major groups engaged in SAP social strategy internally (Marketing, PR, and Communities). Stay tuned.
What has you most excited about your job right now?
Social CRM has some fascinating implications for marketing, sales, and service. As a social marketer, I enjoy thinking about how we need to organize and build processes to support it especially across departments. It's a challenging but very rewarding part of my job. Working for a company that's a player in the SCRM space adds yet another dimension to my interest.
You told me you really liked my recent post on busting social media myths. What myth would YOU like to bust?
It's very popular for Social Media Directors at various companies to say this: "If we do this right, I won't have a job in a year or so."
OK, I can appreciate the idealism—social media is so important in so many areas of the business (internal and external) that it's just going to be part of everyone's job and having a social media "silo" is counter-productive to that end.  My career in marketing has shadowed the rise of the web and its offspring (email, search, social, mobile). These have fragmented the marketing mix to a level that requires deep specialization. And they evolve at such speed that it's hard even for specialized practitioners to keep up.
Many marcoms still struggle with the complexity of online & email yet we're expecting them to be social media strategists in 12-18 months too. I just don't see it. You can build social DNA into every employee (and the business itself) yet still require a team of social media specialists who have deep expertise in the discipline — not to mention a more critical eye for bad behavior. I think roles like mine are going to be necessary for the foreseeable future.
Bill can be found on Twitter at @BillRobbSAP and on LinkedIn.