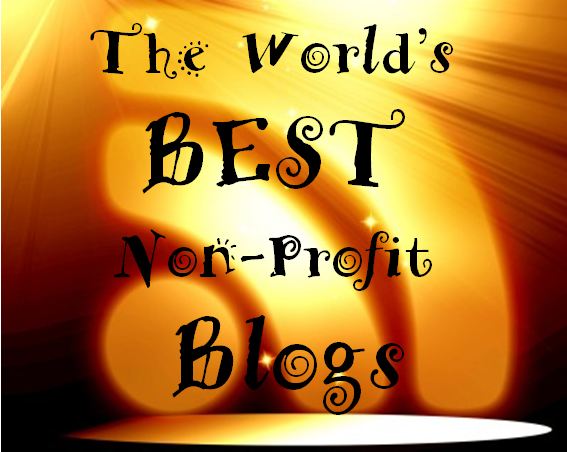 Blogs and social media are critical communication tools for non-profits. In fact, according to research by the University of Massachusetts, a higher percentage of nonprofits have active blogs than any other category. And it makes sense. Nonprofit blogs are a cost-effective way to tell stories and build a consistent emotional connection with constituents. But how are they doing? What are the best in the world?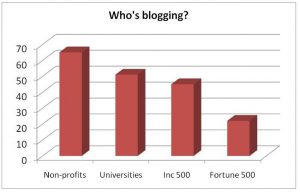 So I embarked on an ambitious project in partnership with Helen Brown, founder and president of The Helen Brown Group. Helen knows non-profits and has devoted her career to teaching some of the biggest organizations in the world how to raise funds more effectively.
We examined more than 250 blogs from some of the largest and most important charities anywhere. We looked for the blogs that were engaging an audience, offering superb content, and aligning with the organization's strategies. Last year, when I compiled a list of The Best Company Blogs in the World, I noted that it was a depressing experience.  Most company blogs aren't that good and I'm a little sad to say we had a similar experience with the nonprofit blogs. Helen summed up our experience in one word: "DRECK."
But we did find inspiring blogs out there.  Here, in no particular order, are the …
Best non-profit blogs in the world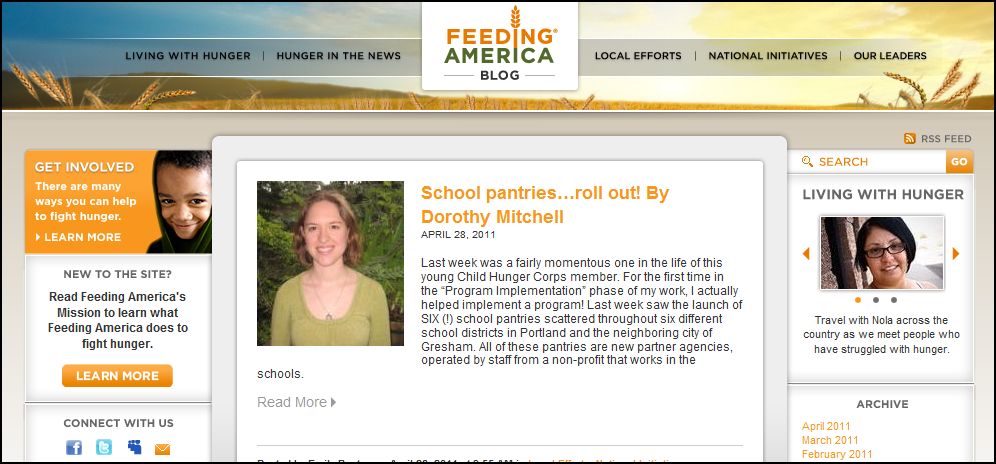 This is simply one of the best blogs you will find anywhere, profit or non-profit.  It has it all:
Superior content
Non-intrusive yet effective calls to action
Good use of multi-media such as photography and video
Superb use of story-telling to align with objectives
Attractive and functional design
Convenient social sharing
Features that involve key stakeholders
This blog is a role model for any organization.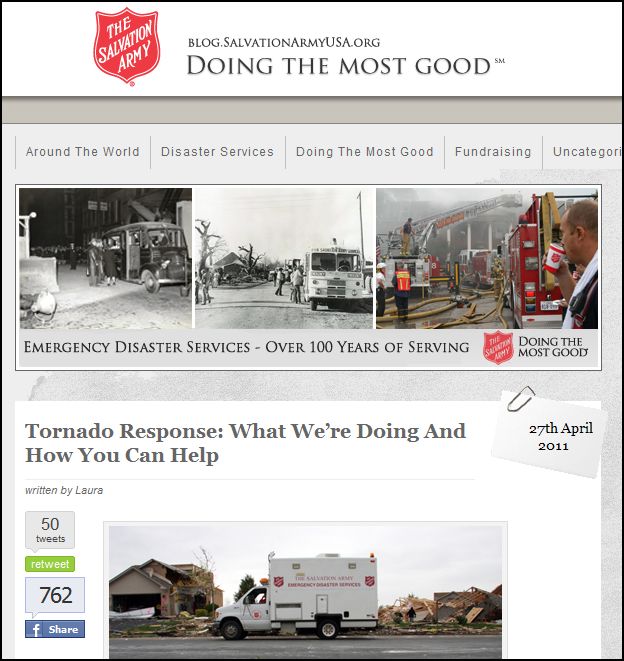 This is a wonderful, interesting blog.  Of course it serves as the place to go in the event of a disaster, but it is also an entertaining read.  As a good example, read this post about the historical role of The Salvation Army in the devastating 1906 San Francisco earthquake.  Another post features a "fashionista" getting her clothes from a Salvation Army Thrift Shop. Not only is this type of post great story-telling, it connects readers with the history and rock-solid foundation of the organization in an entertaining way that cuts through the noise.
While a good-looking and well-organized blog, inexplicably, it seems to stand alone from the primary Salvation Army site. There is no easy way to connect directly to the organization or donate money right from the blog. Missed opportunity.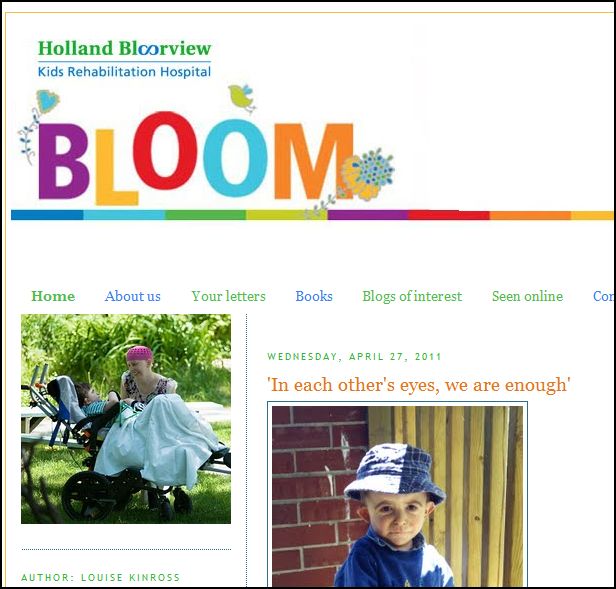 Holland Bloorview Childrens Rehabilitation Hospital
This blog brought tears to my eyes. If you're a parent, it will probably have the same affect on you.
Bloom is about parenting special needs kids.  It isn't fancy.  In fact it's just on Blogger.  But what it lacks in sophistication it more than makes up in courage and heart. Writer Louise Kinross has something unique and personal going on here. She has nurtured an active, loyal community and with good reason … this is blogging at its best.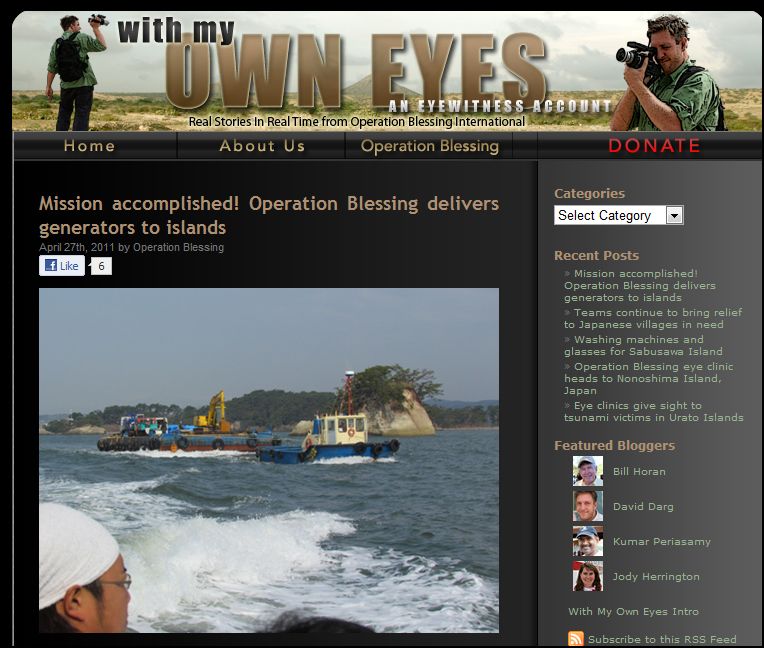 Check out this gutsy, effective blog.  With My Own Eyes is a firsthand, photo-journalism account offering users the opportunity to see some of the most devastated, disaster-ravaged and previously inaccessible places in the world, as well as a look at Operation Blessing's efforts to help people that live there.
This multimedia site features video footage, photos and the personal diary entries of some of the team leaders from more than 25 countries including China, India, Indonesia, Mexico, Peru and the U.S.  Each blog post provides concrete ideas on how to connect and help.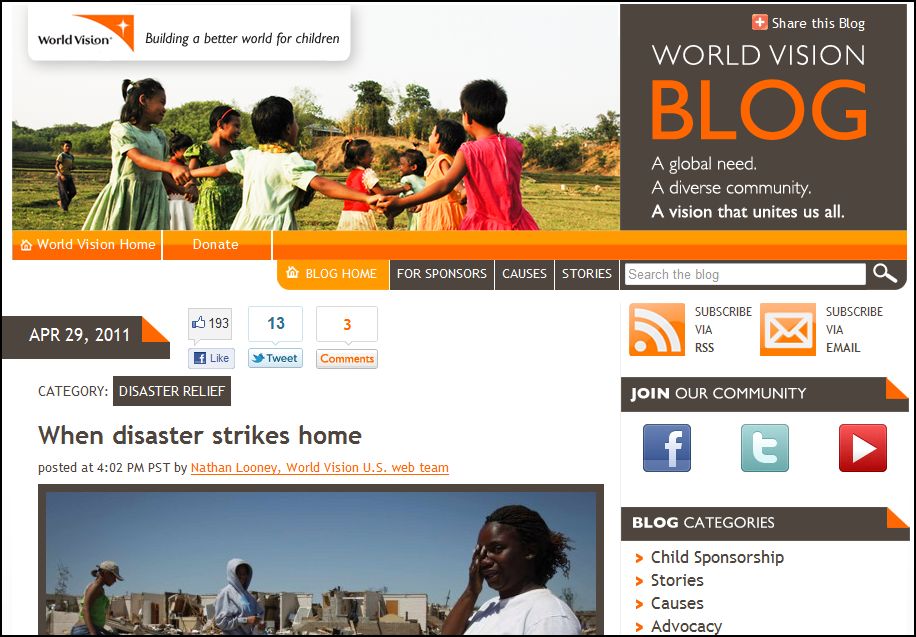 This blog just began in 2011 so we'll have to check in later to see if they can sustain what is starting out to be an excellent blog.  World Vision works with impoverished children and their families throughout the world and is also effectively using eyewitness accounts to connect to constituents.
Some of the hallmarks of this journal are fantastic, colorful articles that pull you in to the organization and its mission. This blog seems to have jumped out of the starter's gate quickly — some of its daily posts are already getting more than 1,000 shares. While the design of the blog is quite busy, check out the beautiful and effective design of the main  website while you're visiting.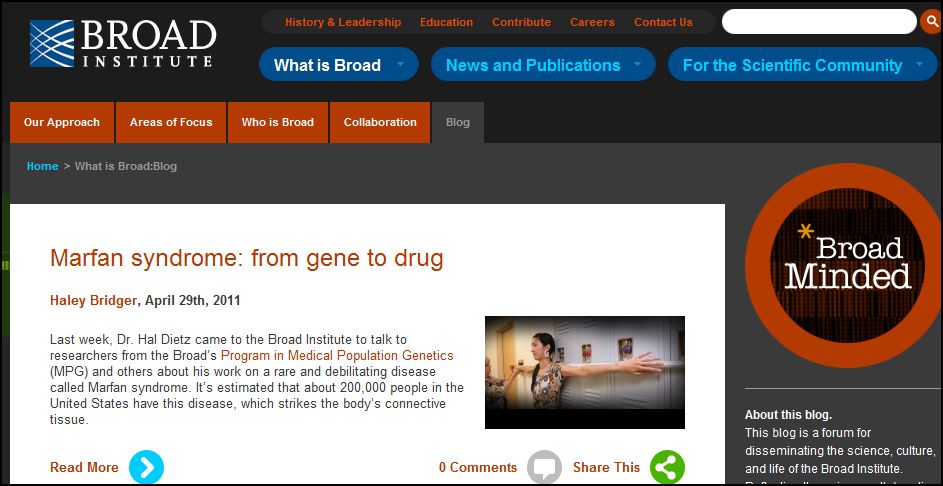 Simply put, The Broad Institute is creating methods, tools and massive data sets and makes them available to the general scientific community to rapidly accelerate biomedical advancement.
The charming thing about their blog — Broad Minded — is that it frames complicated subjects in accessible terms. I'm partial to science literature any way so this blog was a delight. I mean how can you miss with a blog post titled "Lifestyles of the Fungal and Famous" or another that explains unraveling mysteries of DNA as a Julia Childs recipe.
This is a lively, stratight-forward blog that is exceedingly well-aligned with the mission of the organization.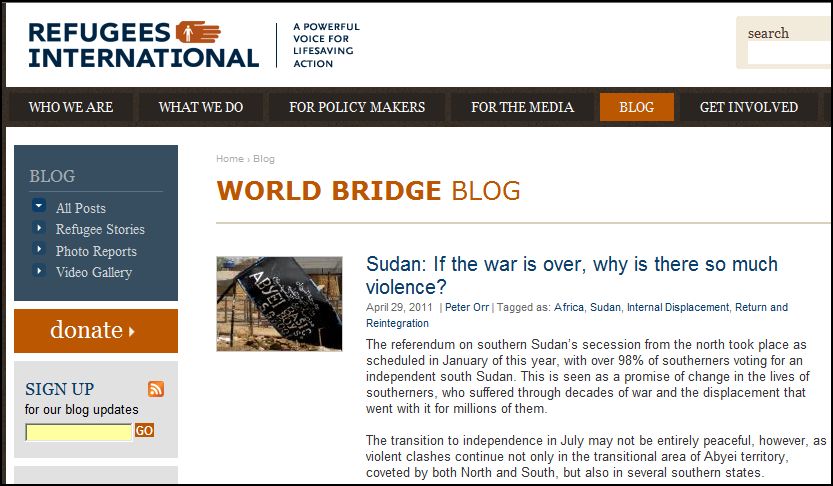 Refugees International advocates for lifesaving assistance and protection for displaced people and promotes solutions to displacement crises. This blog achieves story-telling excellence through extraordinary writing, compelling videos and dramatic photography. If you want an example, check out this video on how refugees struggle to find an education. The almost daily blog is unafraid to confront difficult political issues and take a stand as it boldly raises awareness for its cause. A smart, superb blog.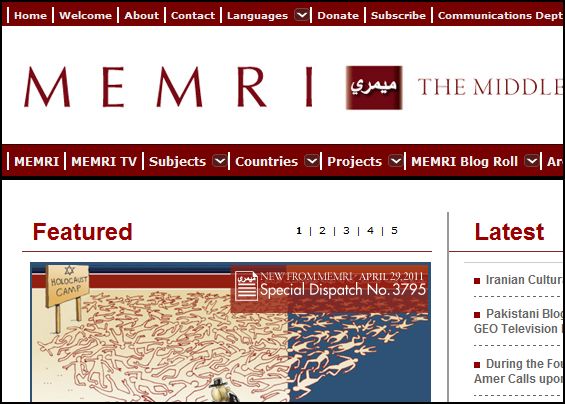 The Middle East Media Research Institute (MEMRI) explores the region's media (both print and television), websites, religious sermons and school books. This blog stands out in a special way because essentially, the blog IS the organization.
This respected non-profit scans the Middle East for important news and trends and provides timely translations of Arabic, Farsi, Urdu, Pashtu, Dari, Hindi, and Turkish media in separate blogs. Other sections provide original analysis of political, ideological, intellectual, social, cultural, and religious trends in the Middle East. This series of blogs is the centerpiece of this important effort. Pretty cool.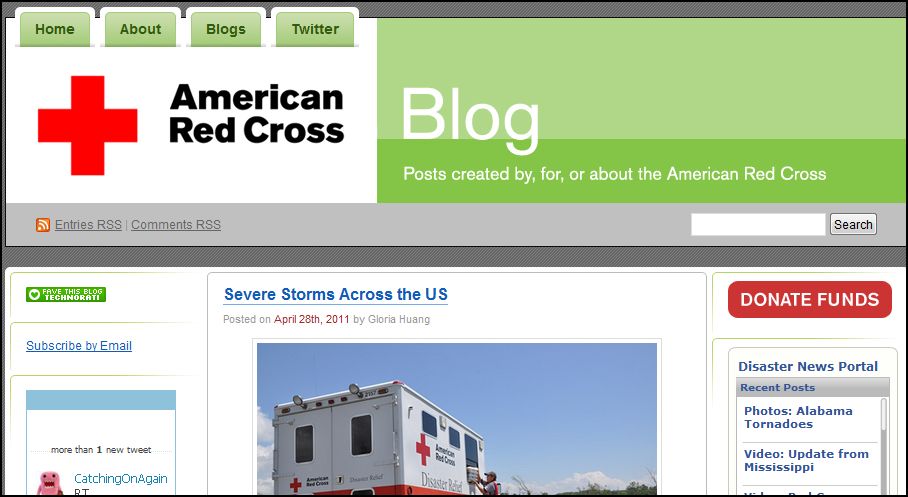 This blog provides consistently good content mixed with compelling multi-media.  It has several nice features like a list of all local Red Cross Chapter blogs, weekly round-ups of disaster relief efforts around the world, and connections to many disaster-response related resources. Just all-around helpful and targeted to support the needs of its constituents. I don't know why this blog is detached from the main Red Cross website. A missed opportunity. Also, it is strange that the blog gets no comments when it is such a vital community-focused organization. And in the "maybe I'm picky category" — seems like they could have come up with a better title for their showcase than "Blog." : )
BONUS CONTENT!

If you're interested in non-profit best practices, Helen Brown has provided this list of some of her favorite blogs ABOUT charities and fund-raising:
Stanford Social Innovation Review Blog
The SSIR is part of the Stanford University Center on Philanthropy and Civil Society (PACS).  Highlighting thought leaders, practitioners and innovative funders and "striking a balance between the pragmatic and the intellectual," this blog keeps you up-to-date on the issues at the forefront of the third sector.  Contributors include Sean Stannard-Stockton, Amy Sample Ward and Peter Sims.
Chronicle of Philanthropy's Blogs
The Chronicle of Philanthropy site plays host to a number of blogs including those on prospecting, candid conversations about nonprofit boards, international philanthropy and social media for nonprofits.  Contributors include staff writers as well as experts and thought leaders on their given topic.
Queer Ideas; a bloody good fundraising blog
Sometimes irreverent, usually cutting-edge, always intelligent and interesting, this blog is written by Mark Phillips, founder and CEO of bluefrog, a fundraising consulting firm in the UK.  His observations and links to helpful research and resources make this a good one to expand your mind.
Beth Kantor is seen by many (us included) as the go-to blog for nonprofit fitness checks, great ideas, subtle nudges toward excellence and good advice on social media, networking and organizational management you'd do well to take.   Beth's writing style is accessible and friendly, yet the blog is packed with resources, links to scholarly studies and other references that you need to know about.
Written by the co-author (with Beth Kanter) of The Networked Nonprofit, Allison Fine's blog is a combination of acute observation and commentary on articles, videos, campaigns and collateral on fundraising, networking and social media.  An extra bonus on her site is links to Allison's monthly podcast interviews for the Chronicle of Philanthropy.
Philanthropy 2173; The Business of Giving
Authored by Lucy Bernholz, founder and president of Blueprint Research & Design, Inc., Bernholz is to nonprofits what Rachel Maddow is to liberal politics – intelligent and incisive yet accessible, wonky, and (respectfully) pulling no punches.  The blog approaches nonprofits and their arena as a third business sector, and Bernholz isn't sitting behind a desk; very often she's interviewing some game-changing sector leader and sharing their conversations and her insights.
So there you have it! The best non-profit blogs you'll find anywhere. Of course there are some good ones out there that we missed.  Do you have a favorite? What blogging ideas did you pick up from this list of great blogs?

Take the Mystery Out of Twitter!
Become a Twitter Ninja in just 90 minutes with the
The Tao of Twitter
,
 the best-selling Twitter book in the world!  Learn the three elements behind every Twitter success, 22 ways to build a relevant audience, strategies to create personal and business benefits, and hundreds of amazing tips and time-savers.