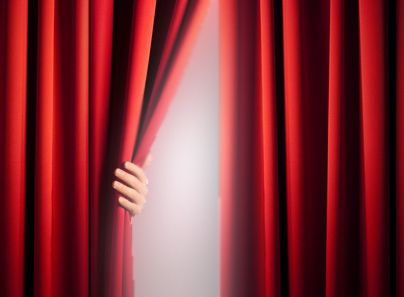 A few miles from my house there was a very successful Wal-Mart store.  It was in a great location and the parking lot was always packed. I had heard that this was actually one of the chain's most successful stores.
So at first, it was surprising when Wal-Mart closed this store at the height of its popularity and opened a bigger store a few miles away. They were abandoning an extremely successful site, but with a very good reason.  They were re-inventing themselves. If they hadn't opened up a grand new location, their competitors would.  If they hadn't added new features and services, their competitor would be nipping at their heels with new innovations.
Replace yourself.
I think this is a powerful recipe for success.  While the retail chain might be best known for "every day low prices," in fact their core competency is relentless and continuous process improvement. They are in a constant state of re-invention. Doesn't it make sense to "replace yourself" instead of waiting for somebody else to do it?
This is a principle that needs to be applied to every business, both big and small.  Even me.
I have to admit that success had made me become a bit complacent with my business strategy.  When you're embroiled in the day-to-day hurricane sometimes it's difficult to think about the big picture and the prospect of re-inventing yourself and your business.
So I've been re-evaluating where I am and we're I'm going.  Here are a few questions to consider in a strategic renewal:
"Only we …"
Can you finish that sentence?  It's probably the hardest task in business but it's absolutely essential because it unearths your points of differentiation, the nature of competition, the needs of your customers, and ultimately, your strategy. If you haven't considered this in a while, has it changed?  Are you sure you are aligned with customer needs?  Are you continually improving and refreshing your core competencies?
Tune-in
If you haven't spent time considering the changing needs of your customers, it might be time to get out and talk to them or do a survey.  While we're focused on serving, it is often difficult to see what's coming next.  In my corporate life, we had a formal "listen to the customer" exercise that helped us discover many new product ideas.
Scan the playing field
Are you watching for changing trends and innovations among your competitors?  Even in the fragmented and highly-competitive field of social media marketing, there are certain over-arching themes emerging. Are you ahead of the curve or behind the curve? Do you even know?
Revenue renewal
My business has changed dramatically int he past three years as evidenced by this comparison: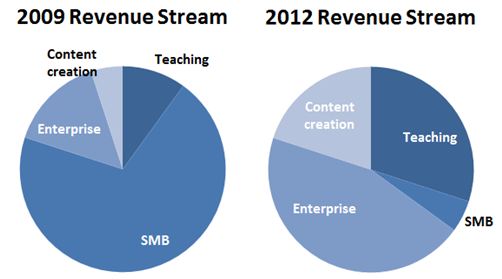 My work with SMB (small and medium businesses) has nearly come to an end.  This was a difficult transition and I had to make the hard decision to literally give away my valued customers (who have also become my friends) to another consultant.
Instead, I am focusing on enterprise-level customers. This is more in my comfort zone, better utilizes my background in organizational development and is more profitable.
I am also devoting more time to teaching in executive programs at Rutgers University.  This is rewarding work and it is a great experience to to be part of a social media "A Team" that includes CK Kerley, Glen Gilmore, Augustine Fou and many other notable faculty members.
Included in the "content creation" category is Social Media From Scratch Videos, my books, social media speaking engagements and other paid content. This is the fastest-growing area and now I need to figure out if something else has to "give" or if I continue to expand this area.
So I have been aggressively re-inventing my business model, and I'm not sitting still. I'm constantly re-assessing and shedding my business skin.
Application
With the speed of business today, we simply have no choice but to constantly re-invent our businesses and even replace ourselves.  I would be really interested to hear how you're handling this transition. In the face of a busy work schedule, how do make re-invention a priority?  Is this post going to help give you a kick-start?