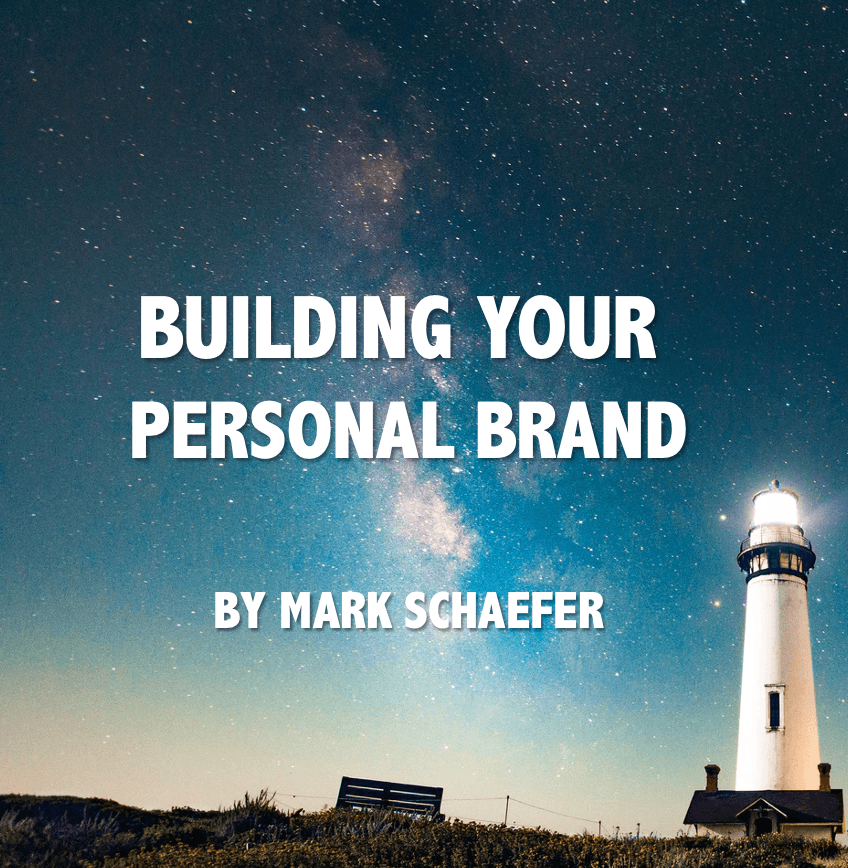 A few years ago, I wrote a book called KNOWN: The handbook for building and unleashing your personal brand in the digital age
. During a recent podcast interview, the host commented that she was re-reading the book because it was especially relevant in the midst of this deepening economic crisis.
She's absolutely right.
In fact, I'm passionate about this idea. In terms of business priorities during this crisis, there are three that are probably universal for most businesses:
Pivot as appropriate to make it to the other side.
Prepare for the "new normal" — will your business still be relevant in six months?
Build a personal brand.
Why should you be building your personal brand now? Three reasons:
Trust in businesses, brands, and advertising has declined for 11 consecutive years. Trust in business owners and technical experts has increased. Increasingly, the personal brand IS the company brand.
The economic crisis will create a shake-out in almost every industry. Having a strong personal brand — becoming KNOWN — can be a permanent and sustainable competitive advantage. More calls will be returned, more doors will open (and stay open) if you're known and your competitors are not. If you're known you have an advantage over every other job seeker.
During this coronavirus crisis, our customers are expecting relevant and helpful content more than ever. Content is the personal branding fuel. So the timing of building a personal brand could not be better.
So please consider a focus on building your personal brand now. I am urging all of my clients to take this seriously.
Let's look at a few facts about building your personal brand that might be new to you.
Five surprising ideas about your personal brand
As I look back on my long career, my book KNOWN might be my greatest contribution to the business world. Nearly every week I get a note from somebody telling me the book has changed their life or business. What a great reward!
I'm not a bragging person, but I nailed it with this book. There is one repeatable path to becoming KNOWN. I found it, described it, and provided an accurate roadmap for individual success and growth.
While writing KNOWN, I spent more than two years researching current literature and academic studies. The process is based on real-world research. I also did original research by interviewing 97 people from around the world who became KNOWN in industries as diverse as real estate, music, food, fashion, education, fitness, banking, and many more. This is a book for every business professional, not just social media gurus. Here are surprising truths I cover in my book:
1. There are always just four steps to becoming KNOWN
Every person who has become KNOWN did the same four things. No exceptions.
They might have stumbled onto it, tripped over it, or fell into it, but they all eventually took the same four steps:
Defined a "sustainable interest" (which is not the same as a "passion")
Found an under-served path to connecting to a relevant potential audience
Developed relevant, consistent, and human content for that path
Built an "actionable audience" (which is different than a social media audience)
That's it. It's not complicated but it requires discipline and work. My book provides extensive exercises to help you find the exact path that is right for you and your business.
You don't have to be confused or overwhelmed. Just focus on these four steps … and it works. Following this path will significantly reduce your learning curve and the time it takes to start having success.
2. You don't have to be an expert to be known
This is one of the biggest surprises you'll find in my book. You don't necessarily have to be an expert in anything to become known.
My book has dozens of inspiring case studies of people who created amazing success by becoming KNOWN. Guess what? None of them started at the top. Nobody is born an expert.
Like me, for example.
I started blogging in 2009.  I was terrible. Had no idea what I was doing. But just four years later in 2013, I wrote a best-selling book on blogging: Born to Blog
and held workshops with paying clients who wanted to learn how to blog.
How is that possible? I wasn't an expert but I built an audience as I became one.
If you're not inherently an expert in anything, becoming known can simply be a process of taking people along for the ride with you.
So there is no need to feel intimidated because you're not an expert. If you have a willingness to share your journey, there is an audience out there willing and ready to go on the journey with you.
3. There are only four content options
When it comes time for creating content a lot of people get exasperated. How do you find the time to do this? Do I need to be on Facebook? LinkedIn? Twitter? TikTok?
Again, there is a straight-forward path.
You only have four options:
Written content like a blog.
Audio content like a podcast
Video content like a YouTube series
Visual content appropriate for something like Instagram or Pinterest
The key idea is to pick ONE and master it. My books help you identify the content that exactly right for you and your business. Facebook and LinkedIn are examples of distribution channels. The real key to the personal brand is the underlying original, consistent content.
It doesn't have to be difficult or time-consuming. My book shows you how to connect with an audience efficiently.
4. There is a right time to become known
I am really concerned about the pressure out there to hustle, be remarkable, or become well-known without considering your personal situation.
Let's have some straight talk.
In my book, I recommend that to do this right, you should be ready to devote about five hours a week to becoming known. And you should be ready to commit to 18 consecutive months of effort to prove your ideas. That is a lot of effort.
Maybe it's not the right time for you.
If you are taking care of a sick relative, overcoming a financial setback, or serving our country during an emergency then it's not your time. Those aren't excuses. That's life. You are still a perfectly worthy person and your time will come … but maybe it's not now.
But if you think you can devote the right amount of time to make it happen, my book will show you the right path.
5. You can measure your success
One of my major contributions through KNOWN is exploring the idea of measurement. You're putting all this time into your personal brand. How do you know it's working? When is it time to pivot … or quit?
These are vitally important questions. The worst thing you can do in business is execute perfectly on the wrong strategy!
So I devised a system (and even a downloadable worksheet) to help you determine whether your personal branding effort is working. The key idea is to switch your focus from quantifiable measures to tracking qualitative measures.
As long as you are seeing qualitative measures of progress (such as interview requests, comments/questions, and inquiries), you have to keep going. It's working. Remain patient because it's happening!
You can become KNOWN
I think one of the reasons KNOWN has become the best-selling personal branding system is that everybody can easily relate to it.
The heroes in the book all started at the bottom. I even chronicle how the beginning of my journey was the lowest point of my life.
No matter where you live, where you were born, the color of your skin, who you love, or how dark your life has been, you can have a voice. You can build your own influence and power on the web and become KNOWN.
This is the perfect time to be working on this effort.
There are four ways I can help.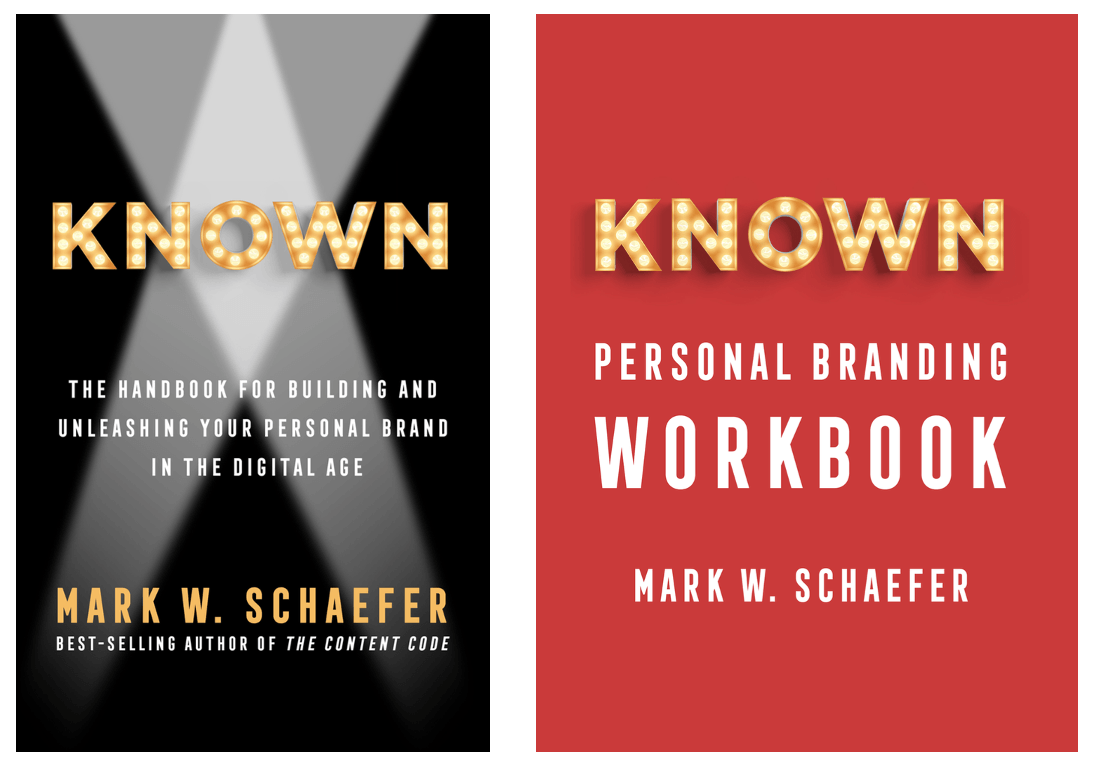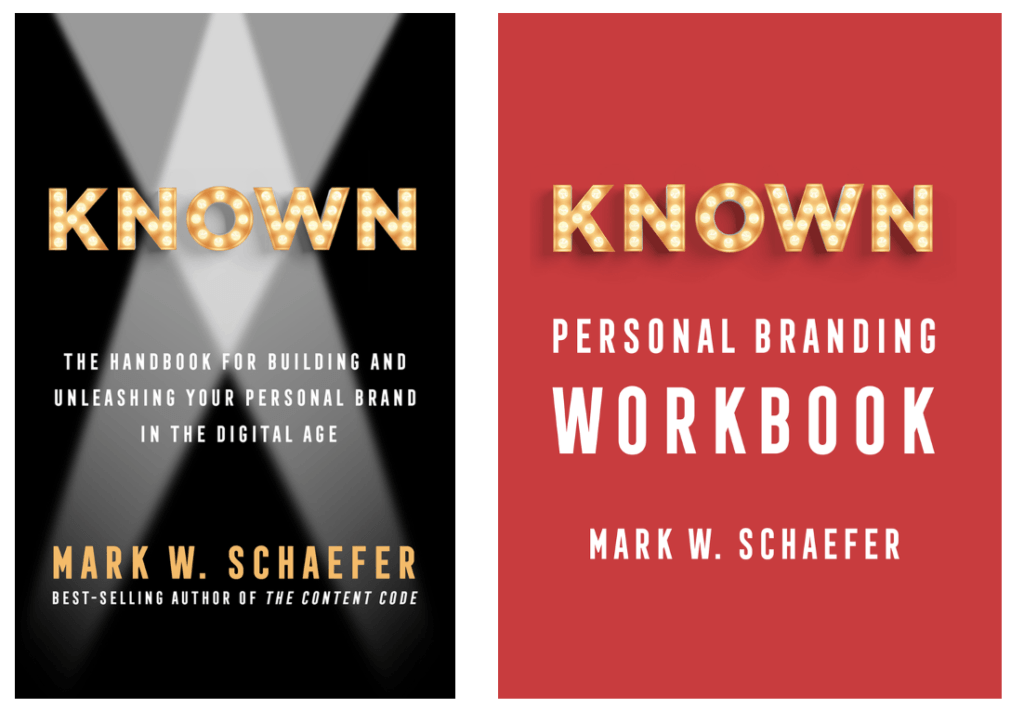 Now is the absolute best time to prepare yourself and your business for the other side of this crisis and I hope you'll let me help you take advantage of it.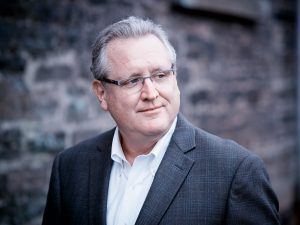 Mark Schaefer is the chief blogger for this site, executive director of Schaefer Marketing Solutions, and the author of several best-selling digital marketing books. He is an acclaimed keynote speaker, college educator, and business consultant.  The Marketing Companion podcast is among the top business podcasts in the world. Contact Mark to have him speak to your company event or conference soon.