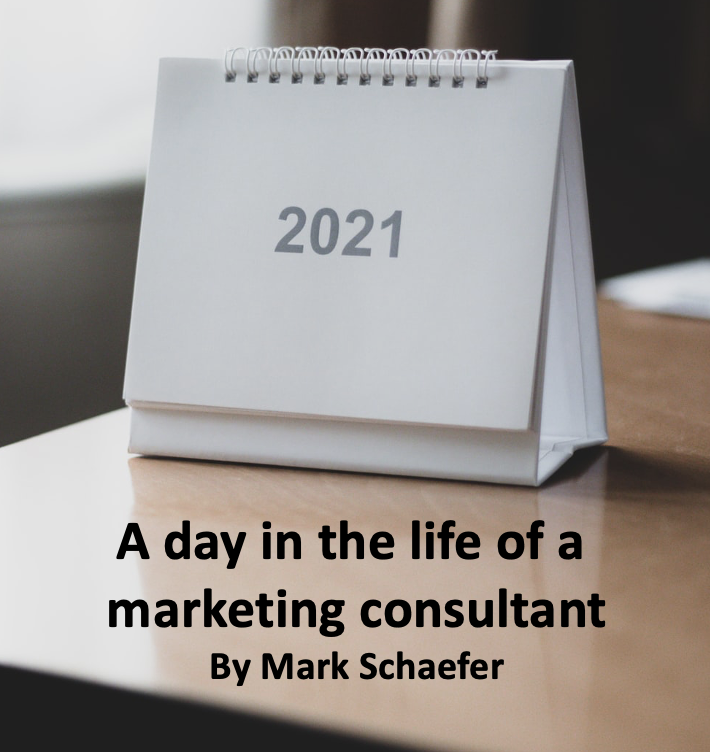 I had this question from a young reader: "Can you share what you do in a typical day as a marketing consultant? I want to be like you one day."
I've never written a post documenting my day before, so … why not?
Career in context
I am about to list the primary activities of one day — Wednesday, June 16, 2021. But first, a little context.
This is not a typical year. Because of the pandemic, I'm doing almost no travel. A typical day in 2019 or 2022 (let's hope) would be much different, I think.
This year, I only work four days a week, an experiment that has been working very well!  My primary days for meetings are Tuesday, Wednesday, and Thursday. So this is a typical "busy meeting day."
I usually start my day around 6:30. a.m. This is a quiet and productive time. I love my work and can't wait to get started. I have fun every day!
My primary work activities would be:
Marketing consultant to small and large companies
Keynote speaking (with the exception of 2020, this has been my biggest source of annual income since 2016)
College classes and corporate workshops on new marketing realities
Creating content — blogging, podcast, books, interviews. This is the only marketing I do for my business and it also fuels the ideas behind my other activities.
A day in a marketing life
Here we go, beginning with …
Read the news in the Wall Street Journal, The New York Times, and my local paper. I'll also scan The Economist.
Review email from overnight and respond. The world keeps moving all night without me! My strategy is to "touch" an email one time. Open it, respond, get rid of it.
Check any social media engagement I need to attend to on Twitter, LinkedIn, and Facebook, primarily. One of my LinkedIn posts has 11,000 views in 24 hours so there are lots of comments! I do all my own social media engagement. It doesn't normally take that long and it keeps me in touch.
Write up notes from B Squared Media webinar on post-pandemic customer care. This is an event I co-hosted with Brooke Sellas to draw attention to the critical need to pay attention to customer care right now. In this email, I captured successes and lessons for the future.
Read a research report on Direct to Consumer trends in preparation for an upcoming customer meeting. A start-up is interested in hiring me as an advisor and we're in the process of getting comfortable with the chemistry between us. Chemistry is everything.
Responded to a request to re-publish some of my blog posts in a European business journal. (Yes.)
Correspondence with agents selling the rights to my books to international publishers. Just signed a new contract.
Responded to new speaking inquiry — U.K. marketing conference (virtual). (Yes).
Responded to another new speaking inquiry — Purchasing conference in Orlando (live, and also yes!).
Got out of my office and walked around outside for 15 minutes. Moving, stretching.
Online meeting to discuss teaching a three-week class on "New Marketing Realities" in Bangkok. Live … hopefully.
Business consulting call. Entrepreneur delayed business launch due to COVID and needs some advice. (Anybody can sign up for an hour of my time by the way!)
Online meeting with a big tech customer preparing for an upcoming conference. Wanted my advice on live/online conference integration.
Mentoring session with young marketing consultant struggling with his business focus.
Networking call with local business owner seeking some business development support.
Based on some of the meetings from today, I paused to record ideas for future blog posts. No time to write today but I'll come back to these ideas later.
Prep call with a conference organizer. I'll be the keynote speaker at a national banking conference in October. We settled on an amazing content idea for the event.
Afternoon rest. This was a busy day. I schedule a one-hour break each afternoon to rest or exercise. I was able to get out on a beautiful day and do a little work in my vegetable garden.
Corresponded with two different customers in Texas — scheduling a summer live visit!
Had a 30-minute introductory call with a customer experience expert who connected with me on LinkedIn. I'm interested in their perspective of the post-COVID business landscape due the work I do with B Squared.
Sent quick message to my virtual assistant seeking research support for a possible new book idea.
My final meeting of the day was with a software company seeking to hire me as an industry influencer. I don't do much of that kind of work but the product seems interesting. I turned it down but suggested one of my industry friends as an alternate.
My day ends about 6 p.m.
In the evening I usually try to grab some exercise like tennis, kayaking, walking, or a bike ride. I wind down at the end of the day streaming a movie or other content with my wife.
What's missing?
As I look at this day, there are a few other things I do that are not well-represented here.
I usually blog a little every day and try to finish one or two posts over the weekend. I tend to write and catch up on email on the weekends.
If I had a book in process, I might spend 2-3 hours a day writing.
If I was working as a marketing consultant on a specific client project, I might spend 2-3 hours per day researching and writing.
If I was working on a new speech, I might spend an hour a day, for a few consecutive days, refining and rehearsing.
So that's it. Lots of activity, lots of variety … just the way I like it! Any surprises?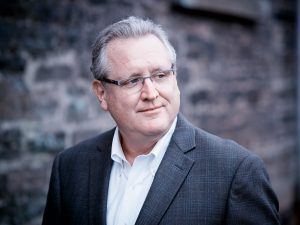 Mark Schaefer is the executive director of Schaefer Marketing Solutions. He is the author of several best-selling digital marketing books and is an acclaimed keynote speaker, college educator, and business consultant.  The Marketing Companion podcast is among the top business podcasts in the world. Contact Mark to have him speak to your company event or conference soon.
Follow Mark on Twitter, LinkedIn, and Instagram.
Illustration courtesy Unsplash.com