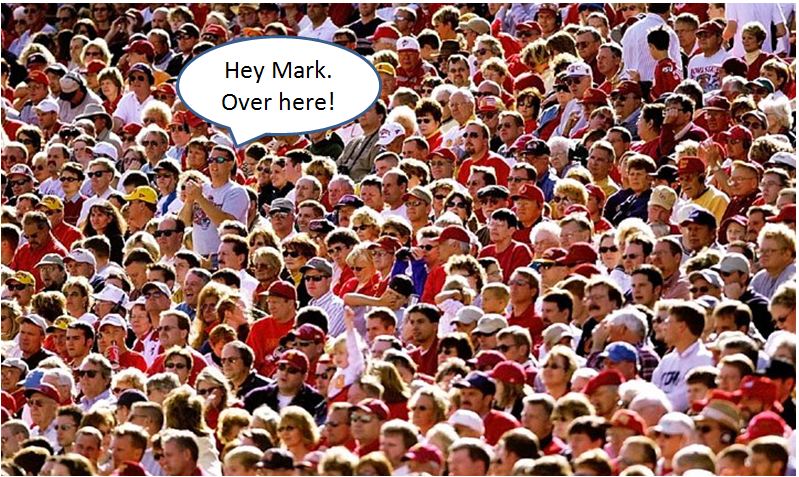 Something amazing has happened.  I have nearly 8,000 Twitter followers in eight months.  How does somebody maintain a meaningful presence on Twitter with a crowd like that?  I'm a work in progress, but here's what's going on with me.  Maybe it will help you too!
First, after I block out the creeps, I consider it an honor to have somebody follow me.  Sure, they still might be trying to spam me, but my underlying assumption is that a new follower has genuine interest in me and I generally follow them back.  I want to treat anybody who follows me with respect. My intent is to connect with you if you sincerely want to connect with me.
The wave of noise
Obviously there is no way to have a meaningful dialogue with 8,000 — or even 1,000 — people.  It is a wave of noise.  As my followers grew, I realized that I was simply not going to be "engaged" with most of them.
The compromise is, I try to stay engaged in a meaningful way with anybody who makes an attempt to connect with me through Twitter, Facebook, LinkedIn, or (gasp) the real world.  I manage this through Seesmic (or Tweetdeck, take your pick).  I have segregated lists of people who connect with me and I try to watch their activity and support them as much as possible.   If you make an effort to engage with me, I'll put you on one of these lists so I can hopefully get to know you and engage. I truly want to help and support people in my audience any way I can, whether it is tweeting, reading your blog, or having a chat about a problem.
Everybody's equal
In my Twitter World, even though you may be one out of 8,000, everybody has an equal chance at dialogue.  I generally follow back — now it's up to you!  I also make an attempt to engage in some way with new followers, especially if I see something in their profile that indicates a common interest. In general, if people connect to me, we stay connected.
I also maintain a Seesmic list of the folks I consider to be thought-leaders from a wide range of disciplines.  Learning from these great thinkers and having access to them is one of the best benefits of Twitter, in my opinion.
I have not used public Twitter lists for two reasons. First, I don't see an advantage over the lists I've already built on Seesmic. Second, I don't want to hurt somebody's feelings. If I had a list of "B2B thought leaders" and one of my followers wasn't on it, it could hurt their feelings.  As I said, bottom line this is about respecting people. I know there is a real person behind that little picture and you are amazing in your own way.
What's next?
This strategy seems to be working for the time being.   Can I maintain relevance with an audience of 10,000 or 20,000?   I'm sure I'll have to adjust and I'll probably have a new post to write you at that point!
In the mean time, I would appreciate your feedback.  What issues do you face with your growing list of followers? What ideas do you have that can help me do a better job staying connected with you?