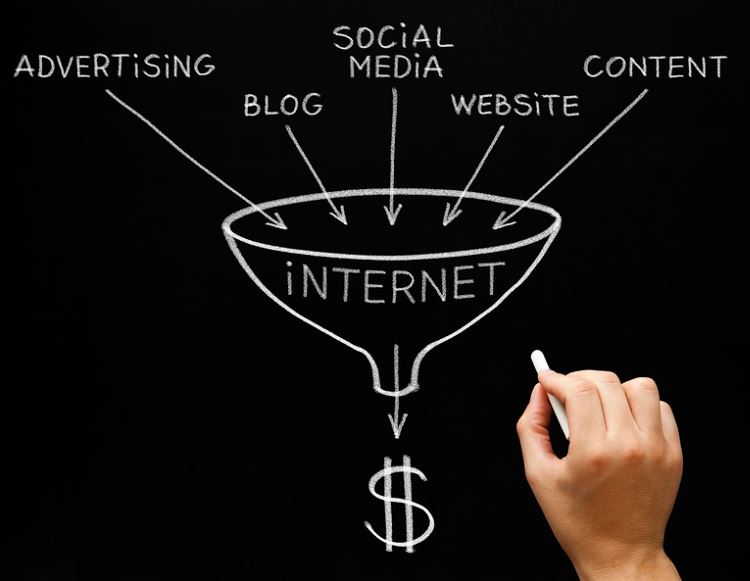 By Mark Schaefer
One of the most pervasive mantras on the social web is "don't sell." And it is certainly true that anybody out there shilling every day on Facebook and Twitter is going to lose a lot of friends.
But sometimes, you have to sell … especially if your job is in sales! In fact, in some way, every single employee can be a beacon for your brand and contribute to a holistic selling effort if they have an active presence on the social web. So today I wanted to step back and look at how social media can be aligned with a pure selling effort.
1) Tear down the digital divide
The first thing we need to do is re-frame the social sales strategy to adapt to this new channel.
Here is precisely how social media fits into the big picture: It provides the opportunity to listen, learn, and create consistent, small content provocations that can lead to awareness, engagement, and eventually trust. Now if somebody came to you offering this service to you wouldn't you sign up right away?
Here's the good news. It's free, it's tested, and it is the most powerful personal networking opportunity ever created — social media. The problem is, when many sales people enter the digital space they forget what made them successful in the first place. They turn into broadcasters and mindless tweet machines.
Step one. Take a deep breath and approach digital relationships the same way you approach human relationships because those are still humans behind those little Twitter and LinkedIn photos. Connect to people in the same way you would in a live networking meeting or industry conference. Tear down the digital divide.
2) Adopt the social media mindset
When most people first start working on the social web, they see this as another channel to place their ads and press releases.
WRONG. People spend time on the social web to GET AWAY from your ads and press releases. So we need a new approach based on the core concept of The Tao of Twitter
 called The Social Media Mindset: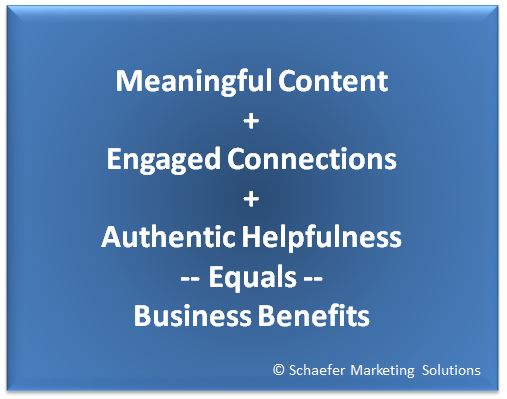 This is too big of a concept to flesh out in a short blog post but let me summarize it this way:
Meaningful Content is the catalyst that drives awareness and connection on the web.
We must actively seek a network of Engaged Connections who will ignite our content.
People will shun advertising but seek out people, companies and brands who are Authentically Helpful.
What would happen if you tried to differentiate yourself and embraced social helping instead of social selling?
3) Aligning with sales success factors
Now let's look at how social media can align with the very factors that are making you successful in your human business relationships today. In addition to being an ambassador for the company and and advocate for the customer, there are also some personal characteristics that I admire in the best sales people.
Intensely tuned to customer needs
Responsive and helpful
Proactive — Anticipating issues before they happen
Dedicated to building a personal relationship based on integrity and trust.
How does social media align with each of these traits?
Tuning in to customer needs
If a customer is active on social media, it's likely they are reaching out to colleagues — maybe on a LinkedIn Group, maybe in a professional chat board, maybe even on Twitter — for help on business issues. Most CRM systems today provide some sort of summary of your customer social media activity so you can get a sense of what's going on before you make a sales call.
Responsiveness
You probably don't have the time and money to visit your customer every week or every month. But through social media, we can provide a drip, drip, drip of helpful communications to let customers know we're there, we're listening, we care.
Proactive
The other day I noticed a customer LinkedIn update stating that they were looking forward to attending a professional conference in Boston. Since I had just returned from Boston, I was able to provide a recommendation on great restaurant. I also knew of a friend who was attending the same conference who would be an important new business connection for my customer. I never could have provided this proactive service without paying attention to the social media stream.
Even if customers are not active in this space, the social web is an unbelievable opportunity to tune in to industry leaders, competitors, and authorities to stay on top every development, opportunity and crisis as it is happening.
Integrity and trust
Last year I had the honor of having a lengthy discussion with Dr. Robert Cialdini, the acclaimed author of Influence: The Psychology of Persuasion. I asked him, in a cluttered, information-dense marketplace, how do we stand out? His answer was wise and disarmingly simple. "Be more human."
We buy from those we know and trust. We always have. The social web is a historic opportunity to connect with people far beyond your normal network and show what you're made of.
I've had a lot of interest in social selling and tomorrow I'm going to publish a post that answers the question — What is the social sales strategy when our customers don't use social media? I think the answer may surprise you!
Well, I've floated a few ideas to think about as you approach "social selling" in your company. How are you using social media in your sales strategy?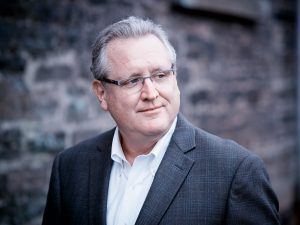 Mark Schaefer is the chief blogger for this site, executive director of Schaefer Marketing Solutions, and the author of several best-selling digital marketing books. He is an acclaimed keynote speaker, college educator, and business consultant.  The Marketing Companion podcast is among the top business podcasts in the world.  Contact Mark to have him speak to your company event or conference soon.
Book link is affiliate link. Top illustration courtesy BigStock.com