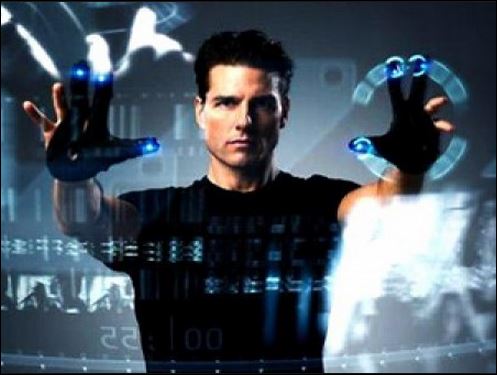 Pulling the plug on Google Glass had to be a disappointment to many people, especially those who put their heart into the Glass Explorer advocacy program.
But I wanted to provide some good news — a report from the field that augmented reality and wearable technology is still moving ahead at a breakneck pace, although in places far away from retail stores and the Consumer Electronics show.
For the past year, I have been working on a research project for the US Air Force examining best practices on technology applications to labor-intensive manufacturing processes. This is a "non-secret" project and I thought it would be fun to share a few of the innovations — specifically four types of practical workforce applications for augmented reality.
Augmented reality in action
Tablets. This is the area with the most near-in promise. There have been hundreds of augmented reality applications in industrial work settings, primarily led by automotive and aerospace. The development has been led by German software company Metaio, which is partnering with thousands of developers on useful new applications. The hardware in these industrial applications is commonly available PC-based tablets that are either hand-held, or perhaps strapped to a forearm.
A typical application would be standardizing a complex and repetitive task by displaying the work instructions as a color-coded layer over an actual piece of equipment. In addition to the obvious productivity improvements, companies are recognizing significant quality advantages too. Breakthroughs in this tablet application are moving ahead at lightning speed.
Projector-type. Another application involves projecting instructions and images over a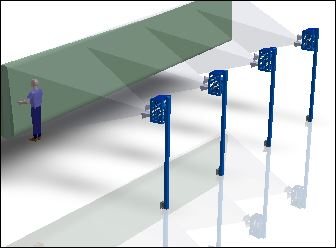 work area (optical 3D metrology). An example would be lighted instructions that define which parts go in which holes in a large assembly or projecting images to indicate which highly-engineered fasteners belong in which spaces in an aerospace application.
In these work environments, multiple projectors translate 3D models into 2D projections using sophisticated registration software, so parts are always precisely in the right place. Multiple projectors are used so workers can step right in front of one line of projection and still see the instructions as they work.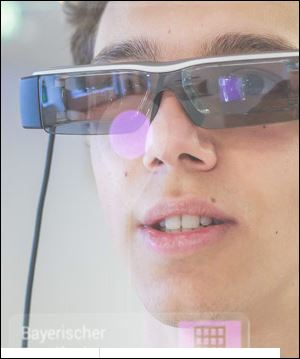 Glasses — The most popular wearable headgear is not coming from Google. You may be surprised to hear that Epson is the leader in this field. Wearing anything except safety glasses in an industrial environment is going to be hazardous but the field is progressing quickly and we will probably see approved applications in the next 2-3 years.
This technology, also generally powered by Metaio software, differs from Glass in that it has true augmented reality capabilities. It provides all the advantages of the tablet version of AR, but frees an employee's hands to do their work. Each set of glasses comes with a pocket unit that provides extra battery life and acts as a transmitter to a wifi network.
Of course the glasses can record as well as transmit, so imagine seeing and hearing remote help from an expert as you try to do a unique and challenging repair in the workplace.
Immersive augmented reality — There are a growing number of companies developing software/hardware combinations to create a full immersive 3D world. The most notable of these is Oculus, bought last year by Facebook. Although these headsets probably won't be adopted in an industrial environment, there will certainly be applications in the white collar workspace. In a few years we will be able to join work colleagues in a virtual, 3D workspace and interact with them as if we were all in the same room. Has the potential to be a game-changer.
Last week Microsoft also announced an entry into the immersive market with HoloLens which projects holographic images within your environment.
Think of the possible advantages this technology has for global collaboration, purchasing evaluations, problem solving and even diplomacy.
Well, it's tough to jam a year's worth of research into one short blog post but this should be enough to tantalize you and let you know that the end of Google Glass is far from the end of useful augmented reality applications in the workplace.
This post was written as part of the Dell Insight Partners program, which provides news and analysis about the evolving world of tech. To learn more about tech news and analysis visit TechPageOne. Dell sponsored this article, but the opinions are my own and don't necessarily represent Dell's positions or strategies.