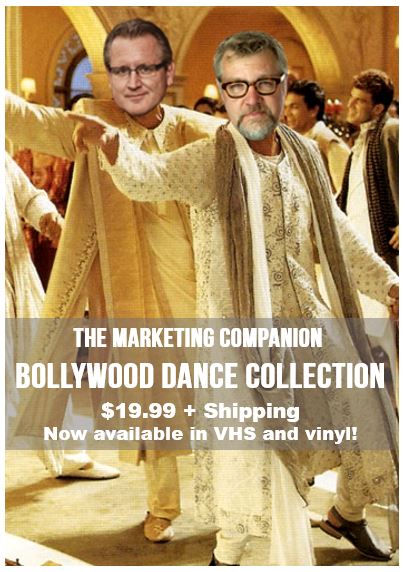 Bollywood dancing. You know you love it. You know you want to do it. So join Tom Webster and me on The Marketing Companion to learn of our new "product line" (many thanks to out friend Ralph Cipolla for the awesome graphic!).
Tom and I also get a little prickly on the new edition of podcast. After a brief dance routine (really) we tee-off on online trends that drive us a little nuts:
Faking your way through the work-life balance
The "live your dream" fallacy
Bizarre eMail marketing mis-fires
Android podcast dreams
Inane round-up blog posts
LinkedIn spam
Ready to join our podcast Bollywood-style? Put on your dancing shoes and let's dive in:
If you can't access the podcast above, click on this link to listen to Episode 61
Please support our extraordinary sponsors. Our content is free because of their generosity.

gShift's Web Presence Analytics platform provides agencies and brands with search, social and mobile content marketing data in one place. Monitor and report on an entire web presence. Create smarter, faster content through gShift's proprietary data. Report on the engagement and performance of your content marketing investment.
Our podcast is also broug

ht to you by Voices Heard Media. Please check out this tremendous resource for scaling social media engagement. Take a look at building an engaged and relevant audience through innovative new games, contests, analytics, polling platforms, and other innovations.