I love baseball … and this time of the year should be magical.
The playing fields — appropriately called "parks" — are emerald green, my favorite players train for their long season, and I can take comfort in the fact that my beloved team, the Pittsburgh Pirates, are tied for first place because a game has not been played yet!
Since I was a baby, baseball has been a core part of my life. The Pirates won the World Series in dramatic fashion when I was five months old. My mother said when they won the game, she nearly threw me from her lap to the ceiling. They won the championship again when I was 11. I rode my bike around the neighborhood, hooting and hollering at the top of my lungs in a one-boy parade.
Normally, a guilty pleasure during baseball season is to take my iPad down to my boat dock, open a beer, and watch a Pirates game as the sun sets over the lake. Bliss.
Baseball is a life tradition. It is part of the fuel that keeps me going at this time of year.
And that fuel is gone, sucked dry by an invisible enemy.
Psychological disorientation
"I am worried about sports fans from a psychological standpoint because a lot of fans really do need this fuel. It fulfills their life," said Paul Finebaum, a television sports analyst quoted in our local newspaper.
"I think we have reached a level of psychological disorientation."
I am using a sports example here, but basically, almost ALL of my normal "fuel" is gone:
A hectic work life that revolves around preparing for new speeches and workshops
Community service work
Traveling, attending concerts, and live events
Going to a movie and a favorite restaurant on a date night with my wife
I'm sure you can make a similar list for yourself. And if you haven't, maybe you should. I'm worried that in the corona chaos, we're overlooking the serious psychological disorientation that comes from losing our life fuel.
The news is filled with stories of layoffs, panicked grocery buyers, and regulations meant to stop the spread of the coronavirus, and appropriately so.
But in the long-term, the grind of psychological disorientation will take a massive toll on our personal and professional relationships if we don't acknowledge it and deal with it. Let's talk about this.
Re-fueling
Everybody is focused on transitioning to online business models but talking to a screen all day won't replace your beloved routines and lifestyle traditions.
Compound that with being confined to a small area, worries of getting infected, financial consequences, and loss of daily habits and you get a recipe for real psychological distress.
A recent review of the psychological impact of quarantine reports that locked-in subjects frequently experience confusion, anger, and post-traumatic stress symptoms, sometimes lasting even three years after the end of the quarantine.
We need to take this seriously.
Research shows that it may take six to eight weeks for people to adapt to a "new normal" like "reside in place." I think one thing we can all do is mindfully consider what we can to "re-fuel" to shorten this timeframe and minimize the impact of psychological disorientation.
I don't see many people addressing this issue right now. I've looked for online advice and found some ideas to reduce your stress from psychological disorientation.
1. Set new goals
This is a time when you must re-orient and focus on new goals and routines like losing weight, learning to cook, reading a book every week, or spending time on a hobby.
In my own experience, I am trying to focus on an idea for a new book and doing some watercolor painting each day. I've found that immersing myself in either writing or painting immediately puts me in a calm state far away from the bad news and worry.
But this particular idea has been hard for me. I like my work. And there's no "normal" work right now. Talk about being disoriented. A work in progress!
2. Talk about it
It's important to monitor your relationships and discuss emotional states with those confined with you, and around you. There is a real danger this psychological disorientation can lead to irritations and blow-ups.
If you're locked up with a spouse or significant other you might be asking:
How are you holding up today?
What can we do to make things better, more fun, more interesting today?
What can we do to find new meaning and purpose to replace our routines?
Are we successfully accommodating our new work-from-home routines?
What DOES the "new normal" look like and how do we hurry it along?
If you have friends and family members who are locked-up and alone, stay connected and ask these questions.
My parents are locked-down and already getting bored and lonely from the loss of their normal life fuel. I'm staying in touch with them more often and will challenge them to find new, interesting things to explore online.
3. Pursue self-differentiated goals
Most of us receive some sort of psychological fuel from activities we used to pursue alone, like traveling for work, reading, or working out at a gym.
A research study showed that people are much happier in quarantined environments when they can pursue solo activities and are supported by their spouses. People who can follow this self-differentiated path are better able to tolerate situations in which they can't have their normal needs met (all of us right now!)
In other words, you don't have to do everything together!
Every day carve out some private time and private space as best you can.
4. Attack boredom
Across the globe, a coronavirus culture is emerging, spontaneously and creatively, to deal with restrictions on daily life and the tedious isolation of quarantine.
In China and Italy, where hundreds of millions of people have been in some form of lockdown, creative responses to promote connection have included:
Nightclubs do "cloud clubbing" where viewers watch D.J. sets on streaming platforms and send in messages to be read live.
Famously, the Italians serenaded each other from their balconies.
"Home Karaoke Station" features famous singers taking requests, engaging with viewers, and performing while self-quarantined in their homes.
Gyms and instructors offer workout classes online.
A third-grade teacher in China went viral on Twitter when she improvised to keep her classes going online after schools closed nationwide. Stuck at home, she used the side of her refrigerator as a whiteboard and with a blue marker, gave geometry lessons.
We are seeing the same sort of creative boredom fighters emerge in the U.S.
The Facebook group "Amazing Educational Resources" has a broad and growing list of offerings.
Yale is offering a free class on "The Science of Well-Being."
The Great Courses site is offering its course catalog for free.
There is a plan for a quarantined, live-streamed basketball tournament.
In America, new communities have popped up online, showcasing live musical performances, hosting playwriting competitions, leading virtual dance classes.
Groups of friends are watching their favorite television shows and movies together over FaceTime.
A zoo in Cincinnati has a live video feed of its animal exhibits for children who are now home from school to enjoy.
This is just the beginning. What creative online activities are you seeing out there? Let the community know in the comment section.
5. Get help
Staying mentally healthy in the eye of the coronavirus hurricane may be one of the hardest things we face in our lifetimes. We all might need a little help through this crisis.
Most psychologists are moving to an online counseling model so you can talk to a professional securely from your home.
Psychology Today offers a service to help you find a certified therapist that can help you through the rough spots.
Please be aware of what's going on with your thoughts and feelings. Don't ignore signs of chronic anxiety and stress.
I am working hard on reducing my own psychological disorientation and finding the new normal. Hope these ideas help you, too.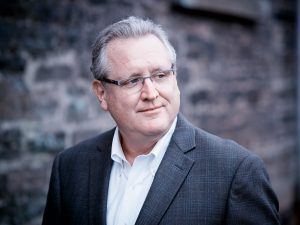 Mark Schaefer is the chief blogger for this site, executive director of Schaefer Marketing Solutions, and the author of several best-selling digital marketing books. He is an acclaimed keynote speaker, college educator, and business consultant.  The Marketing Companion podcast is among the top business podcasts in the world. Contact Mark to have him speak to your company event or conference soon.
Illustration: This came from an old poster for the movie "Vertigo"