I recently had a life experience that was so different and disorienting that it deserves its own post on this blog. I took a trip back in time. I took a trip to Suriname.
If you've never heard of Suriname, you're not alone. Although it's a nearby neighbor to the U.S., it's decidedly under the radar screen. Suriname is the smallest, and by some measures, the poorest country in South America. It has been in the grips of severe government corruption that has stunted its growth despite a wealth of resources and a population of proud and hard-working people. Simple things we take for granted like using a credit card to buy goods online are not possible for much of the population.
This is not a place I would normally choose to visit, but I was persuaded by my friend Jean-luc van Charante to speak at his annual social media conference. The sold-out event was fantastic, held in a first-class resort. But my lasting impressions were formed from my experiences outside the event.
Into the jungle
Before the event, Jean-luc prepared a jungle surprise for me. I really didn't know what I was in for, and this was by design. "If I told you what was going to happen, I was afraid you wouldn't come," my host later admitted.
There are only two or three flights each day to the remote country. My first clue that this was going to be different was the fact that there were no lights or buildings anywhere to be seen as the jet landed. Suriname is basically one city and a jungle. It was 2:30 a.m. by the time we arrived at a river camp for our first night in the country. Breakfast was at 6 a.m. before meeting a bus that was the next stage of the trip. We only had about 90 minutes of sleep that night!
A wild ride
The camp host drove us to the end of the property where we waited on a small bus. We were on the bus for 2.5 hours until we came to the end of the road. Literally. This was a point where all roads end — the Suriname River. The last outpost before the Amazon rainforest was a crowded, dusty outpost where dozens of people prepared handmade wooden boats for river transit. This was the only transportation system for the southern half of the country.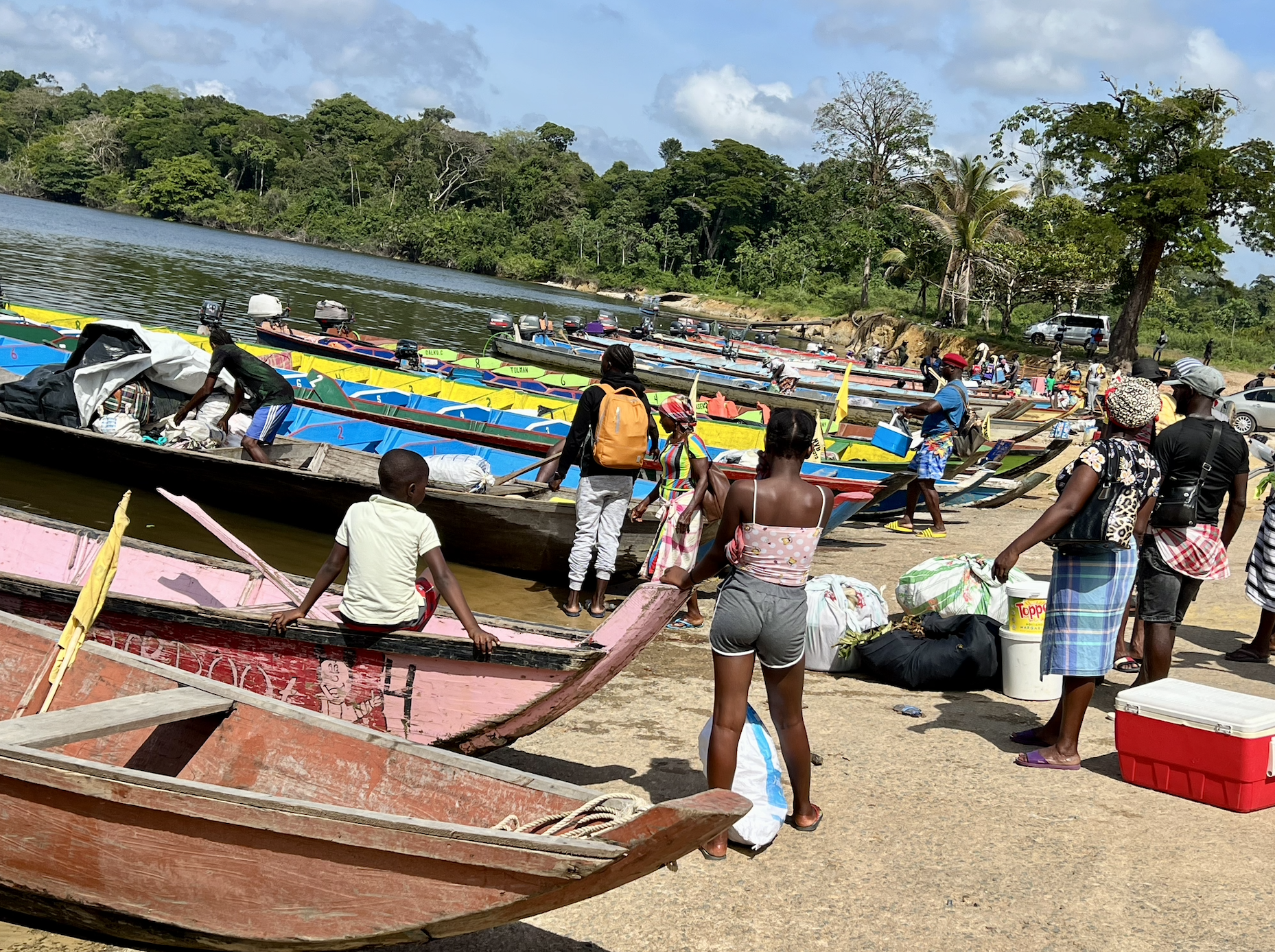 As we loaded our luggage into the boat, we got out the bug spray and slathered with Blue Lizard sunblock. We would be in an open boat in the 95-degree weather for more than three hours.
The boat ride provided a nice cool breeze as it zoomed up the river. Because the water was so low at this time of year, many boulders were exposed. I admired the expert skills of the captain as he took us up the river against the current and through rapids. We were warned that we may have to get out of the boat and walk or push if we got stuck on the rocks.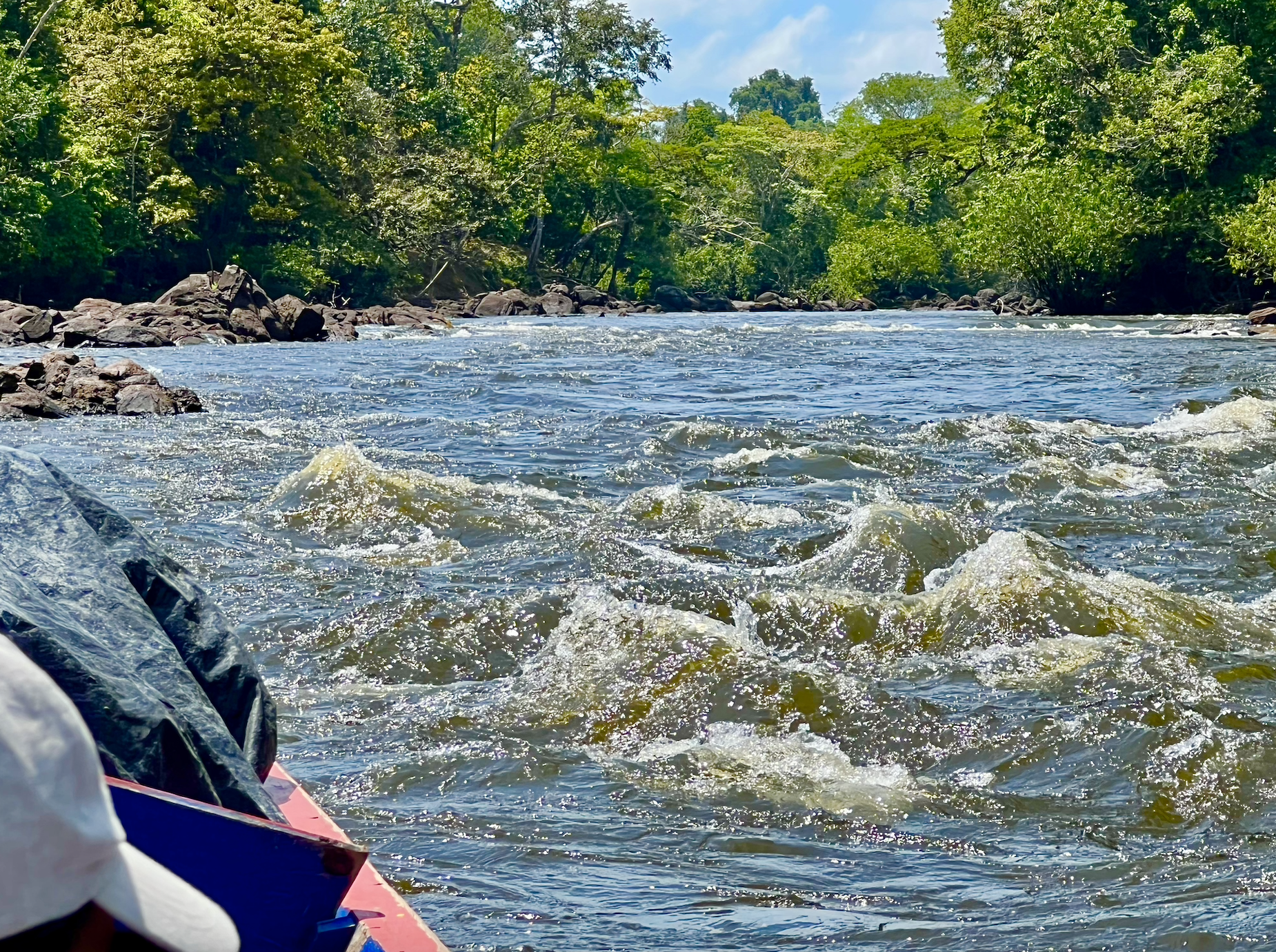 As we went deeper and deeper into the jungle, we observed small villages along the way. In many cases, women in brightly-colored dresses were doing laundry in the river. Children swam around and waved at us. A few older men were fishing with crude fishing poles.
There are more than 60 of these villages along the Suriname River, founded by African natives who ran through the forest to escape being slaves in Dutch sugar plantations. What very brave people they were to make that perilous trek.
Finally, we arrived at our camp, the Dan Paati River Lodge, a small encampment built on an island. We rested for a moment in an open dining area before being led to our cabin.
It was oppressively hot, with 100 percent humidity and there was no AC in the room. In fact, there were no glass windows, only screens. I asked our host for a fan, and he said that was impossible because there was no electricity. Or wifi. Or hot water. As my wife and I sat on the porch assessing the situation, we just started to laugh out loud about our expectations of being at a "resort."
I spent the first day assessing what might kill us in this jungle environment and slowly started to relax. We cooled off with a swim in the river. The low river level exposed beautiful sand bars to explore.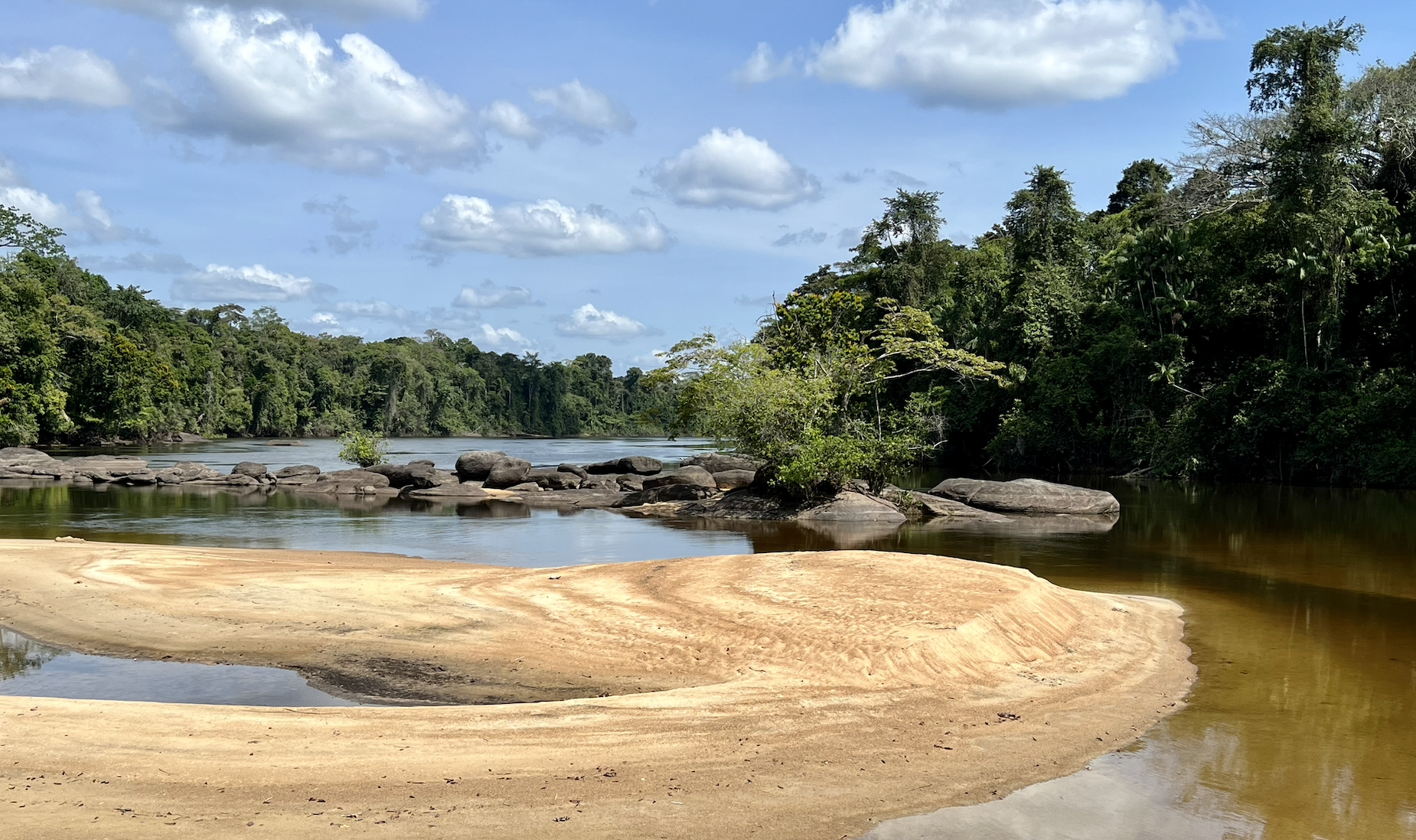 In the evening, we were served a hearty but simple dinner which was briefly interrupted when a tarantula was found crawling up one of the diner's chairs. The other camp guests were from Holland. They were part of a charitable foundation building schools for the villages. I suppose sort of reparation for the slave trade?
We returned to our rooms exhausted and quickly fell asleep to the calming sounds of a dark jungle.
The next morning, I was greeted by a new friend at breakfast.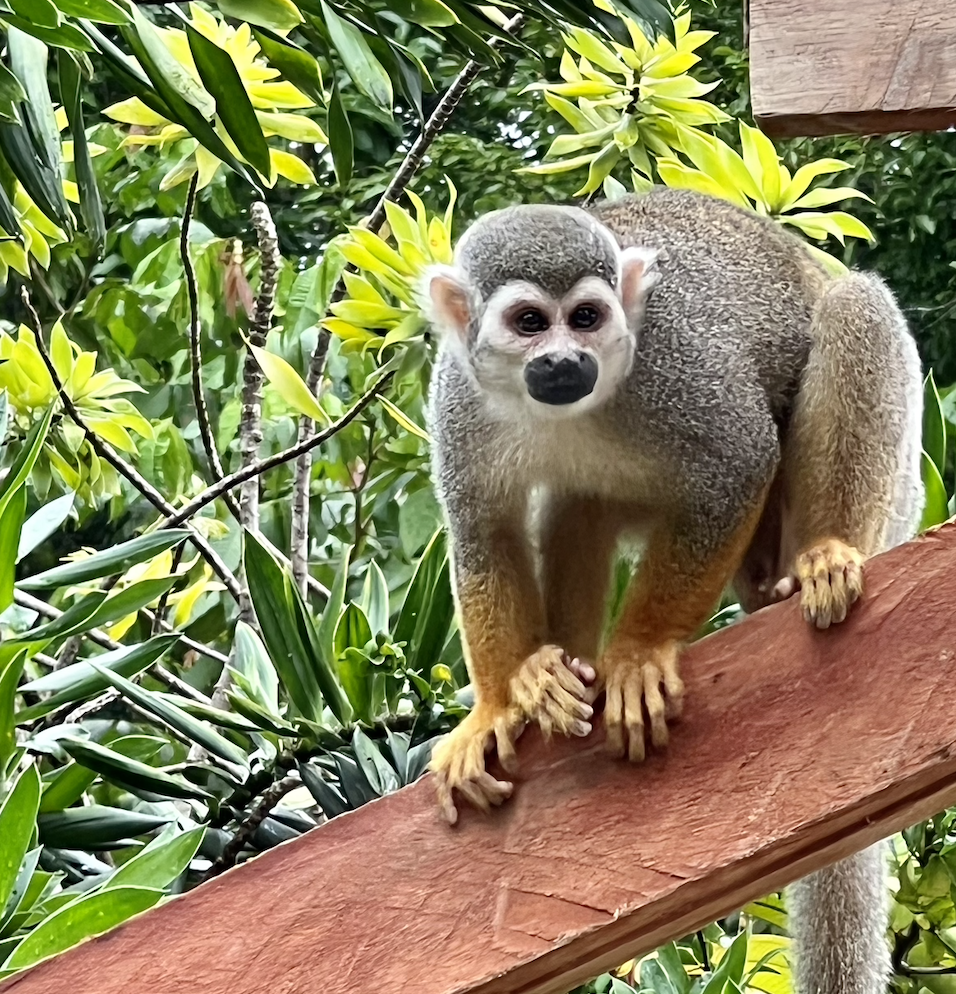 And then we were off to a 2.5 hour hike in the jungle. With machete in hand, our guide Stephano led us through a path used by one of the villages to hunt and gather for their daily needs. He patiently explained how each tree and plant had a specific use — for food, for shelter, as medicine. The villagers took what they needed from the jungle in a sustainable fashion. There were no tribal boundaries. People could take what they needed from the forest.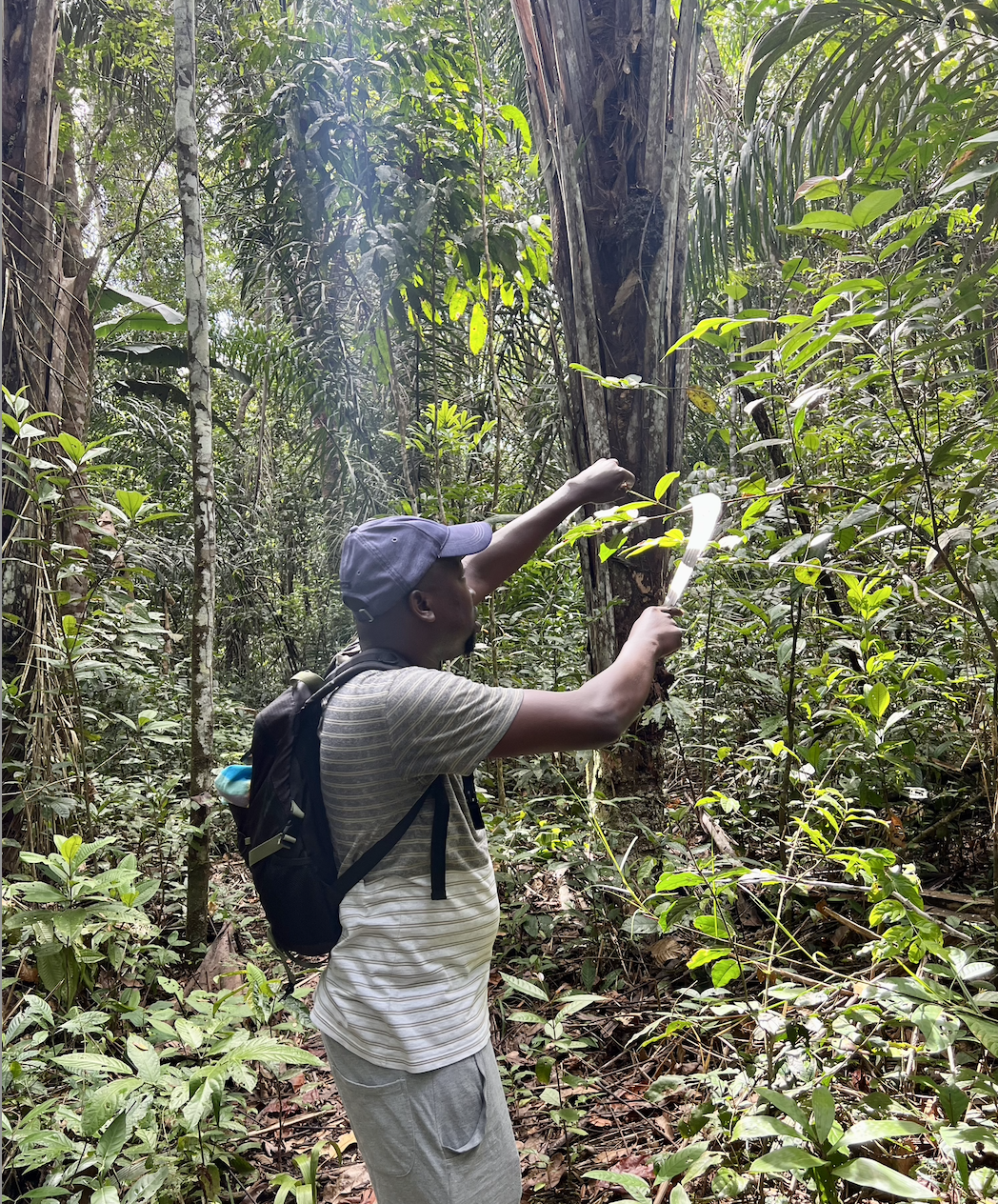 The hike ended in the village of Dan with a population of about 400. We saw a warehouse area where they stored rice, fruit, and vegetables harvested from their gardens. A bin was filled with turtles that were fattening up for a future feast. The village was neat and clean. The small solid houses were built from cinder blocks formed from the river sand. We didn't take pictures out of respect for their home and culture.
We returned to the camp and took another cooling river swim. We were assured there were no alligators!
When darkness fell, we took a night boat ride. Our guides used spotlights to find caimans on the beaches. This is a caiman: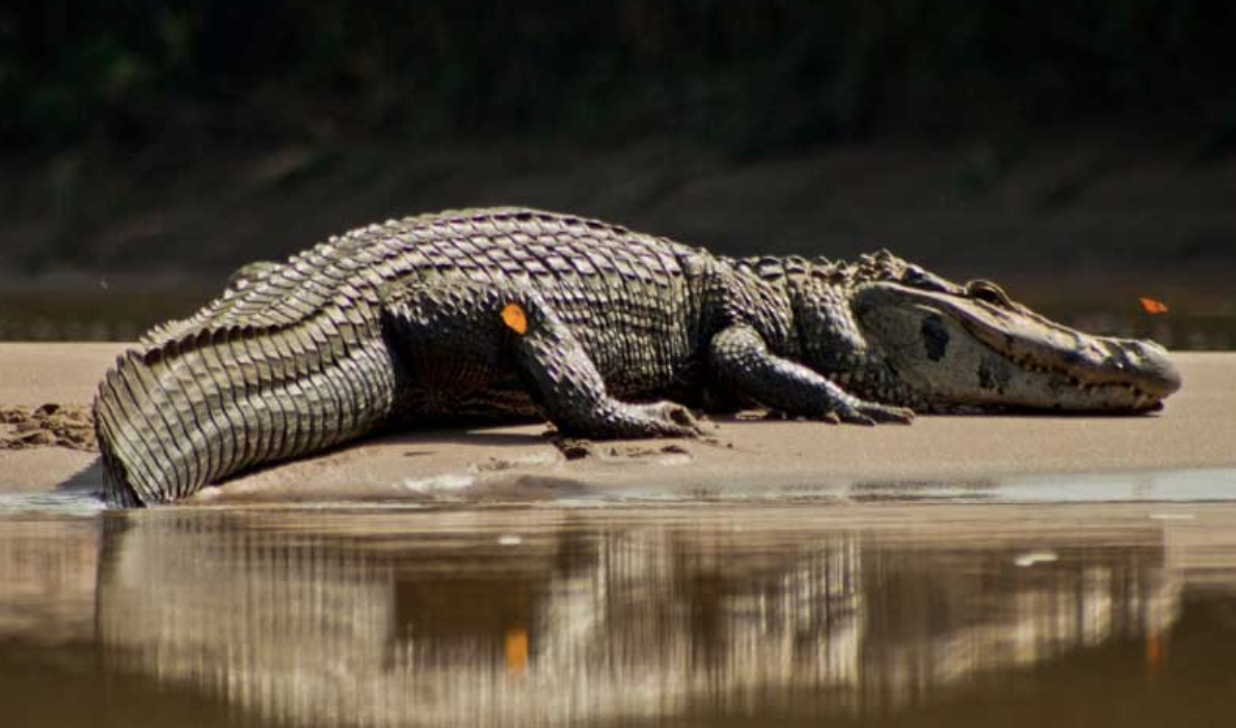 Pardon me, but this looks like an alligator to me! As the spotlight scanned the riverbanks, their red eyes glowed at us. There were lots of them.
We beached the boat on a sand bar and took a night hike in our bare feet. It was pretty cool.
By the third day, I was fully relaxed. I had become a man of the jungle. But it was time to return to the city. I had work to do.
Paramaribo
Nearly everyone in Suriname lives in the capital city of Paramaribo (population 300,000). It is a gritty city with pockets of colonial beauty. I asked endless questions, trying to learn as much as I could. The country has suffered from decades of corruption, so even with its vast natural resources, the people are living in a rather poor state. A car or an iPhone is a luxury. In most places, credit cards don't work. There is virtually no eCommerce.
But the people are lovely, hospitable, and generous. When the African slaves escaped, the Dutch brought in Indonesians, Chinese, and other races as replacement slaves. Somehow they all intermarried to create a beautiful carmel-colored, Dutch-speaking people who love music, food, and soccer.
My event was at the beautiful Torarica resort. The food and accommodations were excellent. My friend Jean-luc put on a truly fantastic event that rivaled or surpassed any conference in America. When my speech ended, hundreds of attendees formed a long line to take pictures and get an autograph.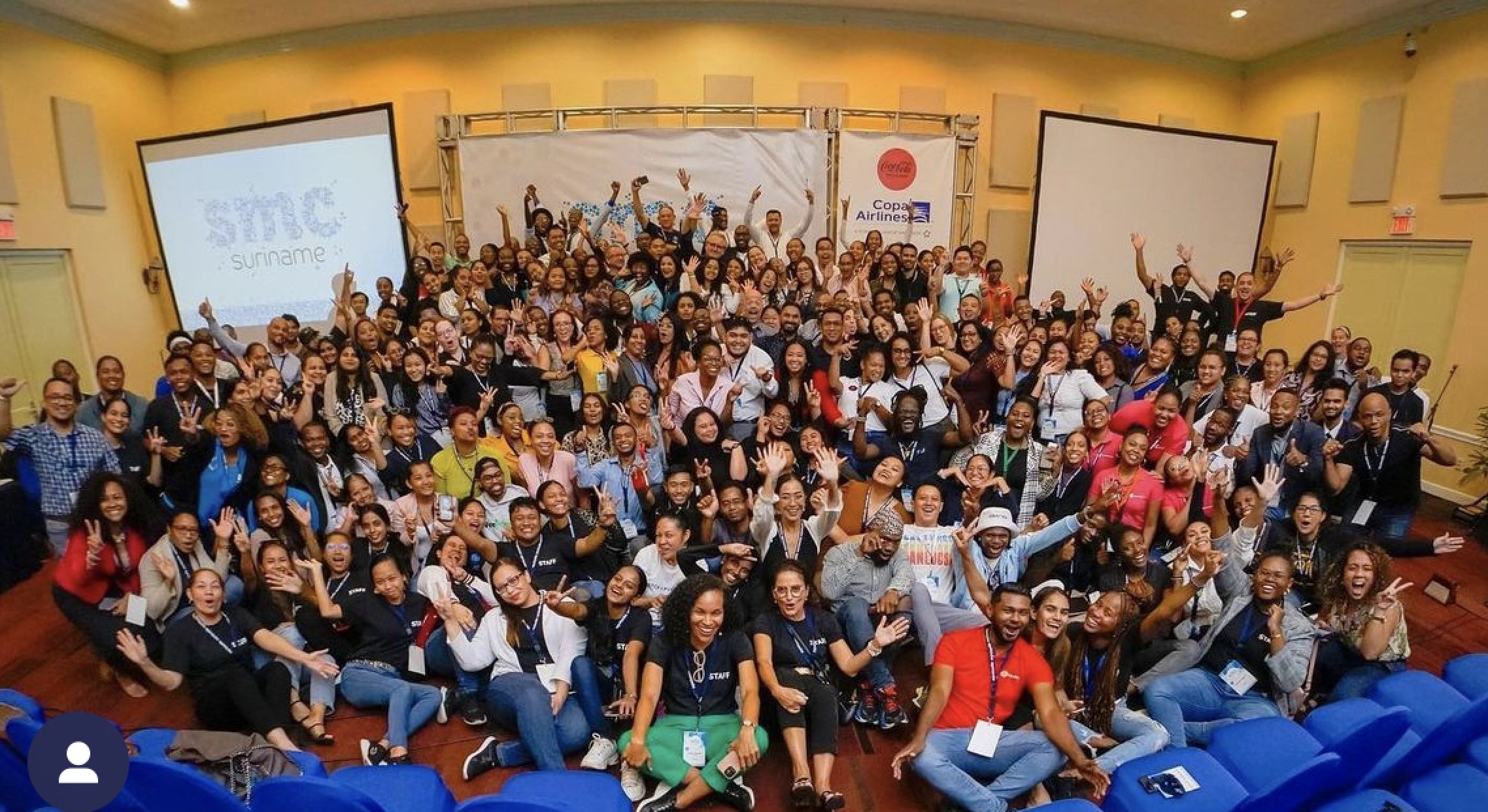 Lessons from Suriname
This is a very short post about a very rich adventure. But I can't get this experience out of my head, and I never will. To fly just five hours from America and be enveloped in such a foreign experience was incredibly jarring. This was country number 73 for me, but it stands alone for the way it upended my worldview.
First, it was incredible to be immersed in the jungle culture that is nearly untouched by technology. There is a little cell service there, but if you don't have a phone, it doesn't matter. These people seem healthy and happy. They are not doom scrolling or quiet quitting. They have their own risks and problems, but it is certainly an interesting and peaceful way of life.
The Dutch visitors at the resort were on a mission to upgrade the life of village children. They lamented that the children going to their newly-built school did not speak proper Dutch. How can they progress from the village without Dutch? My thought was that maybe we should just leave them alone. Or maybe they should be taught in their own language. Is progress always necessary? I observed people that were happy without Dutch. Their life is very different, but that doesn't mean it is a life that needs to be Westernized.
I can't help but cheer for the hard-working people of Paramaribo. This is a city that has limitless potential, but how can it break through the constraining net of government corruption? I pray for new leaders to break through there.
A United Nations report stated:
"In Suriname, corruption is a systemic problem that is embedded in almost all structures, institutions, sectors, and transactions conducted among business domestic and foreign, as well as among citizens and the government."
Suriname has the vast potential to be a destination city for eco-tourism. It could be a regional financial hub. There is a workforce that wants to achieve and thrive. I can only hope they will have the opportunity to reach their potential.
I am grateful for the opportunity to experience this wonderful country and its people. Thank you, Suriname for welcoming me and impacting my mind and heart. I'm your biggest fan and I will cheer for your progress!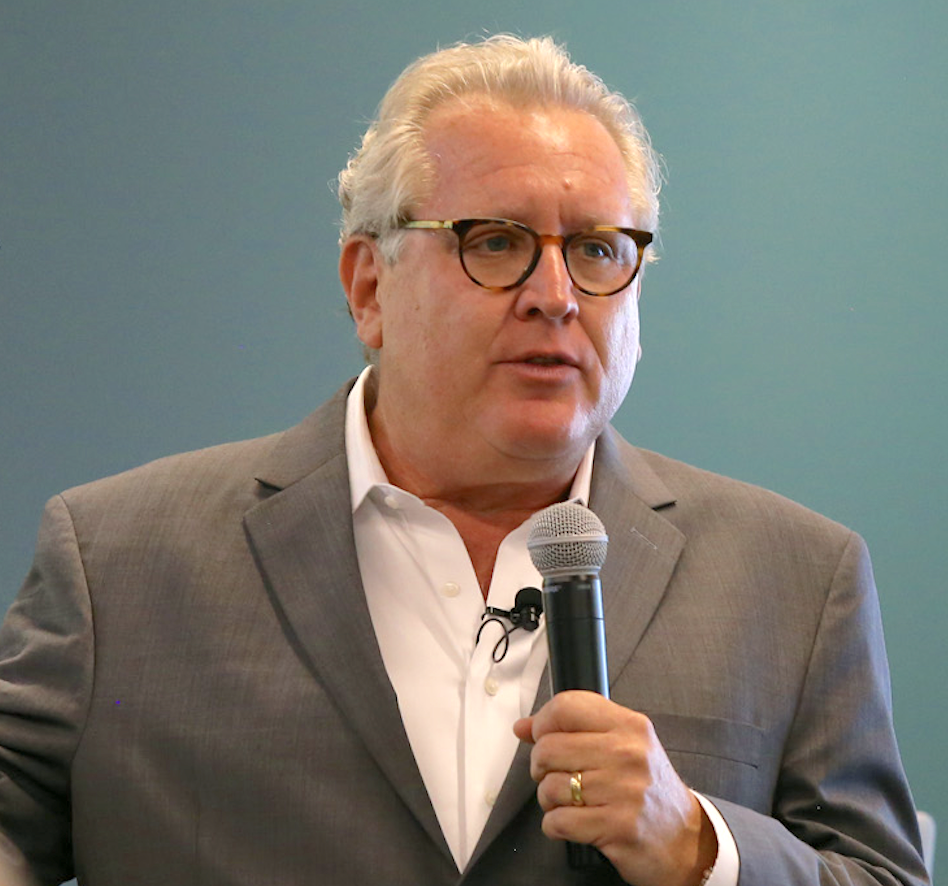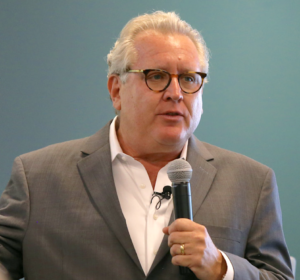 Mark Schaefer is the executive director of Schaefer Marketing Solutions. He is the author of some of the world's bestselling digital marketing books and is an acclaimed keynote speaker, college educator, and business consultant.  The Marketing Companion podcast is among the top business podcasts in the world. Contact Mark to have him speak at your company event or conference soon.
Follow Mark on Twitter, LinkedIn, YouTube, and Instagram.