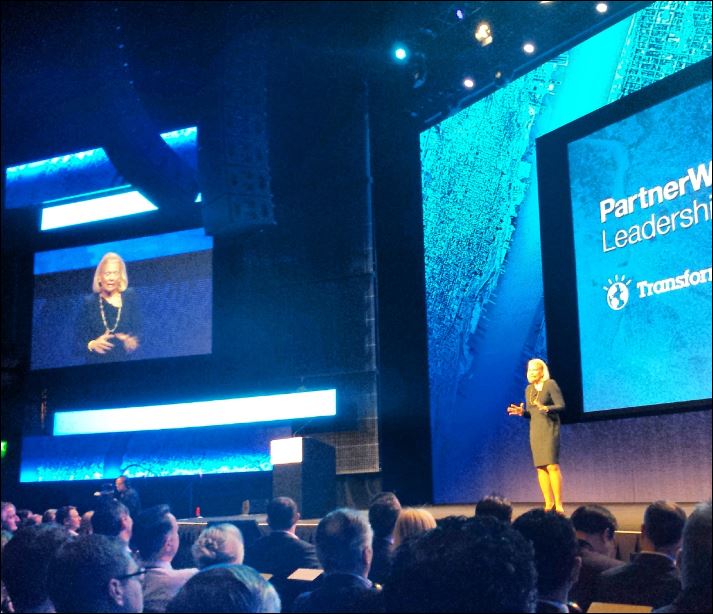 I had the chance to see IBM CEO Ginni Rometty in action at the company's recent partner event and her keynote speech both surprised and delighted me with her emphasis on social media connections.
In her speech she described three "big shifts" pushing Big Blue's strategy. The first two were not too surprising but the third one was unexpected.
1. Big Data Analytics
"Data is the new competitive resource, but like any natural resource, it must be refined," Rometty said. "The advantage in eCommerce in the future might be determined by milliseconds. Businesses must have to tools to do that."
She said that three out of every four customers have a Big Data project in process and these companies have five times the growth rate of companies without data analytics.
IBM has invested $23 billion in analytic software and had $16 billion in Big Data-related revenue in 2013.
Rometty pointed to an evolution in computing that IBM is meeting with its well-known "Watson" project (the computer that won on Jeopardy).
"First we had machines that counted," she said. "Then we programmed machines to sort data and do things for us. But in today's environment where 2.5 quintillion bytes of data are generated on a daily basis, you cannot program fast enough to understand what is coming at you. Watson represents cognitive computing. We're not programming Watson. We're training it."
A few days ago, IBM announced it was creating an entirely new Watson Cognitive Computing Division based in New York City. It is providing it with $1 billion in funding and 2,000 new employees. Rometty pointed to finance, healthcare, retail, and travel as primary areas of focus.
2) Re-making enterprise IT in the cloud
Another pillar of IBM's strategy is fastened to the increasingly crowded space of cloud-based computing. The company has invested $16 billion in cloud computing as well as acquiring 17 companies in a year.
Later in the day, Marc Dupaquier, IBM's newly-named General Manager – Global Business Partners, described the cultural shifts needed to get companies to adopt radical new cloud strategies with the same expectation of security, flexibility and auditability required today. Data has to be able to be managed as if it is on-premise.
Rometty stressed that every IBM investment and strategy looks at cloud and mobile first.
3) Social Engagement
Rometty provided an energized view of the social enterprise as a strategic centerpiece, tying the customer and employee experiences together. 
She likened social media to the "new manufacturing plant, not just the new water cooler" and pointed to the rapid adoption of its Connections internal social media software and its impact on employee productivity. Social, mobile and security are the foundations of the online culture.
"Social engagement is how you are understood today, it is how we work," she said. "Powered by a network, enriched by knowledge … that is the expectation of our workforce today."
She also made an interesting point about the idea of establishing trust with consumers. It's not just emotional trust but also the ability to trust a leaky network fueled by fears of more Target-style breaches. "There is another one trillion dollars out there in retail purchases available if people trust their online purchasing power," she said.
Rometty said that great customer service is also dependent on Big Data analytics. "What is the expectation of the speed of an online response to a complaint," she asked. "Hours? No. Minutes. Are you ready for that world?"
The CEO ended her talk with an optimistic view of the future. "If we were going through just one of these changes in our world we would marvel at the opportunity," she said. "Any of these would transform our world! But all three? This is a very special moment in time!"
Disclosure: This post was written as part of the IBM for Midsize Business program, which provides midsize businesses with the tools, expertise and solutions they need to become engines of a smarter planet. I've been compensated to contribute to this program, but the opinions expressed in this post are my own and don't necessarily represent IBM's positions, strategies or opinions. IBM had no editorial control of this content.