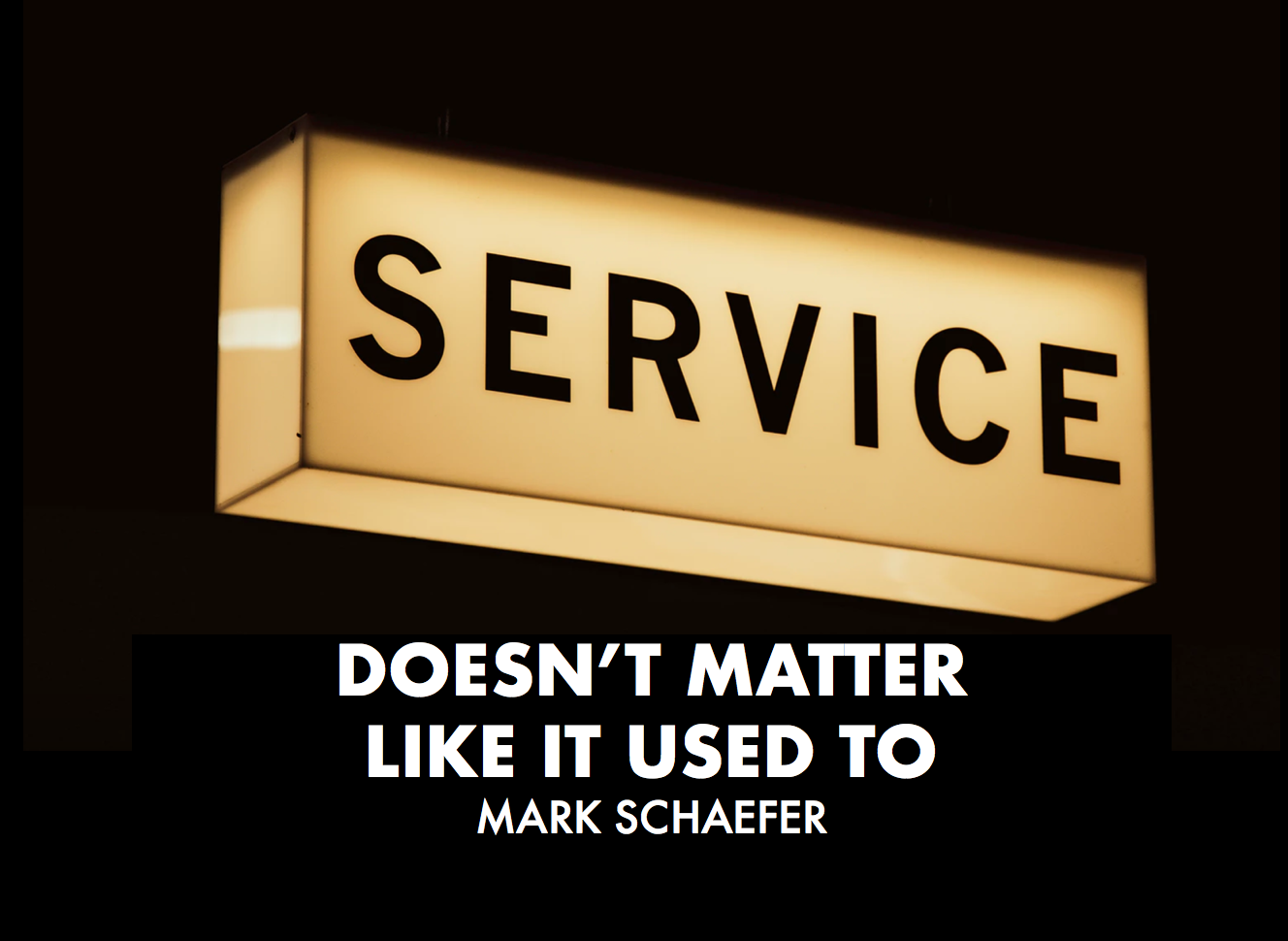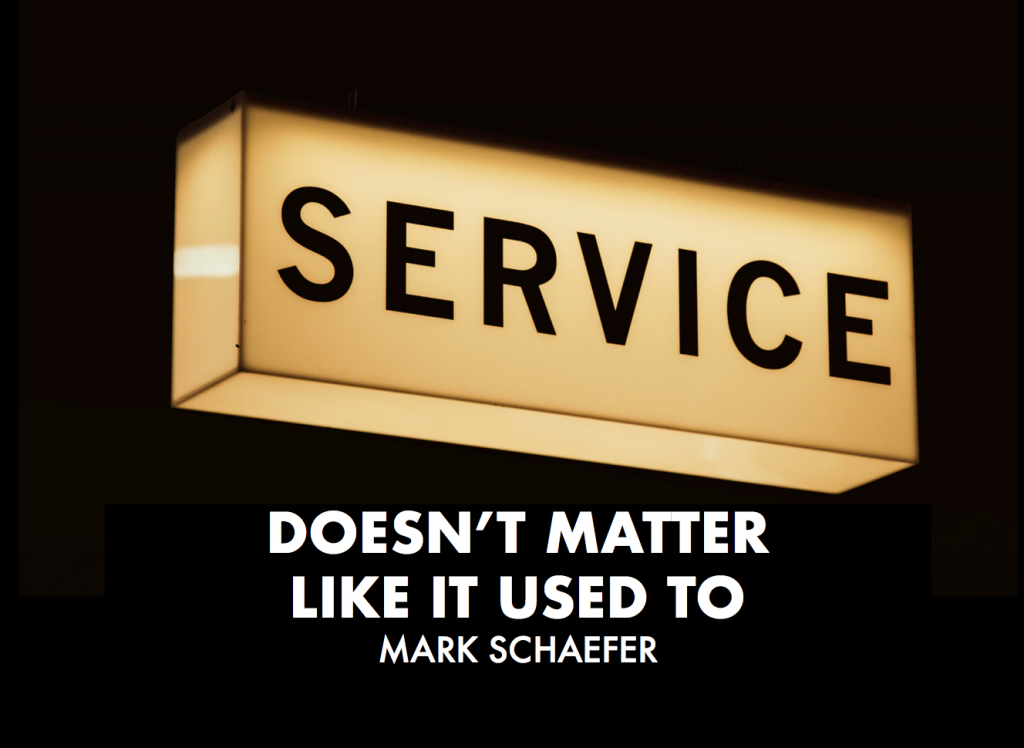 By Mark Schaefer
I was helping a financial services company with their marketing strategy recently and job number one was defining their point of differentiation. They had done an enormous amount of preparation for our meeting, including a SWOT analysis and a detailed and honest competitive assessment.
At the end of all this work, their stated point of differentiation amounted to "we have great customer service."
And they did. But to their dismay, I punched a hole in that strategy and said their fine service didn't really matter as much as they thought it did. Let's find out why.
Great customer service is like air
There's a television commercial airing in America that compares the service of major wireless providers. "It's 2017" the spokesperson says. "Everybody has great service now … so why pay more?"
I believe this is true for most business categories. Today, the table stakes are exceptional service. To be in business, you need to be great because if you have terrible service, you're going to get Yelped out of the market in a month. The hyper-connected hive mind has forced everybody to have great service, or at least provide equivalent service.
Even if you could possibly PROVE that your service was 10 percent better than your competition, that's probably not a significant point of differentiation.
In the case of my customer, they DID have great service but the reviews and ratings were equally stellar for their competitors:
My customer's rating: 94
Competitor 1: 91
Competitor 2: 90
In this case, touting great customer service as a point of differentiation is like saying "Hey, we have clean air in our store!" or, "Now featuring the city's coldest water fountain." It probably doesn't matter. Everybody has great customer service because if you don't you'll be shellacked on customer review sites.
Sparkles as a point of differentiation
Every Christmas, my daughter and I go to a German restaurant in New York called Rolf's. We go for one reason — every inch of space in the tiny restaurant is covered with Christmas lights. It's beautiful. If you want to get in the Christmas Spirit, this is the place to go.
Last year, we went to the restaurant and were turned away despite the fact that my daughter had made a reservation three weeks in advance. She had called all day to confirm the reservation and nobody picked up the phone. She proved this by showing them ten consecutive calls to the restaurant on her phone.
Nevertheless, they would not honor the reservation and we were expelled by the rudest hospitality worker on the planet. We vowed to never set foot in this restaurant again. When I looked at their rating on Yelp, to my surprise, this restaurant had an average rating below two stars. One typical review:
After seeing how beautiful this place looked on Instagram I was shocked at how RUDE the host was. And how packed the place was. The food was nothing special and expensive. Never again. And yet, there was a line to get in stretching down the block.
Why would such a terrible place have a line stretching down the block? It's because they're sparkly.
Sparkles, it seems, trumps food, service, and price. Think about that. This restaurant doesn't need to invest in service or quality food, it just needs to buy another $2.99 string of Christmas lights.
And that's OK because they're more sparkly than anybody else and enough people care about that to turn a good profit.
Will Rolf's terrible restaurant survive? Probably. New York is a huge city. As long as there enough people who vote for sparkles over quality they're fine. They made their calculation and it's apparently paying off.
Service is important, but it might not be different
How can you explain Rolf's? The service is bad, but the experience is unique. In this case we see that the customer experience even overcomes the poor food and the jerk at the door. To be clear, I don't think most businesses can ignore service and quality. But I also don't think service is the point of  differentiation it might have been 20 years ago.
The game-changer has been social media and review sites. The ability for any person to leave a review or post an embarrassing photo has had the effect of keeping businesses honest. In some ways, greater service levels are necessary simply to avoid YouTube humiliation.
And sometimes YouTube humiliation doesn't even matter. Perhaps the most egregious example of poor service is the recent video of a customer being beaten and dragged off a United Airlines flight.
Wouldn't you think this would KILL a company's reputation? Wouldn't you believe that the company would be punished by shareholders and that passengers would stay away? There was no impact on the company's long-term stock price. In fact at the end of that quarter, revenue rose over 6 percent and profits shot up 49 percent. There was no sign of any boycott: The airline said it had 71 million passengers in the first half of the year, 4.2 percent more than the previous year.
A company beats up a passenger and keeps on ticking.
It's certainly not impossible to stand out through service levels, but when I hear a business claim "service" as their core marketing message it's usually a red flag for me. I think the battleground moving forward isn't necessarily customer service, it's customer experience.
What are your thoughts on the future of service, marketing, and experience?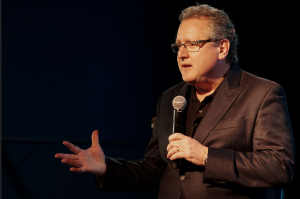 Mark Schaefer is the chief blogger for this site, executive director of Schaefer Marketing Solutions, and the author of several best-selling digital marketing books. He is an acclaimed keynote speaker, college educator, and business consultant.  The Marketing Companion podcast is among the top business podcasts in the world.  Contact Mark to have him speak to your company event or conference soon.