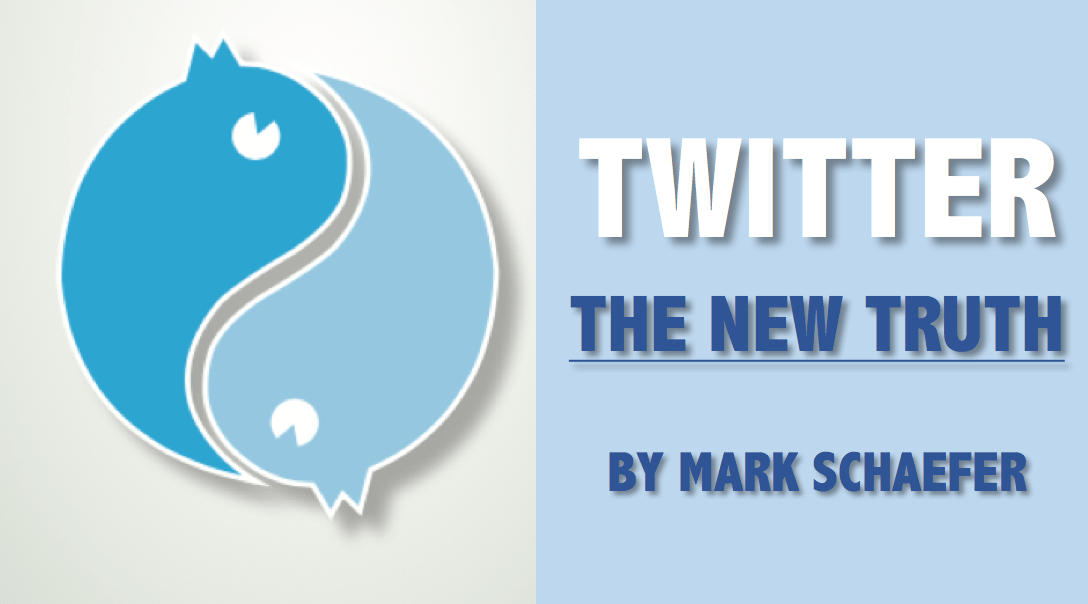 By Mark Schaefer
Over the past six months I've been creating an expanded and updated version of The Tao of Twitter
. And I had to answer a big question … what does Twitter even mean any more?
Certainly the channel has changed dramatically since the first edition of the book appeared in 2010. That was a time when Twitter was red-hot, ultra-cool, and an endless source of fun and inspiration.
Today the company is still trying to find its direction, Wall Street has punished Twitter for slow user growth, and abusive marketers have flooded the airwaves with endless spam.
To create a meaningful update to the book I had to determine where Twitter fits in the digital eco-system. Does Twitter still matter? Would anybody even care about this book?
What I found stunned me.
The truth about Twitter
There are three sides to Twitter.
The financial side is wobbly. I'm not sure the company knows what it is. If Wall Street only compares Twitter to Facebook, it will probably never achieve a high-flying stock price. There is enormous value in the real-time information on Twitter, but the company has been inept at turning that into meaningful revenue (although a resurgent Twitter just announced a spike in revenue and user growth, making their stock price jump!)
The second side of Twitter I'll characterize as the "clueless companies." Twitter is the most human-powered network and yet most companies post an endless stream of non-human links. They don't connect, they don't engage, and then they complain that Twitter is useless.
The third side of Twitter is the 340 million active users who ignore the clueless companies and don't care what Wall Street thinks.
Here is the truth about Twitter. For millions and millions of people, Twitter has become part of the fabric of their lives. They share, collaborate, and play games with each other. They learn, peer into the lives of celebrities, and spend hours following favorite hashtags. They look forward to Twitter Chats and delight when companies poke fun at each other. It is the place where news breaks and "viral" begins.
To my surprise, Twitter is awesome.
Re-discovering Twitter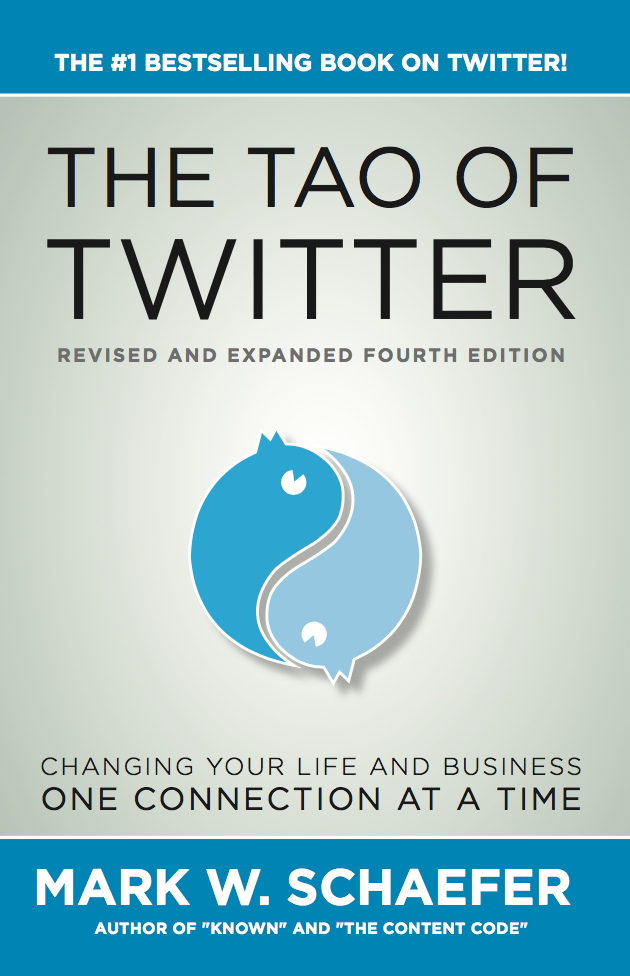 I was completely blown away by what is happening on Twitter. I also felt a little ashamed that I had ignored it for so long. Like many in the marketing field (yes, perhaps I was clueless too) I was drawn into the more glamorous world of Facebook, Instagram, Snapchat, and YouTube.
Of course Twitter has become the de facto customer service channel, but here are just a few of the things I learned (or re-learned!) as I immersed myself into the Twitter Nation.
Twitter is the most under-valued market research tool on earth. There is no other source of public, real-time conversations that comes close to Twitter. Whether you're the local pizza place, a corporation, university, or non-profit, it's likely that people talking about you. There is a rich source of insights and leads streaming out there … and my book shows you how to tap into this for free. (Here's a cool example of creative Twitter analytics).
Twitter is the news. Start paying attention to how much Twitter dominates the news. As news room budgets have been slashed, reporters now turn to Twitter as an indispensable source of leads, photos and videos from the ground. Chances are, most of the breaking news you see today started with a tweet.
The undiscovered ad network. 98 percent of all online ads are going to Facebook and Google. Facebook recently announced it is running out of ad space. Is it time to consider ad opportunities on Twitter? There are plenty of successful case studies out there. Why isn't Twitter part of more marketing plans?
New sources of fun. In the last few years, Twitter has added many enhancements to make it easier to discover and enjoy content, especially video. Have you tried watching streaming video programs through Twitter? It's a unique experience because you see real-live commentary alongside the program!
Meaningful engagement. I saw this astounding statistic recently: 50 percent of Millennials feel it is important to be acknowledged by their friends. 65 percent wanted to be acknowledged by their favorite brands. People care more about their favorite brand than their friends? There is no better opportunity to create a personal touch than acknowledging personal tweets.
A social media blueprint
My deep dive convinced me that Twitter is a grossly underestimated source of opportunities for personal and business growth. This all-new edition of the classic book will help you navigate these ideas, with step-by-step instructions.
But there's another reason why The Tao of Twitter has been the best-selling book on Twitter for nearly a decade. It provides a timeless blueprint for overall social media success.
Almost every sentence of the book has changed since the first edition except the core idea of "The Tao" (which means path). When I wrote the book in 2009, I outlined these core principles of social media success:
Meaningful content
Targeted connections
Authentic helpfulness
While the world of social media ebbs and flows in constant transformation, I believe I got it right. Those foundations were important then, and they're important now. Perhaps that's why The Tao of Twitter is used as a textbook at more than 50 universities and can be found in more than 600 libraries around the world. The Tao I describe truly is "the path."
Twitter and beyond
I hope you'll check out my new book and spread the word to others. In addition to discovering new ways to use Twitter, I have fully revised and expanded chapters on:
Creative new uses of Twitter Lists (especially for business development!)
Strategies to streamline your time on Twitter
Hundreds of new Twitter-related marketing ideas (voice tweeting!)
The ultimate guide to hashtags
A comprehensive discussion on business-building through Twitter Chats
Everything you need to master Twitter Search as a business research tool
An introduction to Twitter advertising
30 ideas to toast your competition through Twitter (my favorite chapter!)
And honestly, it's dirt cheap!
Are you ready to learn the truth about Twitter? Start here: The Tao of Twitter on Amazon
.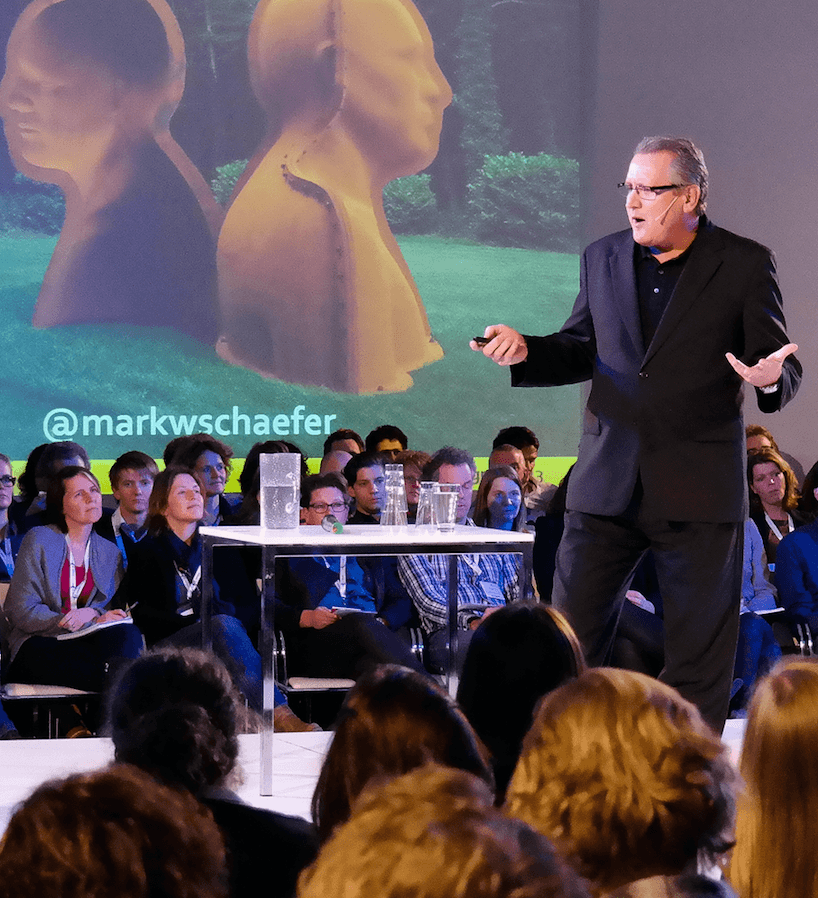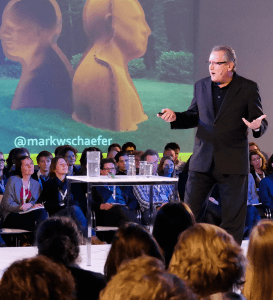 Mark Schaefer is the chief blogger for this site, executive director of Schaefer Marketing Solutions, and the author of several best-selling digital marketing books. He is an acclaimed keynote speaker, college educator, and business consultant.  The Marketing Companion podcast is among the top business podcasts in the world.  Contact Mark to have him speak to your company event or conference soon.