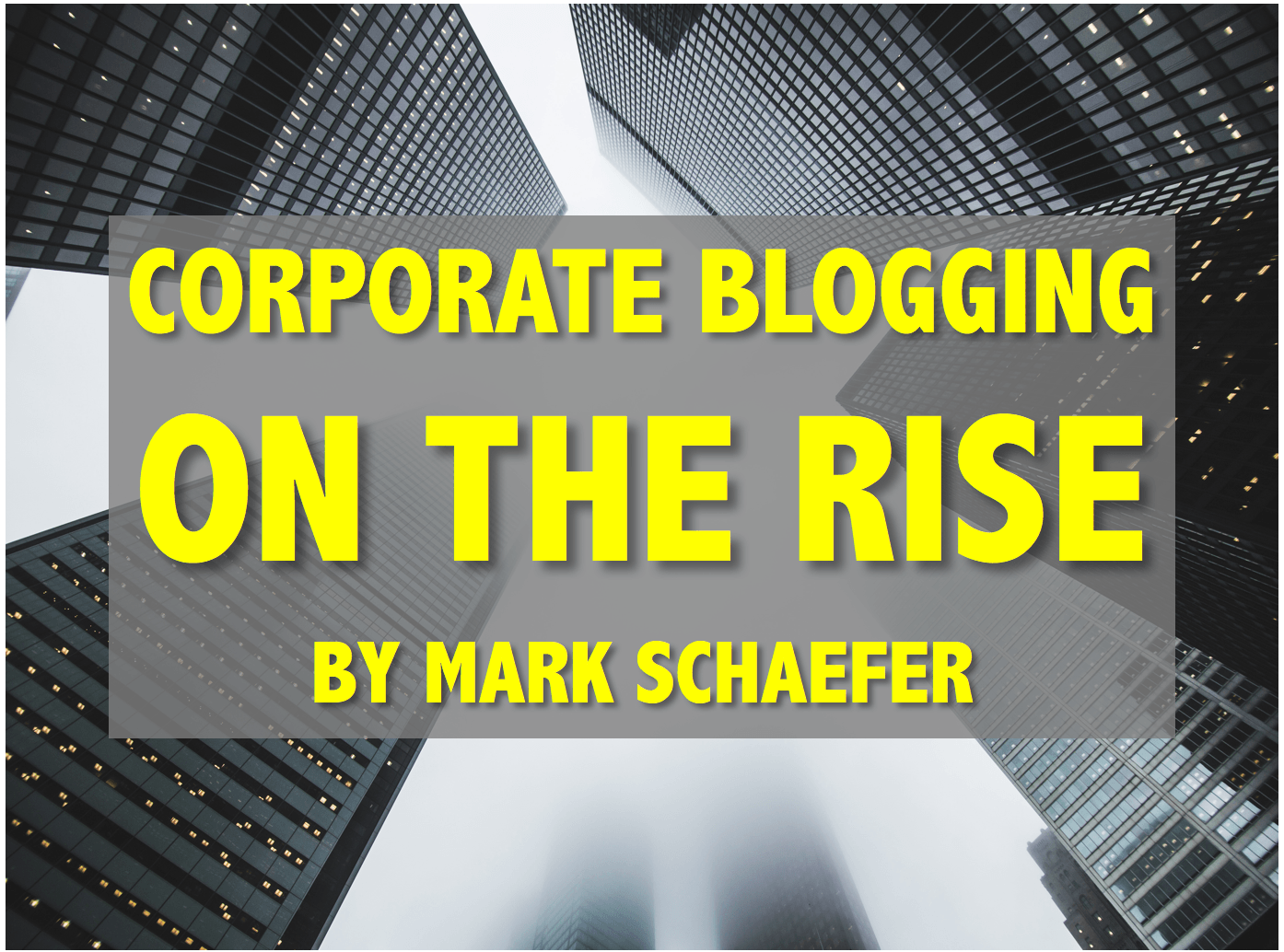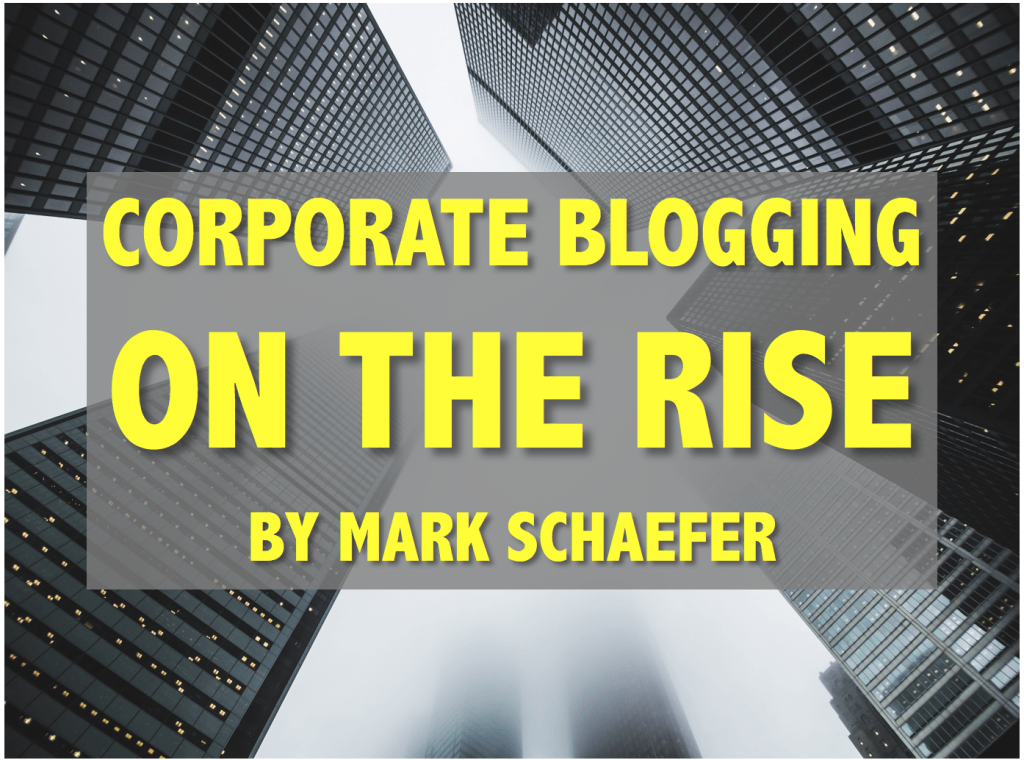 By Mark Schaefer
For the last few years I have enjoyed following the research of Nora Barnes, an educator at the University of Massachusetts. Each year she analyzes social media use at various corporations, non-profits, and universities and I found some of the conclusions of the latest analysis of Fortune 500 companies to be interesting.
Here are a few relevant insights:
1. Corporate blogging on the rise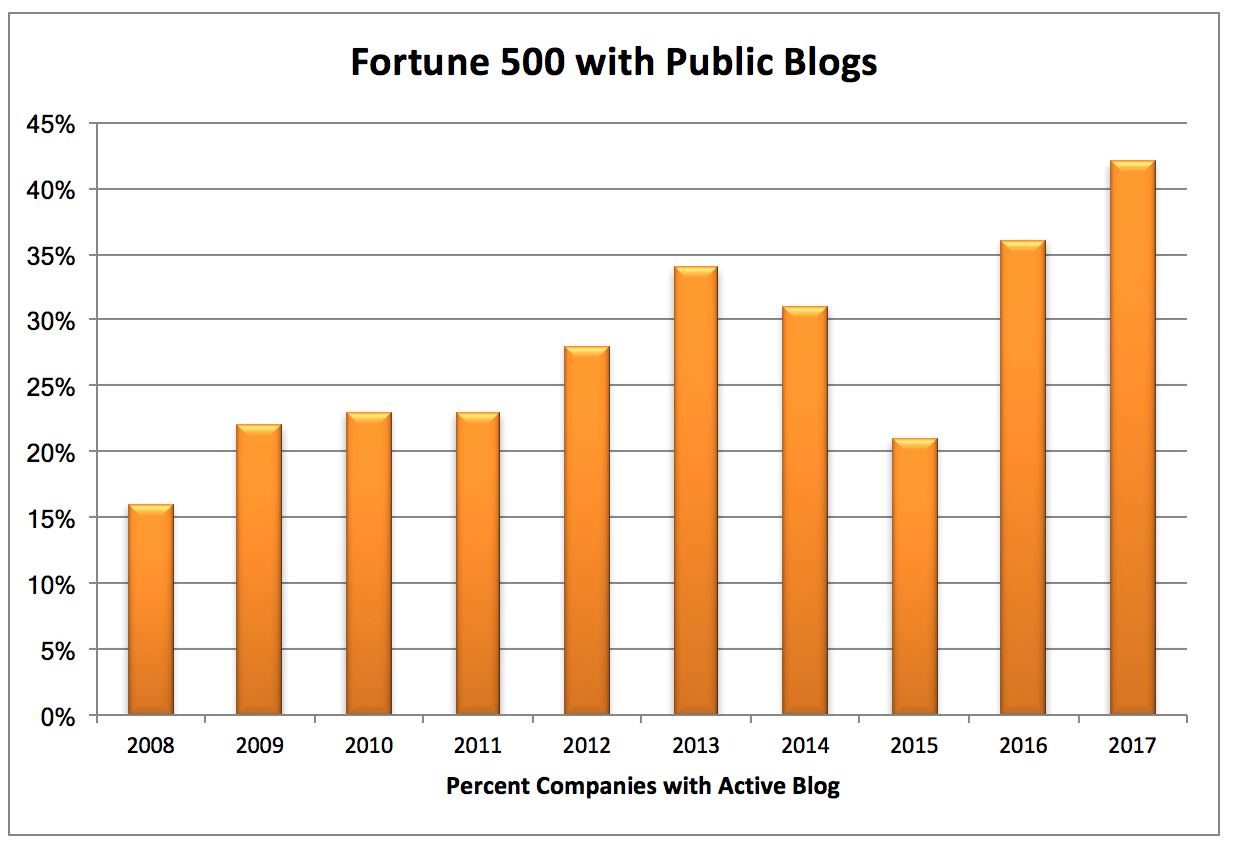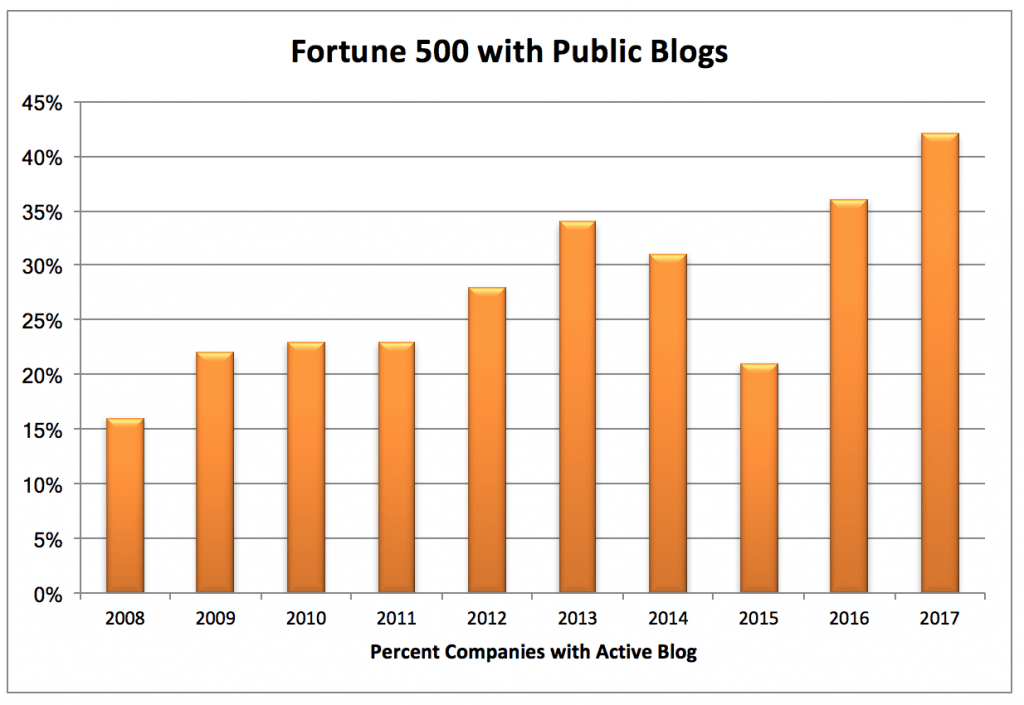 This is an interesting chart. Predictably, blogging increased steadily at Fortune 500 companies from 2008-2013. Then there was a steep drop-off with a low of 21 percent blogging in 2015. Since then blogging has been on the rise once more.
We see here that 42 percent now have active blogs but even that is a bit understated. Fully 62 percent either have an official "blog" or newsroom.
We can only speculate on why there has been such an increase. Possibilities might be
"Thought leadership" is an increasingly important strategy,
An acknowledgement of the importance of written content to SEO,
A realization that social media dollars are better spent on owned content than battling it out for attention on Facebook.
A shift in the make-up of the Fortune 500 that includes more progressive tech companies which have traditionally led the way on blogging.
If you have an additional explanation, please add it in the comment section!
One thing for sure, blogging is not on the rise as way to increase engagement …
2. Blog comments: A thing of the past?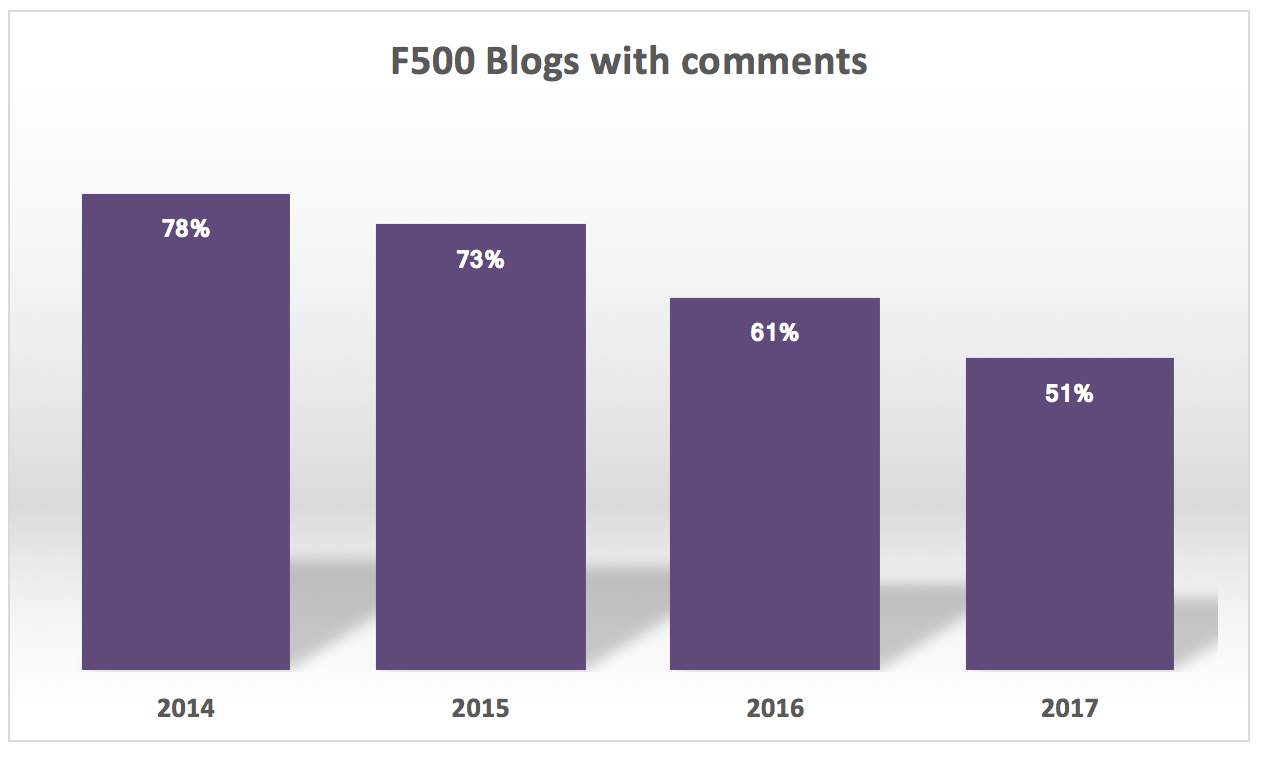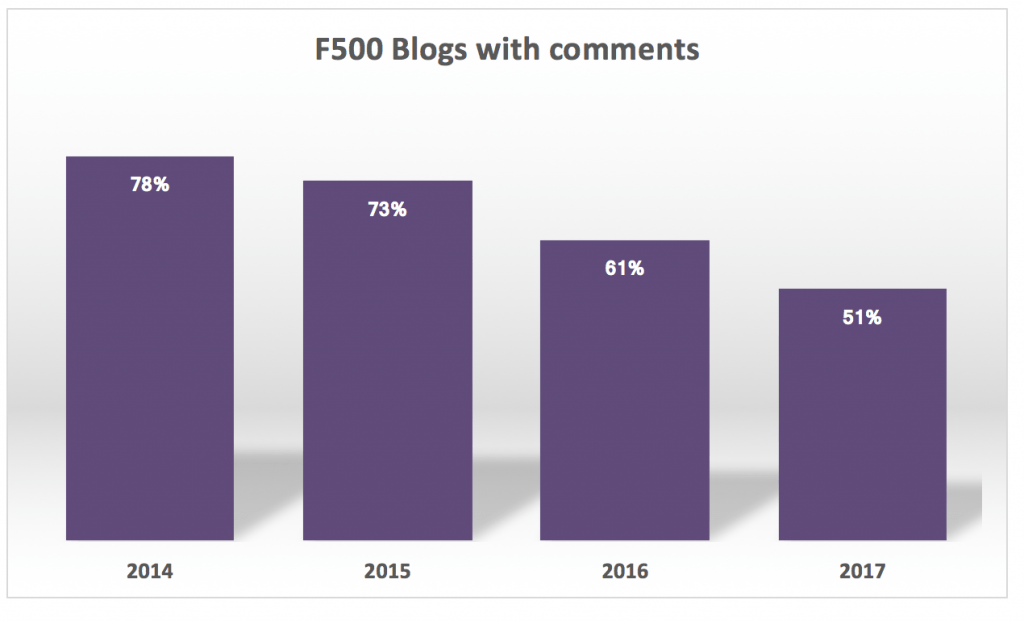 I found this fascinating. Companies allowing blog comments appears to be in a freefall.
Of course many companies want to avoid controversy and trolls … but is this any different than the situation in 2014? Are the trolls getting worse?
Or, are companies eliminating comments to avoid embarrassment? Most corporate blogs get no comments at all and very few social shares. Perhaps cutting out the comments avoids the negative social proof of so little engagement.
Do you have an opinion on this?
3. LinkedIn for the win
The most popular social media platform used by F500 companies is LinkedIn — 98 percent have active accounts. Twitter is second in popularity with 88 percent having active corporate Twitter accounts.
Comparing other platforms, 85 percent of the F500 have Facebook pages, 75 percent have YouTube accounts, and 31 percent use Pinterest.
Google+ has nearly dropped out as social media platform. Just 18 percent maintain an active presence compared to 40 percent a year ago.
Snapchat is the new kid on the block and is already being used by 48 different F500 companies, or just under 10 percent.
4. Instagram on the rise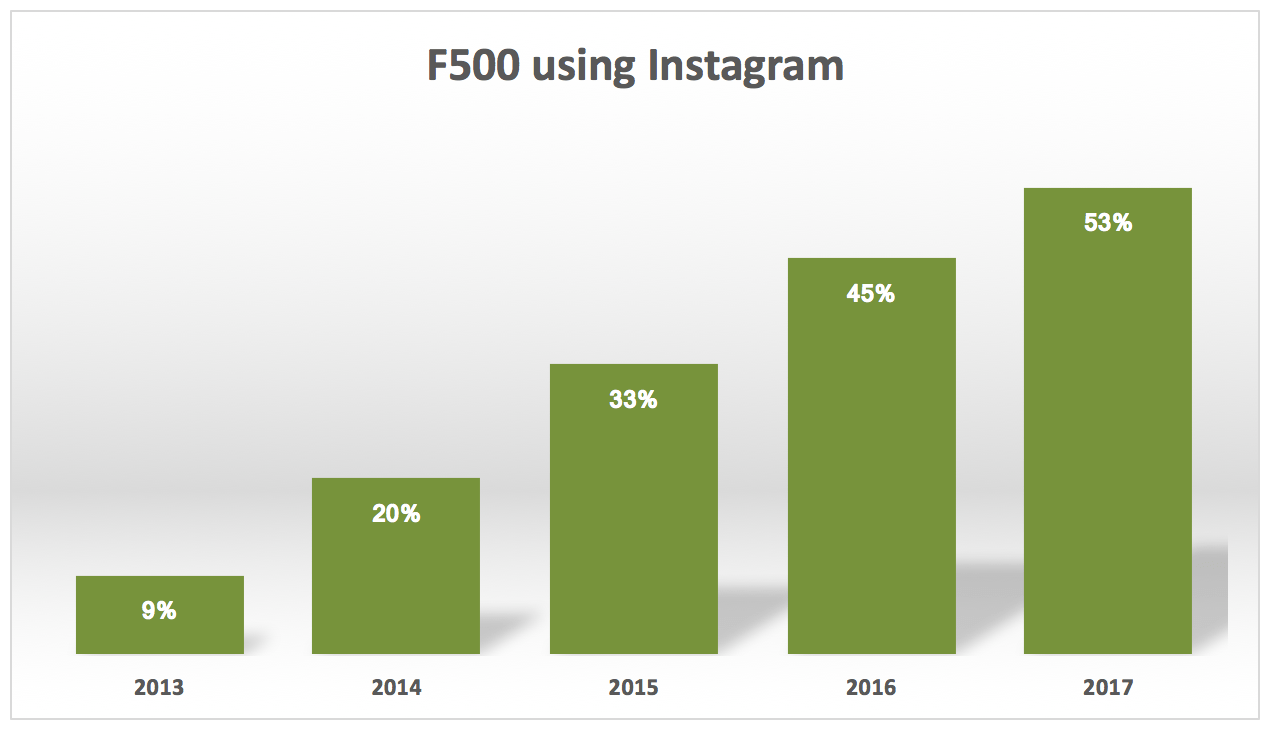 The idea of using visual content is really catching on with the F500 titans. Today, more than half these companies have an active Instagram account, the fastest-growing platform, according to the study.
Instagram is being used both to advertise a company's products and services and as a call to action to purchase (since a link can be included with a specific image, leading users to more information and a means of buying).
Six of the top ten F500 companies are using Instagram, (Walmart, McKesson, CVS Health, General Motors, AT&T, and Ford Motor) while four (Berkshire Hathaway, Apple, Exxon Mobil, and UnitedHealth Group) are not.
5. Seriously?
An interesting point. There are three F500 companies that do not use any social media platform at all:
Dear folks at Liberty, A-Mark and HRG: You can find my contact information here. I think we need to talk!
I hope you've enjoyed this post. A full copy of the new research report as well as an info graphic version of the results can be downloaded here.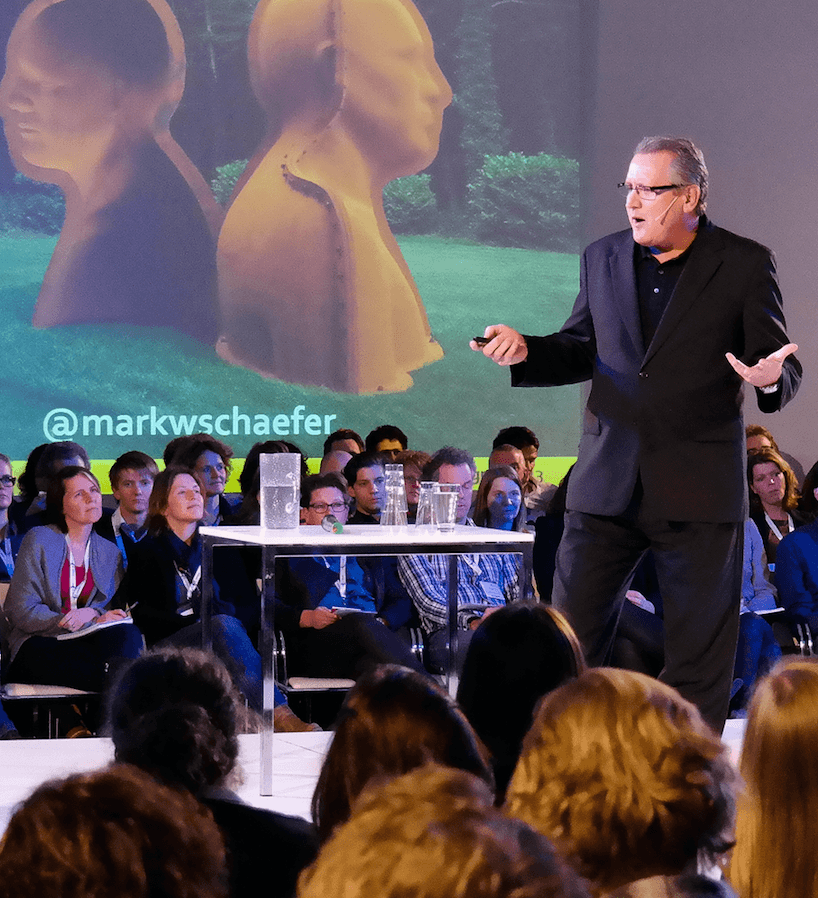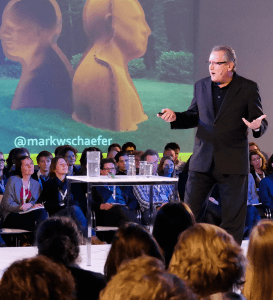 Mark Schaefer is the chief blogger for this site, executive director of Schaefer Marketing Solutions, and the author of several best-selling digital marketing books. He is an acclaimed keynote speaker, college educator, and business consultant.  The Marketing Companion podcast is among the top business podcasts in the world.  Contact Mark to have him speak to your company event or conference soon.
Illustration courtesy Unsplash.com