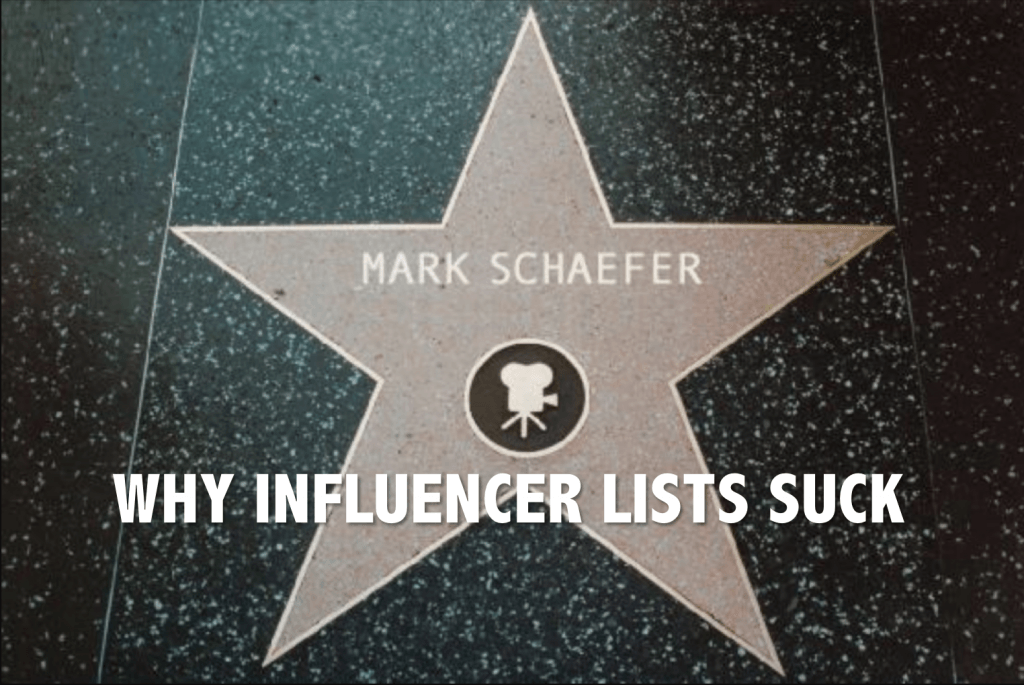 By Mark Schaefer
I had a colleague ask me how I get mentioned on so many influencer lists and wanted to know how he could position himself to get listed some day, too. His question brings up a very weird aspect of our business and I thought I would address this today.
Certainly the social web community seems obsessed with lists of popular social media/content/marketing influencers. These round-ups are multiplying like Tribbles. I don't put much credibility in these lists — even when I'm on them — and today I'll explain why being on an influencer list may not be what it seems.
Why?
First, let's examine why there are so many of these lists.
Any time you create a blog post featuring 100 tweet-happy influencers, you're going to gain traction for your content and your website. Even if you get a few social shares, it can provide a quick jump-start for a fledgling blog or a software site trying to gain attention. Most of the listed influencers have websites with high domain authority, so even the remote chance for a backlink is irresistible.
Many influencers also relish these lists. It provides some validation for their hard work. Even if the lists aren't necessarily a true measure of influence, it's nice to see your name in lights and the social proof can even help you get some business.
So these lists are self-perpetuating. Every time there is a list, people reward the list-makers … which naturally results in more lists.
How?
If you dig deep into how these lists are constructed, it's pretty depressing.
The only commonly available social media platform API is from Twitter. That means you can effortlessly acquire and analyze their data. You can't do that as easily with Facebook and other platforms because so much of the information is private or behind a privacy firewall, or the API is simply not available.
Likewise, it can be complicated and expensive to examine content and engagement on original content like blogs, podcasts, and videos — the primary sources of authority on the web. Many companies have tried, most have failed.
Instead, these lists are almost entirely based on Twitter activity, which I regard as the LEAST influential social channel among the top eight. Twitter can be easily gamed and automated to provide a synthetic impression of activity and authority.
Even worse, some of these list-makers don't do any "research" at all. One popular list making the rounds these days is from Robin Kiera. He has been a list-making machine, creating "influencer research" across multiple industries. But his list is created by inputting Twitter handles into Klout, which is based almost entirely on Twitter (other platforms would only be considered if the user has manually opted-in to Klout … who does that?)
Last week parent company Lithium announced it would be shutting down Klout … so a lot of these influence list-makers will now be imperiled, it seems.
To provide an idea of how wacky these lists can be, let's examine one of the most famous of them all, the "Forbes Top 50 Influencers List." This list was created by an obscure freelance writer and it's still bandied about as social proof for a person's accomplishments. But if you dig into the fine print of how this "prestigious" list was created, you discover this:
"(The list) is not a measure of a single individual's influence; rather, it is an audience-based metric that is a direct reflection of the quality and size of the Twitter audience that has been pulled into following an account or mentioning a keyword @name, hashtag, or URL on Twitter.
Huh?
An influencer list … that isn't a measure of individual influence?
So the Forbes List of Top Social Media Influencers is 1) created by an individual, not a publishing company; 2) based on Twitter, not "social media;" and 3) admittedly not a measure of personal influence.
Nearly all of these influencer lists are meaningless, my friends. The influence measurement industry has a long, long, long way to go before we can observe a list that reflects any sort of reality.
Who?
Allow me to introduce you to my friend Megan Conley. Megan founded an extraordinarily successful social media management company in New York City — no easy task. Her company, Social Tribe, has several Fortune 500 companies as clients. Megan has attracted a team of outstanding young professionals and has generously nurtured their careers. She has spoken at high-profile industry events like Social Media Marketing World and is among the brightest and most insightful marketers I have met in the past five years.
But she has never been on an influencer list.
Neither has Jennifer Aaker, a professor at Stanford and one of the most influential educators in our field.
Or David H. Rosen, an in-demand B2B marketing genius who has worked at some of the biggest agencies in the world.
Or Bernadette Jiwa, one of my favorite marketing authors/branding experts and a disciple of Seth Godin.
Who makes the cut? How do people put together these lists? Do they scour the entire marketing world for genius and influence? No. They copy each other.
So every list basically has the same group of 50 people because they have vast reach on Twitter and have been on other lists.
To be recognized on these lists, you don't need to write a book, speak at a conference, or teach at a university. You don't even have to have a job, or a single customer.
You just need to be a big deal on Twitter. And for people with real jobs and real influence, that is simply not a priority.
Once people get on a list, many engineer schemes to stay there. You would be shocked to know how many "influencers" game the system (as recently reported by the New York Times).
What?
What can be done, if anything, to improve this situation?
There is a ton of money and research going into influencer analysis and measurement because this is such an important part of marketing today. The technology is improving by leaps and bounds, but the fact is that companies will have to somehow go beyond analyzing a few social media bread crumbs to determine a person's impact on the world.
We will never curtail the sketchy list-makers, but perhaps we can at least demonstrate a more tempered response to the lunacy.
I wrote this article to raise awareness about the truth behind these lists. A lot of worthy and talented people (like my friend) overreact when they don't make a list — it's disheartening to know you're making an impact on the world and then see people who are faking their way through life named as industry leaders.
Many people overreact when they DO make a list ("THRILLED to be on this list …"). The influencers know what I am writing here today is true, but promote the lists any way to be polite or to promote their self-interests, which is natural, I suppose.
And I want to emphasize that I am not diminishing the accomplishments of the true leaders who are mentioned on these lists. Of course they deserve to be on any list. I'm simply encouraging a little critical thinking in our world.
If you're not one of the lucky ones who seem to be a permanent fixture on these lists, don't be upset. Keep doing your great work, stay centered, and enjoy the ride. If you are on the lists, keep it real. Are you demonstrating leadership by promoting content that you know is fluff?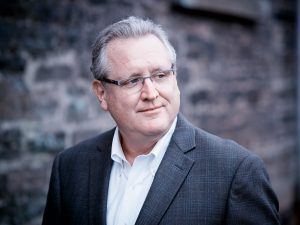 Mark Schaefer is the chief blogger for this site, executive director of Schaefer Marketing Solutions, and the author of several best-selling digital marketing books. He is an acclaimed keynote speaker, college educator, and business consultant.  The Marketing Companion podcast is among the top business podcasts in the world.  Contact Mark to have him speak to your company event or conference soon.