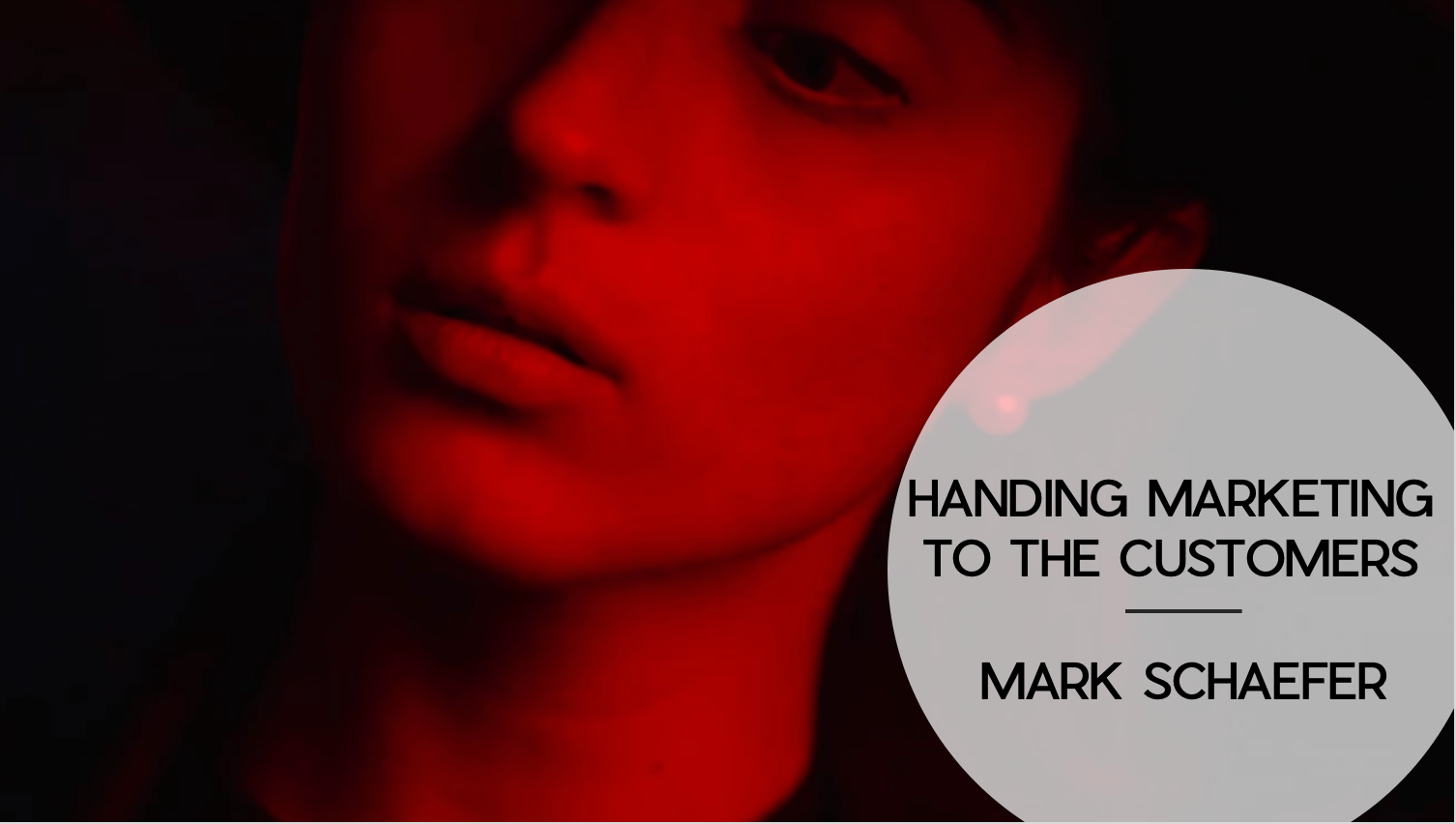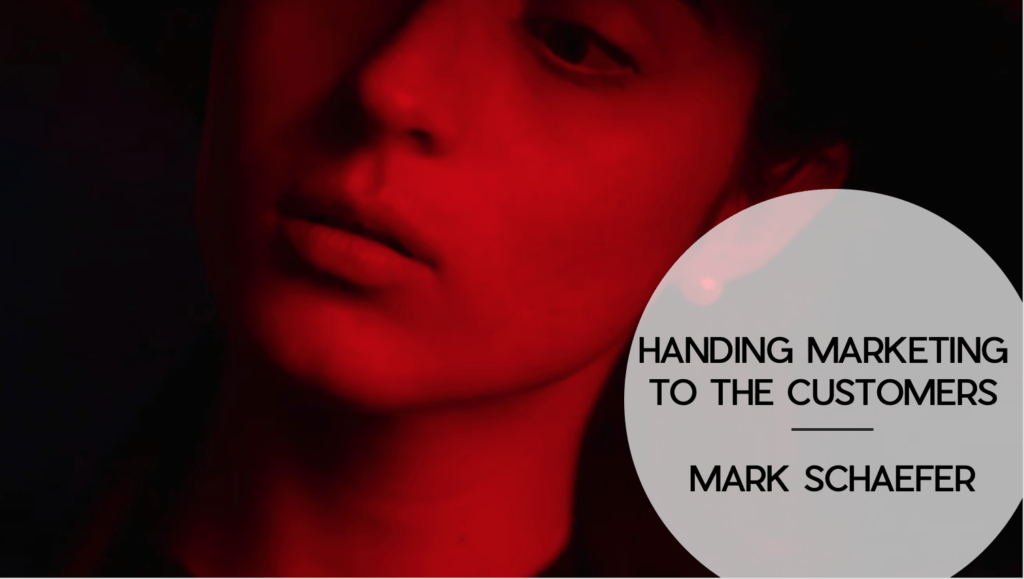 By Mark Schaefer
One of the primary conclusions of my book Marketing Rebellion
is that we are in a new era where the sales funnel is gone, customer loyalty is undependable, and the customer is the marketer. I describe this as The Third Rebellion, characterized by the end of control over the consumer.
In the past, a "brand" is what we told our consumers. Today, a brand is what our customers are telling each other.
Most of our marketing is occurring without us. The new challenge for a company is to be invited to those organic conversations.
After immersing myself in research on this topic over the past two years, I can't help but begin to view the marketing revolution through this lens. Here are three current case studies I noticed that illustrate the radical new approaches needed to win in today's business environment.
End of control: The customer is the marketer
This headline on MarketingDive grabbed my attention: "American Eagle hands creative control to Gen Zers for spring campaign." Highlights:
American Eagle unveiled its new spring campaign, which was photographed, styled and creatively directed by 10 Gen Z "cast members."
The cast members were discovered through social media and will be shown in their own environments rather than highly produced locations or sets. Each individual photographed themselves in a series of self-portraits using iPhones and disposable and film cameras.
The campaign will run across American Eagle's social media, Google Preferred videos and in-store imagery, and cast members will share their individual stories and personal experiences online and on social media.
I feature American Eagle prominently in the new book as the rare example of a large company who understands what it's like to market in this era when hyper-empowered consumers control the brand narrative.
Watch this company! They are aligning with the values of their young customers, empowering their voices, and creating deep emotional attachments with customers that result in loyalty. They are a model of marketing in the Third Rebellion.
Attachment through belonging
My friend Laura Darling, senior director of marketing for Covia sent me this remark about why she is obsessed with the online training systems that come with the Peloton workout system:
"One of the things Peloton does, which is very clever, I think, is that their instructors give "shout outs" to riders when they are celebrating milestone rides (multiples of 50). I'm coming up on 200 rides, and you can bet I want to hear my Peloton name said out loud by one of these fabulous instructors.
"As a brand, Peloton is truly fascinating. The devotion people show is incredible. You should see the photos of some of the rooms people create for their Peloton. Not the "Gazing Out The Window Of Your Manhattan Loft" rooms. These are rooms in people's homes that they have genuinely painted the Peloton logo on and set up just for the Peloton equipment.
"Peloton also builds loyalty through a lot of subgroups, as people develop "tribes" and use hashtags to identify ourselves to each other when we ride. I'm in the Fitter Over 50 group or #FO50, as it appears under my name. People will connect to a particular instructor or by what time they ride. As a demonstration of building brand loyalty, it is fascinating!"
There is a belonging crisis in the world and in my book I provide examples of how companies are overcoming this by helping feel connected. In this case study, Peloton does that by:
Providing individualized attention to customers. It's not "personalized" — it's personal!
Nurturing like-minded customer "islands" on Facebook and other spaces.
Using true personal connections through instructors instead of automated messages and spammy responses.
… and it's working. Peloton has a higher net promoter score than Apple. The company is tracking for $700m for the 12 months to end of February, up from $370m the previous year. Not too shabby for a seven-year-old company.
The new soul of branding
This case is adapted from an AdAge article called the "New Soul of Branding."
The article contends that brand success today depends on the end of control through traditional brand authority in favor of a customer-centric approach.
Jim Stengel, former global marketing officer at Procter & Gamble, said traditional ads that lead to "awareness, trial and loyalty" don't work so well any more. The direct-to-consumer insurgents, build a brand from a place of empathy and personal pain. Around this personality, they assemble a tribe, united in their belief in how the product or service connects them to their individual lives and to their communities.
Research involving 1,000 U.S. consumers showed six themes that set these consumer-centric brands apart from legacy brands. What used to be an impersonal transaction between seller and buyer has transformed into a relationship:
The empowered self — Brands cede authority to consumers, who make the rules. Consumers demand a voice and access that's simple and affordable.
The communal other — Brands build communities that forge meaningful bonds between consumers. As a result, the community as a whole feels justified in its faith in the brand.
The ally brand — The brand is inviting, with a relatable ethos. It exists to enable, foster and serve the customer and community relationship.
Uniquely relevant — These new brands are built on a bedrock of data and analytics. They possess the hyper-intelligence to tailor their offerings in a culturally relevant way that a manufacturer's brands sitting on Target's shelves find harder to do.
Brutally honest — Communication is direct, sincere and stripped of euphemism, whether the topic is premature ejaculation or heavy periods.
Fanatically fair — These brands have pitched a wide-open tent that welcomes everyone—especially those left behind. They're sensitive to attitudinal shifts, not just because that's helpful research insight, but because they themselves embody that shift.
The brand of the future, be it direct and hungry or traditional and lumbering, will have to deliver on a different set of expectations. If Gillette's attempt at undoing "toxic masculinity" is any indication, this will not be an easy road for most traditional brands.
It's exciting for me to see this Marketing Rebellion unfold before our eyes! Are you seeing this end of control too? What do you think of these new ideas?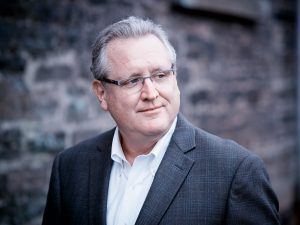 Mark Schaefer is the chief blogger for this site, executive director of Schaefer Marketing Solutions, and the author of several best-selling digital marketing books. He is an acclaimed keynote speaker, college educator, and business consultant.  The Marketing Companion podcast is among the top business podcasts in the world. Contact Mark to have him speak to your company event or conference soon.
Illustration courtesy Unsplash.com