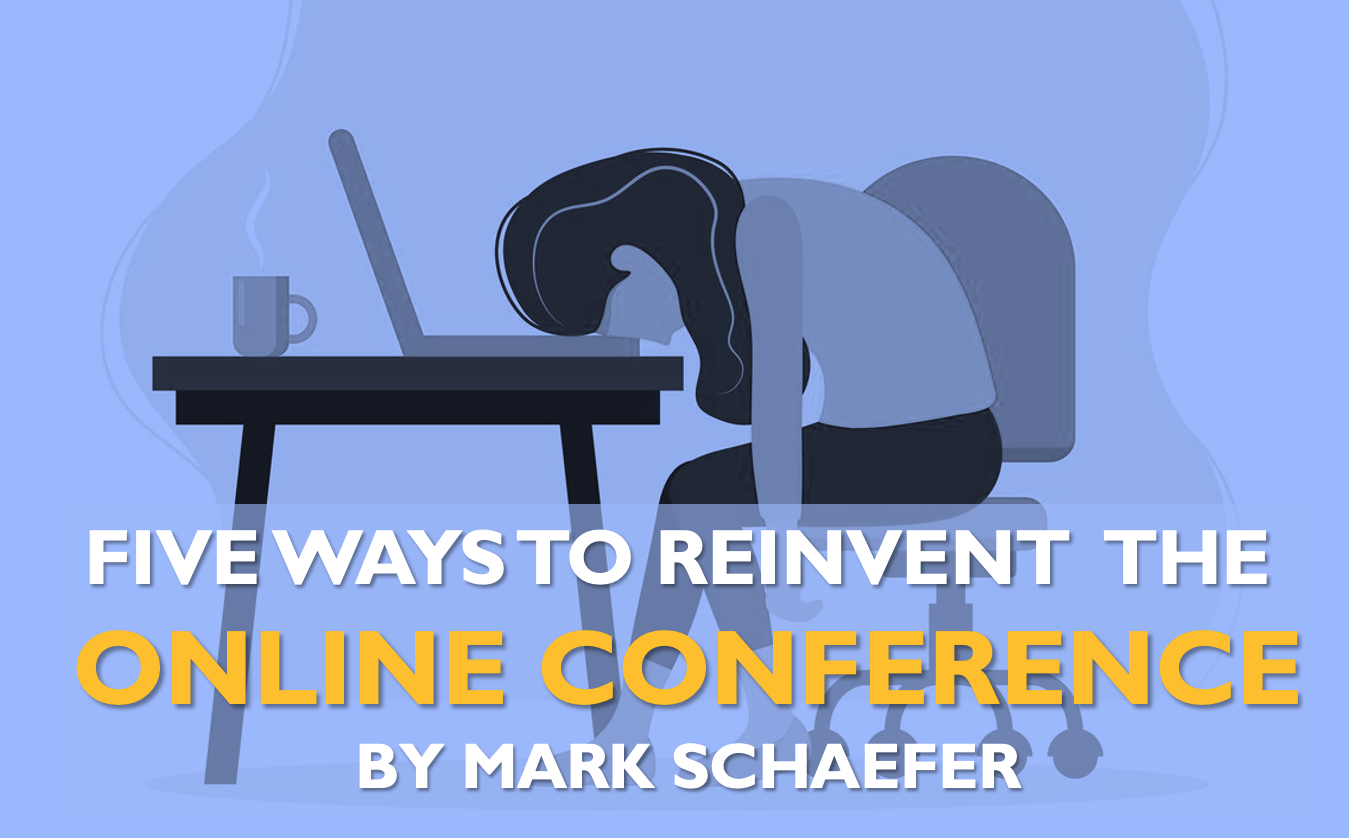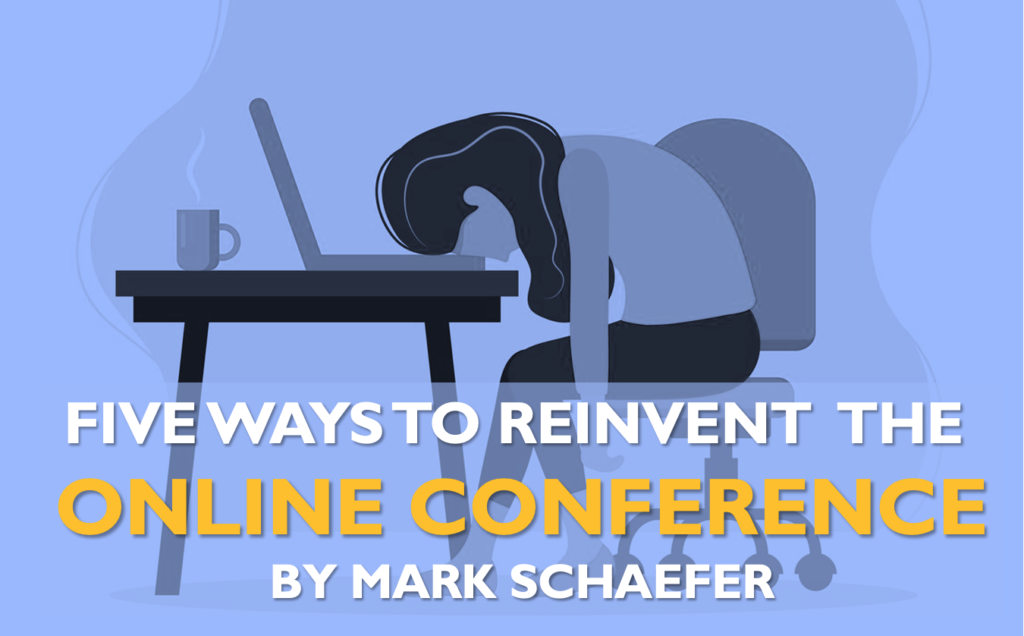 We've now completed ROUND ONE of the Era of Online Conferences as we adopt new strategies to help live events survive through Zoom.
I've been honored to be the keynote speaker at many online conferences over the past nine months and attended a few as a participant.
By now we should be adjusting to these times of crisis but unfortunately, I see too many organizers trying to recreate a traditional conference in a Zoom-like format.
One friend attended a leading marketing event that moved to a digital format and said "It was miserable. They were just trying to stuff all the same content into an online format and it just didn't work."
Why do people really go to live conferences?
It's an opportunity to see a new city and have some fun … maybe even turn it into a vacation
There is the appeal of connecting with close industry friends over lunch or drink
It might be a chance to meet an admired industry leader or celebrity
The serendipity of meeting like-minded colleagues leads to fresh ideas and new business opportunities.
"Learning something new" is probably down the list of the most popular reasons to attend a live event. That might be the reason we tell our boss we're going to the conference, but to be honest, if we really want to learn something new, we can probably read a blog post or watch lessons on YouTube.
Online conferences offer almost nothing that can compete with the personal experience of a live conference. So, just stuffing hours of content into endless hours of Zoom fatigue won't work in the long-run.
But there are some things we can do to be better …
And now for something different in online conferences
The best thing I've ever done in my professional life is to create The Uprising, a small marketing retreat for just 30 marketing professionals. Like many other event organizers, I've been forced by COVID to put a version of this conference online. But I was determined to spare no expense to make this as close to the amazing live experience as possible.
I took some risks and it paid off. 100 percent of the attendees rated it a 5 out 5 in terms of quality and value. The same person who had complained about the recent awful marketing conference told me that The Uprising was the best virtual experience he's ever had. 
Hmmmm … what happened here? What was the difference?
Looking over the post-event feedback, I'll share what I think made The Uprising head and shoulders above other online events. How do you turn online conferences into online experiences?
1. Timing
My event ran 2.5 hours per day for three days. There was an optional 30 minutes at the end of each day for networking and chatting with new friends. This seemed to be an ideal amount of time. Many people in the post-event survey said they "wanted more." I think that's extraordinary in this era of Zoom fatigue.
When I go to a real event, I'll go non-stop from breakfast until late into the evening. But that does not translate when your eyes are glazing over in front of a computer. Serve up your conference tracks in digestible chunks.
2. Interactivity
About two-thirds of the event's content was co-created by the participants through small and large group discussions. This was a risk for me but it ended up being a big hit. Having a chance to participate in every discussion and contribute made every person an organic part of the experience.
Instead of just a one-way dialogue, there were three days of real conversation and I think that made all the difference. There was also free time to connect and chat with me and other presenters … sort of like hanging around after the talk at a live event.
3. Size
This was a virtual event so I could have opened it up to an unlimited number of people. I intentionally kept it small so that everyone could meet everyone and have a chance to be heard. I turned away dozens of applications — I could have made a lot more money — but the small size made the event work!
The small number allowed for real networking. A few people commented that this was the first online event they've attended that resulted in new business connections.
I know many events count on thousands of participants to make the financials work, so this might not be for everybody. But I sacrificed monetary return for quality and at least for me, it worked.
4. Comfort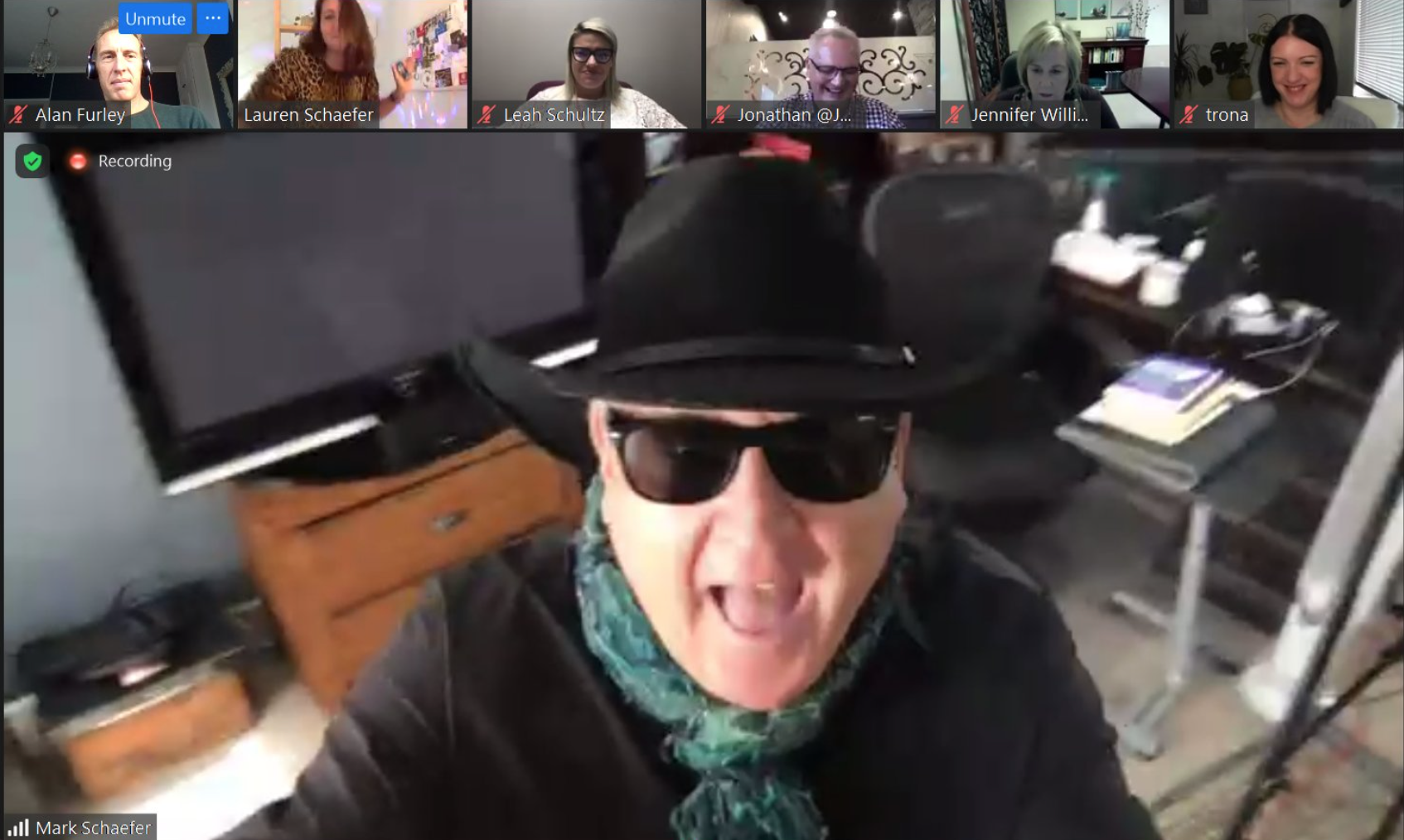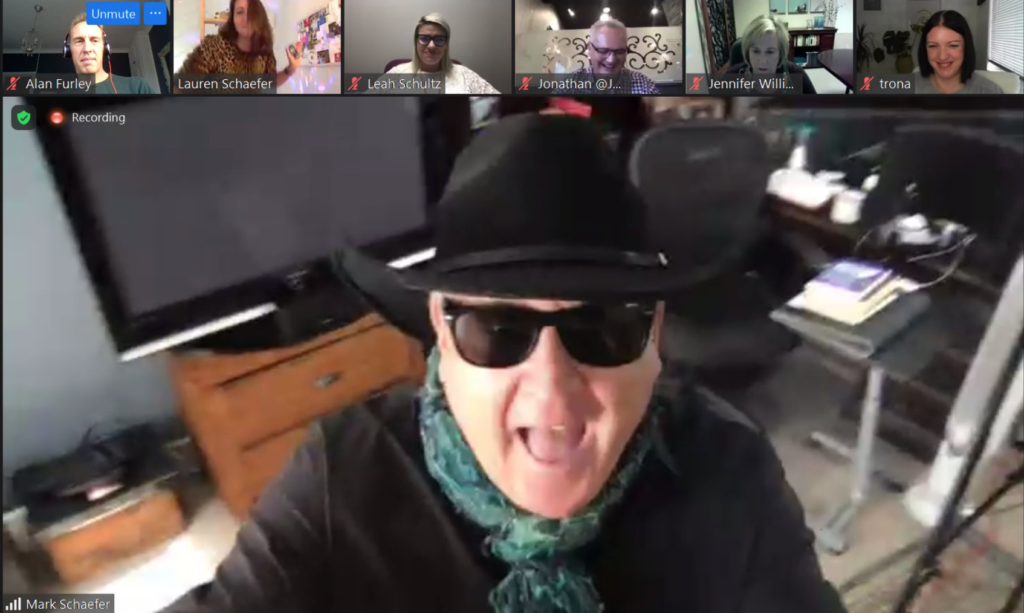 It's hard to put my finger on this one as a success factor but several people mentioned it so I think it's significant. Several people said the event was "friendly and accessible."
Perhaps It was because I set a bit of a goofy tone and joked around. Maybe it was because we could establish real camaraderie since the group was so small. But the intimacy and friendliness made a difference that sparked conversations and connections.
When was the last time you attended an online conference and thought "that was fun"?
5. Flawless execution
I hired an events-planning expert (my daughter) to handle all of the execution and technical details. Although it was a small event, it was rather complex with multiple speakers, recordings, sound effects, polling, and pre-assigned break-out rooms. Believe me, if the tech had not worked flawlessly, THAT'S what people would remember and talk about.
By the way, we ended up using Zoom. I evaluated several platforms but thought any small incremental advantage over Zoom was negated by the fact that I knew Zoom worked and people were already familiar with it. Any "learning curve" would have been a negative.
I was recently part of a massive tech conference that had severe technology problems. No matter how good the content may be, the tech can disrupt your success.
What about the content?
The Uprising featured forward-thinking thought leaders such as Martin Lindstrom and John Jantsch. So, I definitely delivered on The Uprising promise of providing thought-provoking content about what's coming NEXT in marketing. But I suppose I consider that table stakes. If I had tried to stuff this great content into the same boring format of other online conferences, I would not have succeeded.
I suppose an analogy is going to a symphony. You're going to the concert because of the reputation of the orchestra. You know the music is going to be great. But if the concert hall is freezing cold and the person next to you is eating popcorn the whole time, you may never come back.
In this COVID era, the experience is as important as the content. We need to have that experience make up for the fact that we won't be seeing our friends and hanging out in California or Las Vegas for an event.
An Uprising for you
I'm planning at least one more Uprising Online event in 2021 with the hope of returning to a live format at a lodge in the Tennessee woods on September 14-17, 2021.
But here's what I've realized — Going online has its advantages! We are having a ball with this event.
I get to include people who may not be able to afford to travel to the live event.
I can be more creative with the speakers and topics.
And by recording the event, it may open up new content opportunities.
The first online event was AWESOME and I hope you'll consider joining me in February. There are just a few spots left and I'd love to have you experience what an online event can be. Click here to learn more about the mind-bending speaker line-up and to secure your own slot.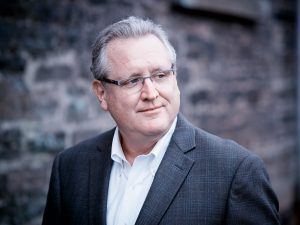 Mark Schaefer is the executive director of Schaefer Marketing Solutions. He is the author of several best-selling digital marketing books and is an acclaimed keynote speaker, college educator, and business consultant.  The Marketing Companion podcast is among the top business podcasts in the world. Contact Mark to have him speak to your company event or conference soon.