In my travels, I meet many people who aspire to turn a love of social media and blogging into a career. This is the story of one person who did it. In 12 months!
I had the opportunity to meet Ana Silva O'Reilly during a lecture I gave at Oxford University last year and we have remained fast friends ever since. "I am intrigued by this blogging idea," she said. "I think I'll give it a go."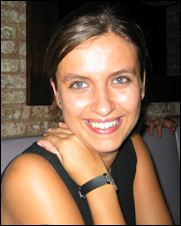 In just 12 months, she is travelling around the world for her social media career and has created a profitable and successful business by turning her passion into a business. Her blog Around The World with Mrs. O is growing exponentially and now receives 40,000 page views per month. She is contacted daily by leading brands and has leveraged her success into consulting and paid "influencer" engagements.
I recently had a chance to catch up with Ana and she shared the three keys to her success:
1. Don't conform to Internet expectations
"I am not doing anything special just to perform for the Internet," she said. "I have always loved to travel and so I have just turned my passion into my business. But I'm not doing anything differently. I'm not going to go some place or write something just because somebody wants me to. I travel the way I want to travel. I am staying true to myself, not a company's agenda and that makes a difference to my readers."
2. Engage tirelessly
"I have built my audience through tireless engagement," she said. "My greatest reward is when somebody writes me to tell me that they would have never found some great hotel or restaurant without me. I love hearing those stories and helping people in any way I can."
With her success, scaling engagement becomes more difficult. "I respond to every post, comment, and tweet," Ana said. "I think you build loyal readers one person, one connection at a time, But I find more and more engagement is happening now, which takes more time. Certainly becoming more popular is difficult to scale."
3. Do not compromise your integrity
"I will never, ever compromise my integrity," she said. "People will learn the truth about a travel destination from me."
Ana does take money from resorts for additional social media exposure. How does she align that with her need to stay truthful to her audience? "I will only provide extra social media exposure through my photographs," she said. "I figure photos don't lie. You see what you see. When it comes to my writing, I still say whatever I need to say."
The issue of monetization
In addition to getting money for limited social media exposure opportunities, Ana has been approached by brands as a consultant and social media advisor. She pointed to Four Seasons as a company that is transforming its image through social media. "This is a luxury brand and their core audience was literally dying," she said. "They needed to find a new audience and that is coming through the social web."
Ana certainly seems to be living the dream by turning her passion into a career but I think it is worth noting the fundamentals that got her there —
Capitalizing on her own originality to carve a niche in a crowded market
Being honest without compromise
Consistent content creation and audience engagement
Seems to be a common theme among successful bloggers, right?