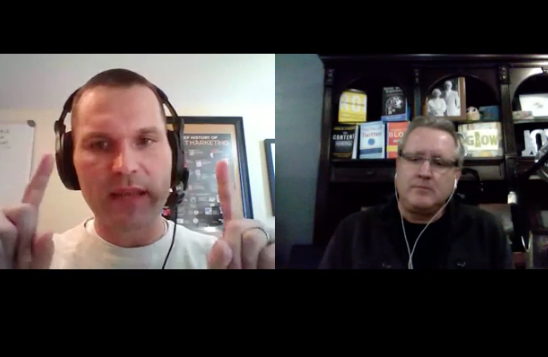 Something extraordinary happened the other day. Marcus Sheridan and I had a raucous debate about the state of the nation of content marketing … and I have it here for you today.
If you don't follow Marcus yet, please do. He is bright, passionate, and inspirational. Over the years we have become friends but we don't agree all the time … and that's when the fun begins.
In a recent episode of his excellent Mad Marketing podcast, Marcus scalded me. He strongly took exception with a point I made in a post I wrote called Five reasons why most content marketing is FAR behind where it needs to be. In fact, he a called me "bonkers."
Re-thinking the content you produce
The genesis of the controversial post was a conference I attended of industry thought leaders from the BBC, Public Broadcasting System, Facebook and other well-known media companies. One of the themes of the conference, which was hosted by Columbia University, was determining strategies to break through the noise in a world of furious content competition (and media companies would know!).
One Columbia professor observed that successful content creators will need to think more like fashion designers than traditional publishers. He said that the old advice that companies should think of themselves as "publishers," was simply not enough anymore. A better comparison is to think like a fashion designer who is battling for attention with something constantly new, entertaining, and captivating.
I agree with this view. Sure, there are many industry verticals still behind in their marketing strategy. But if you're creating the same kind of content that you created two years ago, may I suggest that you may soon be swallowed up by the competition. In fact, Shani Hilton, the executive news editor for BuzzFeed, recently said the content landscape is changing so quickly we "can't do things the way we've done them for the last six months."
My perspective on this need for "new" drove Marcus nuts.
Submitting to Facebook 
But I have excellent news for you. You can actually watch him go nuts in the video I have embedded below. This conversation is fascinating because we also reached far beyond this topic to discuss adjustments we need to make in our content marketing strategies now:
A view on why the 2016 marketing strategy needs to be "submit to Facebook."
Can we really count on the best content rising to the top? A surprising apology from Marcus.
The cataclysmic shift on social media channels that is changing the basic content marketing philosophy and strategy.
If there's one thing any marketer needs to be considering in the year ahead it is this: "I need to pay attention to the platforms."
Content links — The bridge to our content but those connections are going away. Social media channels are becoming "cul-de-sacs." What's next?
One person who observed the conversation as it was happening tweeted. "Best conversation on marketing I have seen in years. I have taken 3 pages of notes!"
Our little video also features guest appearances from Brian Fanzo and Suresh Babu.
Enjoy …
Click here if you can't see the video so you can view on YouTube: Social Media Office Hours with Marcus Sheridan