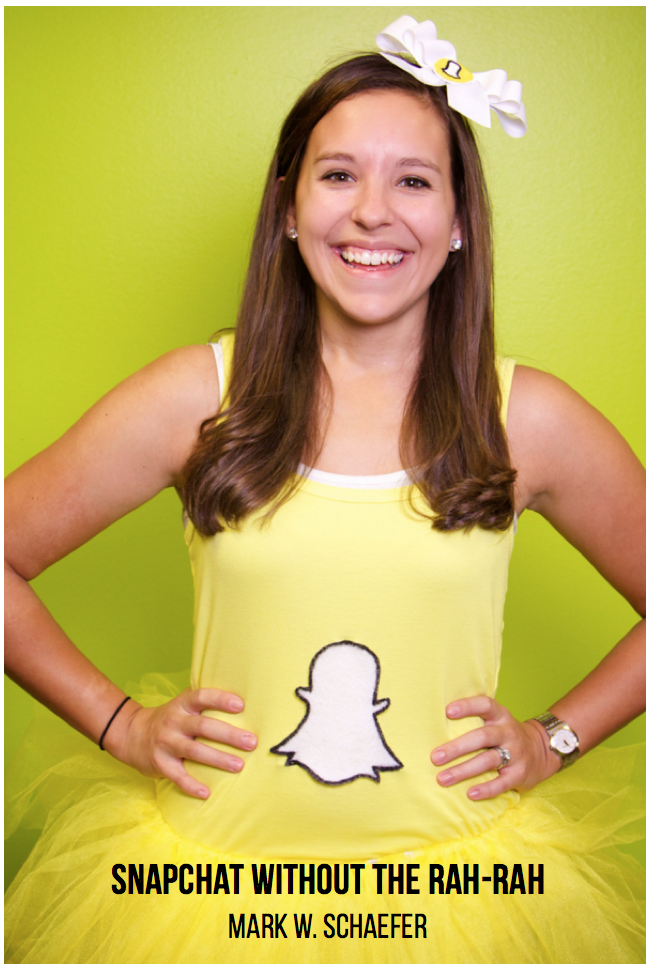 By Mark W. Schaefer
Much of my social media stream is dominated by a Snapchat feeding frenzy these days.
And with good reason. There's a serious "fear of missing out" factor here — Snapchat has become one of the most important social networks in the world. With billions of stories viewed each day and more than 100 million active users, Snapchat has the highest growth rate of any social media app.
The momentum is undeniable.
But the hype about using Snapchat for marketing has tipped toward the irrational. In fact, every post I've seen encourages people to use Snapchat for marketing without examining the opportunities in the context of business reality. I thought it was appropriate to bring some balance to the discussion.
In some cases, Snapchat can provide an enormous marketing opportunity, but I contend that RIGHT NOW, most businesses (especially B2B) will find this channel very difficult to master and sustain in a way that creates measurable economic benefits.
Here's a short case study that illustrates some of the difficulties and opportunities many businesses will face.
Snapchat: The Happiest Place on Earth?
Last year Disney wanted to draw attention to its theme parks by building its presence on Snapchat. Problem number one: Building a relevant and engaged audience on Snapchat is difficult, compared to other social networks.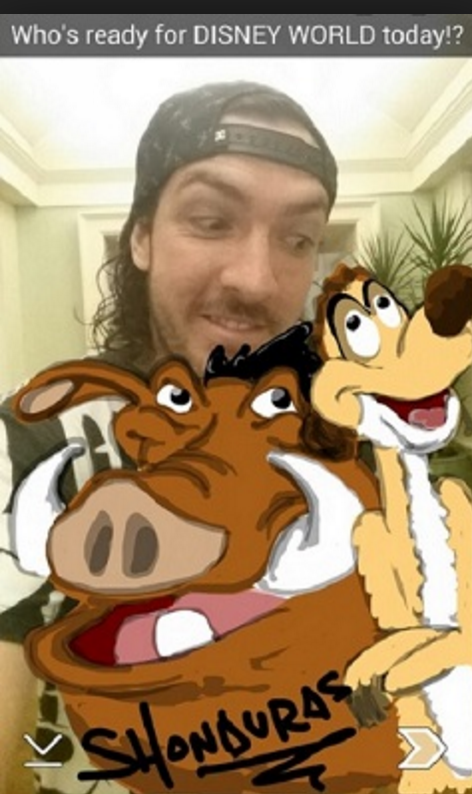 To gain momentum, the company hired famous Snapchat artists like Shonduras to create content within the park for 24 hours. Issue number two: Snapchat has its own vibe. It may be difficult for many companies to achieve Snapchat credibility without some help from the cool kids. And that comes at a cost, because there are only so many cool kids.
The artists worked furiously and their 10-second art — and Disney's considerable content investment — disappeared with a poof. Of course that's part of the appeal of Snapchat. Everything disappears. So the third issue is, the challenge of creating continuous, credible, snap-worthy content that disappears can be significant.
The Disney campaign could be judged as a success because through the help of the Snapchat celebrities, the account acquired 50,000 new followers in a day. But now what? What happens once those hired celebrity artists go away? Is this new audience going to be happy with 10-second videos of Disney princesses? Snapchat can't be one and done. Compared to other social channels, the challenge to feed the beast with relevant, ephemeral content is daunting.
I wonder if brands will eventually weary of this content cycle. If you're investing in creating great content, wouldn't you want to invest in stories that people will see and enjoy for more than a moment?
A social media cul-de-sac
And while the engagement level on Snapchat is high (at least for now while it is still relatively uncrowded and new) it's a social media cul-de-sac since there are no outbound links. Content goes in, nothing come out. And of course the content isn't searchable, so even if you have a snappy success, you can't build on that win and amplify it into the future.
Brands have also stayed away from Snapchat due to a lack of analytics and targeting opportunities but you have to assume this will improve at some point.
Early research also shows that Snapchat ads are ineffective. A study by Digiday showed that more than 90 percent of Snaphchat users abandons a 10-second ad in the first second … but of course that phenomenon is not unique to Snapchat!
While some beloved brands like Disney are breaking out, in general, big brands and celebrities are of little interest to Snapchat users. Research shows that Snappers love this app for self-expression and connecting with friends — not for following company accounts (less than 1 percent "sometimes" watch branded Snapchat stories). If Snapchat makes its platform more business-friendly, it risks losing its appeal.
Finally, there is the issue of corporate culture. Disney probably put some guidelines in place so their hired Snapchat artists didn't draw boobs on the Little Mermaid. If you're in a corporate culture where Legal approves every tweet, the raw and in-the-moment demand of Snapchat is going to drive you nuts.
I've written often in this space about the importance of corporate culture in social media success. In my opinion, it's the number one impact on whether social will work for a company or not. Even if your business has figured out Facebook and Instagram, don't assume you're ready for Snapchat. Spend some time on the channel and seriously consider the cultural fit before trying to get your boss on board.
Can they withstand Facebook?
The fellas at Snapchat turned down a $3 billion offer from Facebook. Do you think Mark Zucjerbrg wants to run them out of town? You bet.
Snapchat has no meaningful intellectual property. There is nothing really stopping Facebook (or the apps they own like Instagram, Messenger, or WhatsApp) from copying anything they do.
Facebook already owns the hearts and minds of marketers. As Facebook responds to the Snapchat challenge they will be able to better serve advertisers and monetize more quickly.
Facebook has virtually unlimited resources. They have more engineers, more money and more technology than Snapchat can imagine. Snapchat is going up against Goliath.
The Snapchat for marketing opportunities
Having said all this, there are great opportunities, too. Snapchat has developed an emotional bond with its young (mostly) audience. It is their place. This is not to be under-estimated, even with a Facebook challenge. Some of the things for marketers to consider:
If you are a huge brand with the resources to establish a foothold on Snapchat (like Disney) you should absolutely do it. We don't know where it's going to lead so it makes sense to create your presence and perhaps gain a first-mover advantage.
A significant group of Snapchat stars has emerged. These folks have a loyal and engaged audience. In some cases, this can be an opportunity for an influencer marketing strategy.
If you have the passion and time to devote to Snapchat, it is a very powerful way to build a personal brand. The raw and fun glimpses behind the scenes are addictive.
Some businesses are successfully using Snapchat as a couponing tool (you take a screen grab of the image before it disappears).
Like Twitter, it can be an excellent channel to promote live events.
It is a fun and engaging way to entertain your customers through a new form of storytelling. I recently attended a conference and saw a great example of a "Snapchat documentary."
Some brands are creating buzz by adding "Easter eggs" to the platform. An Easter egg is an inside joke or hidden feature. Here are some interesting Easter egg case studies in a post by Ryan Hoover.

Snapchat "filters" and geo-filters are custom stickers, frames, and images that can be put over your images or videos. Brands such as Disney and McDonald's provide fun filters to add a branding element to personal snaps. About 40 percent of Snapchat users snap with branded filters.

If your core demographic is under 30, you probably have to figure it out and maintain a presence even if the business benefits are unclear right now. There is a Millennial migration away from Facebook and Twitter to Snapchat. Like Disney, brands like Universal, Heineken, and Audi have noticed that teens will pay attention to branded content delivered with an authentic Snapchat style.
I think the biggest opportunity for using Snapchat for marketing is still ahead of us — we don't know where Snapchat will go. Businesses will discover lots of new uses for it in the months to come and the platform will continue to improve.
For example, GrubHub created awareness for their brand by challenging followers to a Snapchat scavenger hunt. Each day for one week, GrubHub posted a new challenge for followers to complete for a shot at winning free food. More than 30 percent of GrubHub's Snapchat followers participated and the brand saw an increase of 20 percent in followers during the contest. So while organic reach is hard to come by on Facebook, GrubHub had a smart strategy to build their presence in a new, less-crowded place.
My friend Jay Acunzo writes that a Snapchat follower might be the most valuable follower of all. He smartly observes "Snapchat is, at least for now, what social media was always intended to be: Humans interacting with other humans. There's no tone-deaf brand message or trend hijacking. There's no anthropomorphic logo talking AT you. There are only people creating mainly fun, quirky, and positive content and actually interacting with other people."
In my writing and talks, I emphasize that there are NO cookie-cutter solutions that apply to every business. You have to weigh the costs and benefits of every opportunity to make your own decisions. Don't get sucked into the Snapchat hurricane without considering the whole picture.
Learn about Snapchat, experiment with it, but know the risks and challenges, too.
Mark Schaefer is the chief blogger for this site, executive director of Schaefer Marketing Solutions, and the author of several best-selling digital marketing books. He is an acclaimed keynote speaker, college educator, and business consultant. The Marketing Companion podcast is among the top business podcasts in the world. Contact Mark to have him speak to your company event or conference soon.
Top Illustration courtesy of Flickr CC and Ted Murphy