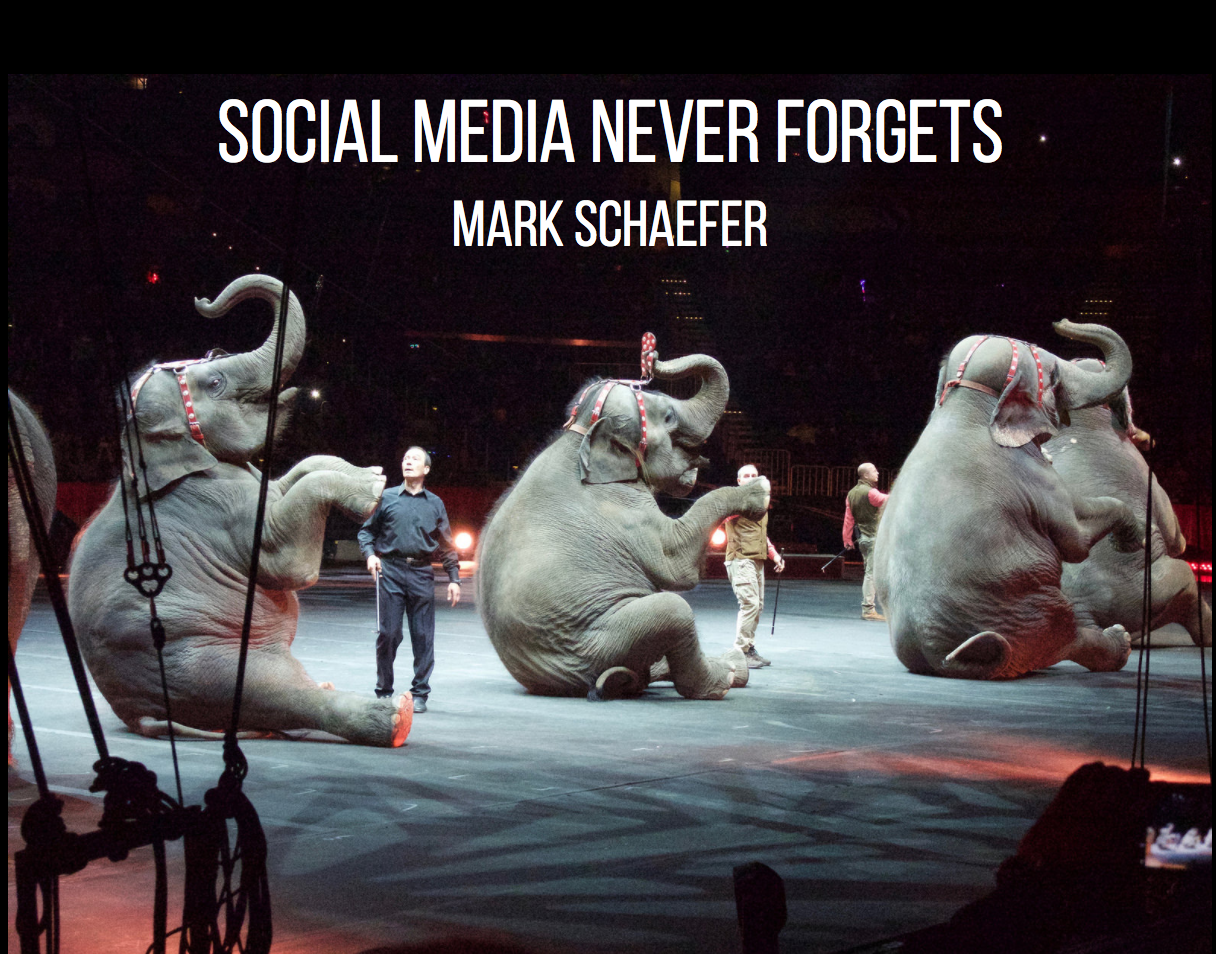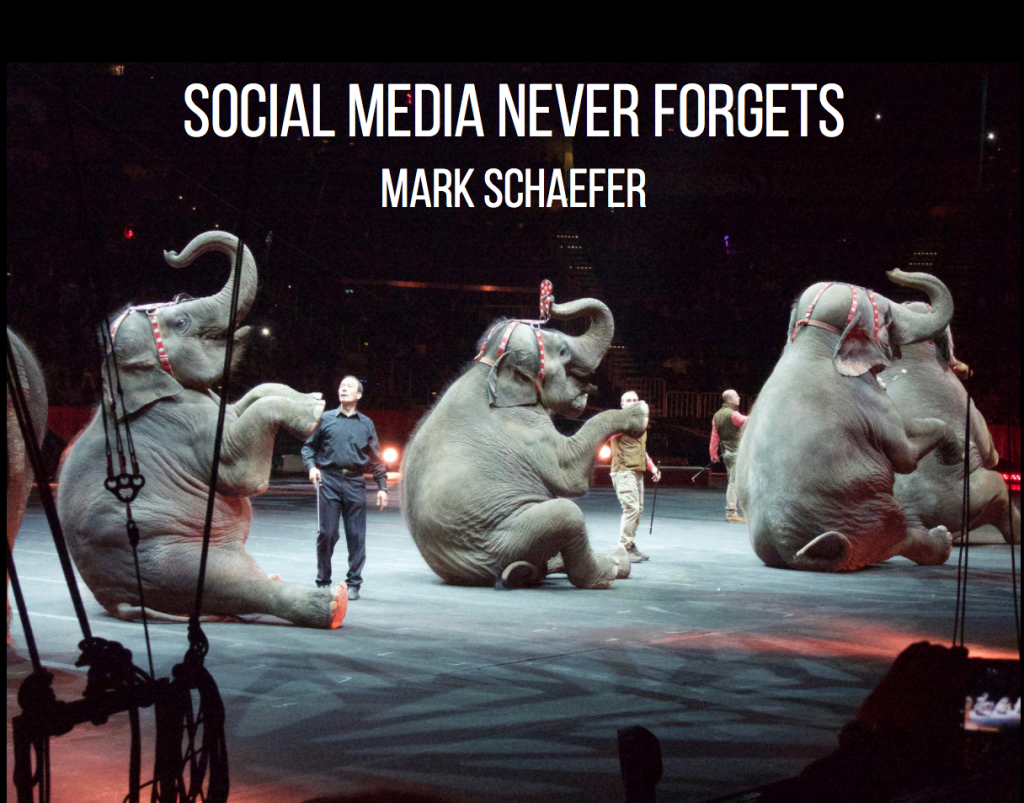 By Mark Schaefer
For 146 years, there has been a spectacular show traveling from city to city in America. The Ringling Brothers Circus featured clowns, acrobats, and animal acts that thrilled families for generations.
But on May 21, the show will go dark after its last performance.
There are a lot of reasons behind the demise of this American institution. The cost of the complex show was enormous — more than 500 performers and crew, 100 animals to care for and feed; a universe of costumes, props, sound and lights. There is more competition for attention and entertainment dollars than there was than when the troupe started in 1871.
But the core reason behind the decline seems to be … elephants, and YouTube.
Social media never forgets
When I was a child, I always had mixed feelings about seeing the elephants in the circus. They were awe-inspiring and entertaining, but I always wondered … could they possibly be happy being stuffed back into that train car every night? When the circus left town, I quickly forgot about the elephants and returned to my school work, friends, and baseball practice. Everybody did. What could you do? Write a letter?
But 10 years ago, a social media movement started that would not let us forget. A surreptitious video showing heavy-handed tactics against the elephants went viral and fueled an online campaign that dampened enthusiasm for the circus. The owners took steps to clean up their act, but ticket sale went into a decline. When the elephants were finally removed from the show last year, ticket sales plummeted.
I would guess that in this world there are very few people who devote their lives to the rights of circus elephants. But on social media, the voice of a few can be amplified into a thunderous call for action and provide a decade-long drumbeat of embarrassment for the owners of the show.
Throughout history, there have probably always been a certain group of people who could not forget about the elephants, but there has never been a true mechanism for rapid social change until now, until social media.
The catalyst for rapid social change
I'm lucky to be alive at this moment in history. I've witnessed more social change in the last 10 years than my grandparents witnessed in a lifetime. There have been countless examples of industries, companies and individuals being brought to justice by a video or even a misplaced tweet. ALS research was transformed by an ice bucket challenge (one of my most-viewed videos!). Heroes have risen from obscurity to become national and international leaders, celebrities, and entertainers. Every one of us has the amazing ability to find our voice and become known.
There is also a sad side to this rapid change. I feel cheated and a little angry that there will be no more traditional circus performances. My parents took me when I was little. I took my kids. But my (future) grandchildren will never get to witness a person who has honed a single skill over a lifetime for one, perfect eight-minute circus performance. They will never see the clowns climbing out of a little car or hold their breath when a person flies through the air on a trapeze swing.
Why couldn't the circus shift fast enough to use social media to remain relevant, to ignite a new generation of excitement? The circus had survived two world wars, television, and an economic recession, but it couldn't survive YouTube?
The first lesson of this story is that even a small group can ignite significant and lasting change in our world today
But the second lesson is what happens when you can't get ahead of the curve and respond fast enough to that change. The circus probably had more resources and promotional fire-power than its adversaries, yet it took them 10 years to work the elephants out of the show.
The circus sells dreams and practically invented the modern field of PR yet couldn't save itself. If you're not in a constant state of reaction and reinvention, you're probably in a state of decline.
The protesters did the right thing. Maybe closing the circus was the right thing. But it's weird to see this little piece of history die. I guess social media makes us all move on.
Some of the facts for this post came from an excellent profile in the New York Times of the circus and the performers who will lose their jobs after the last performance.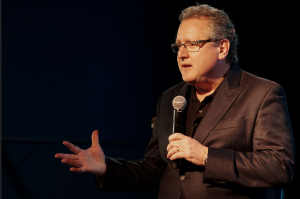 Mark Schaefer is the chief blogger for this site, executive director of Schaefer Marketing Solutions, and the author of several best-selling digital marketing books. He is an acclaimed keynote speaker, college educator, and business consultant.  The Marketing Companion podcast is among the top business podcasts in the world.  Contact Mark to have him speak to your company event or conference soon.