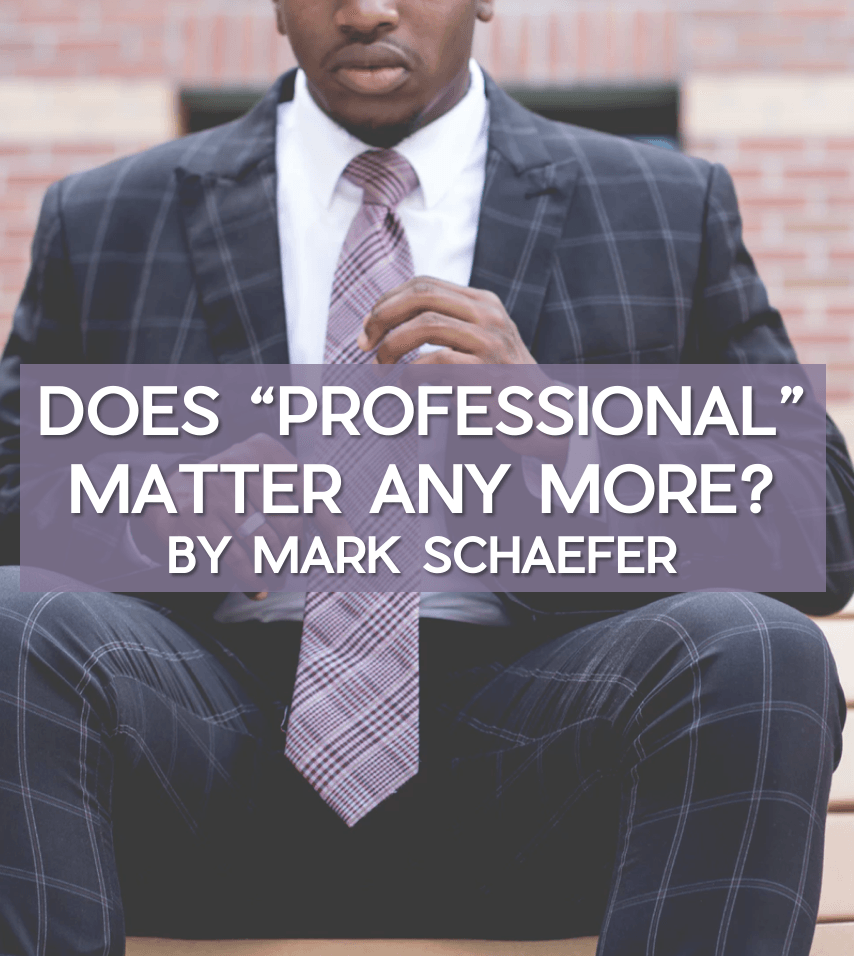 By Mark Schaefer
A few weeks ago I was enjoying a spectacular day in New York City and sat down for lunch at a sidewalk cafe. As my server took my order, she asked me where I was visiting from. I told her I was from Tennessee but then wondered … "how in the world did she know I was a visitor?"
I suddenly felt insecure about my place in the world. Did I have a "tell" that I was from another part of the country? Did I say something weird? What was I missing?
When she returned I asked her!
"How did you know I wasn't from New York?" I asked.
"In this part of town," she replied, "if you're not wearing a suit, you're a visitor."
I thought this was a rather bold prediction on her part but as I looked around … indeed, I was the only person within view not wearing a suit.
It shocked me into a realization that there is still a significant portion of the world that still wears suits to the office!
It has been 20 years since I was last required to wear a suit to work and I can remember that precisely. Our company president demanded that we all wear suits but whenever he left town, the VPs started going casual behind his back. And when they did … soon everyone was doing it! When the president caught wind of the trend, he finally relented and I have never worn a tie to work since.
It seems anachronistic now, but wearing a suit and tie was the symbol of "professionalism." Today, it's not uncommon to see t-shirts, shorts and sandals in an office. Does this mean they're not professional? Does any of that matter?
I consider myself a "professional speaker." I don't know of any written standards to make me "professional," but in my mind, it means I'm reliable, punctual, appropriate, and capable.
But does that fit for everybody? Can you be "authentic" and "professional" at the same time?
In the latest episode of The Marketing Companion, Tom Webster and I tackle this topic and I make a case that there is an economic influence that determines what constitutes a "professional."
We also dive into some other doozies:
Facebook's new video chat hardware device called Portal. Just what we needed — another reason to mistrust Facebook!
We talk about Amazon's surging ad revenue and what it means for marketers
Finally, are we reaching a level of content shock when come to streaming content? Disney is starting four new channels, Turner has plans for paid streaming services, AT&T is planning a Netflix rival, and even Walmart is teaming up with MGM to start a channel called Vudu. 

How much video streaming does the world need?
You won't want to miss this show!

Click on this link to listen to Episode 138
Other ways to enjoy our podcast
Please support our extraordinary sponsors. Our content is free because of their generosity.
Many thanks to our friend Scott Monty for the awesome show intro. Be sure to check out his amazing newsletter The Full Monty and his new podcast available here: fullmontyshow.com.



RSM Marketing provides your much-needed outsourced marketing department. Why struggle with turnover and staffing when RSM clients receive a marketing director and all the resources they need under a flat fee monthly subscription. RSM employs dozens of specialists and experienced marketing directors to assist companies ranging from startups to market leaders with thousands of employees. Companies across the country from all categories are choosing this model to overcome marketing complexity and outpace their competition. The typical outsourcing client uses 11 RSM subject matter specialists but pays less than the cost of one FTE. RSM's mission is to achieve breakthrough for clients. RSM has been named twice to the INC 5000 list. Visit RSM for special Marketing Companion offers.


SoloSegment's Site Search Inspector illuminates a huge blind spot for marketing teams and helps them unlock the revenue trapped there. If you're like 85% of companies, you have no idea what's going on in your site's search engine. You either don't have measurements or you ignore what you have. Up to 30% of your visitors search and they could be your best customers. Site Search Inspector targets the site search customer experience with a set of proprietary measures designed to improve success. They're so convinced you're going to improve your success rates, they've tripled the free trial period to 45-days and they're offering 10% off an annual subscription. You can find this special offer on solosegment.com/companion