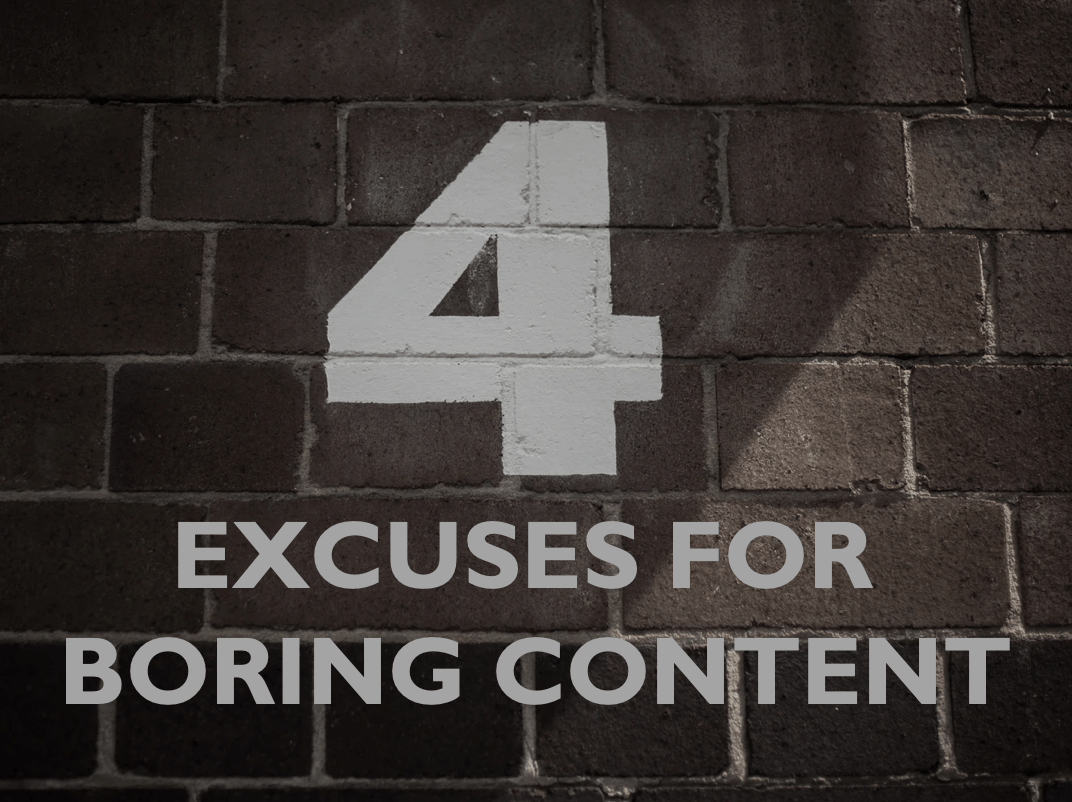 I've been in marketing "a while" (longer than a lady cares to admit), so I've heard a lot of the same marketing conversations over the years. For example, email has "died" just about every year, and nearly every year has been dubbed "The Year of Video" (including this year, by the way). Similarly, I've heard marketers in all types of organizations proffer the same (invalid) reasons for writing boring content.
The marketers I talk with don't want to create boring content that no one will ever read. They want to create fun, helpful, accessible content that people look forward to receiving.
And they can.
But they don't. Because … reasons. (And those reasons have been the same since I got into marketing back when the mail merge was an exciting new development.)
In my career, I have the opportunity to talk with marketers about the obstacles they face and how to overcome them. But for every marketer who's able to turn the ship around at his or her company, there are thousands who stay trapped.
If you feel trapped in a culture of boring content, this piece is for you.
I'll describe the four most common obstacles marketers face in their quest to create valuable content, and the secrets for getting around them …
1) I have to write for Search Engine Optimization
"But I have to stuff headlines full of keywords until they're nearly impossible to understand! It's for SEO."
Let's think about how search engine optimization helps your business and why search engine rankings are desirable: you want people to consume your content (written pieces, podcasts, videos, landing page copy, etc.), engage with that content, perhaps even sign up to continue a lasting relationship with your brand, and ultimately buy from you.
But even if your content achieves a high search engine ranking, that relationship never blossoms if people don't click on your link. A keyword-stuffed headline that's nonsensical won't inspire people to click, which negates the possibility of them reading further, much less engaging with your brand long term.
Mark Schaefer recently explained why writing for SEO can be holding your business back and suggested that actually writing for your audience provides the most benefits for most businesses.
This isn't to say that you don't need to at least consider search engine optimization, but that can't be all you think about. Andy Crestodina of Orbit Media does a fantastic job with his content, both from an SEO perspective and from a readability standpoint. Check out his tips on how to write a blog post that ranks.
2) Legal Makes Me Write Boring Content
This is the marketing writing equivalent of "the dog ate my homework:"
"I have to create boring content because of the lawyers…"
I'm a lawyer, so I can say with authority that there is no law against writing fun, accessible marketing copy for your audience!
What lawyers require of marketers can vary quite a bit. Some lawyers (allegedly) require the company name to appear in every single headline and subject line for all content (blog posts, white papers, emails…even tweets).
Or they require that copy be entirely devoid of human-sounding language.
Or they apparently take offense at breaking up walls of text into multiple paragraphs.
Or they insist that the company mission statement appear in boilerplate form in every post. And on and on.
Even if lawyers actually did say these things, don't take that as the final word on the subject. Lawyers are not unreasonable. They are risk averse, to be sure, and with good reason. But try asking what they're really worried about when they say something that would restrict your ability to create effective marketing content.
For example, if a lawyer says that your brand name has to appear in every single headline, ask why. Suggest that, instead, you design your website so that the company name is clearly evident at the top of every page, and the byline and bio for every contributing writer includes the company name.
If a lawyer says you can't use images in posts, ask why. If the issue is potential copyright infringement, suggest that you use employees' own photos, or get a subscription to a stock photo service, or hire a photographer or videographer for the company so you can create original content.
One other thing: make sure you understand what your lawyer is actually saying. Often, people have misunderstood a lawyer's advice about a specific situation and assumed it applies to all content.
For example, if your legal team axes an article because you make some unsubstantiated negative statements about another brand and they're concerned about trademark defamation, that doesn't mean you can never mention a competing brand in your content. It just means you need to approach that situation more carefully, and be sure to back up your statements with objective proof.
Don't assume that a lawyer's no in one case applies across the board. Ask for clarification.
3) Our Brand Isn't Sexy or Fun
This obstacle rears its ugly head in many forms, but the underlying meaning is the same: we create boring content because our product is boring. And doesn't that make you sad?
Traditional, B2B brands may not be "sexy," but you solve real problems and make people's lives easier. Focus on the human side of what you do as a company (and why you do it), and you'll feel a wellspring of creativity rise within you.
If you need examples of fun B2B content, here are a few of my favorites:
So don't give up. "We're not sexy" is no excuse for perpetuating a dry, joyless brand image by writing dry, joyless content.
4) That's the way we've always done it.
This might be my favorite. Because no one can ever remember why they started writing pieces this way. They've just "always done it."
This happens especially when a company has a large portfolio of products or services (see also: "solutions"). Marketing can get into a rut, creating the same content pieces for every product every time. And always under tight deadlines, so the opportunity for creativity feels minimal.
But not so fast!
Planning ahead doesn't have to be constraining: having a content calendar gives you time to think creatively about how you'll write those pieces and what additional content you could create to promote them.
Instead of slogging away at another white paper, product landing page, or targeted email, stop for a minute and take a fresh look at it.
Consider each content piece from a completely new perspective.
If you were the target reader, where would you encounter this piece of content in your buying journey?
What question or need would you have that would bring you to this piece of content?
How would you feel after reading it? Reassured? Confused? Bored?
If you're too close to the content to do this, tap a friend or colleague in another department (not another marketer on your team) to answer those questions for you.
Ask yourself if this piece of content improves the customer experience or not. And be honest: is the emotional reaction you're getting to this piece of content the one you're trying to invoke? If not, blow this thing up. Start over, this time from a reader-centric point of view.
The end of boring content
Marketers in every type of company in every vertical can (and should) write content people will actually want to read. And here's the best part!
So many marketers are still churning out dry, boring content, devoid of personality, lacking force and color. This is your opportunity to stand out just by having a voice! People need information before making a purchase (especially in a complex sales cycle like you often see in B2B).
But they get to choose the sources of information they consult, so make yours the easiest to digest source:
Use simple language
Focus on the reader's needs
Have as much fun as is appropriate given the industry and your brand personality
Still skeptical that you can sidestep these obstacles and write marketing content people will truly want to read?
Use A/B testing. See which type of content performs better in terms of getting people to complete your call to action. You'll be able to identify the highest performing content and do more of what works
And bonus: you'll have the data you need to persuade higher-ups at your organization to dedicate more budget to creating that type of content.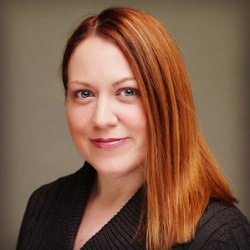 Kerry O'Shea Gorgone is a writer, lawyer, speaker and educator. She's also a Learning Designer at MarketingProfs. Kerry hosts the weekly Marketing Smarts podcast and gets people to open up about their cool collections, weird hobbies, and inspiring side hustles on Punch Out With Katie and Kerry with co-host Katie Robbert. Find Kerry on Twitter.
Image by PublicDomainPictures-14 from Pixabay.