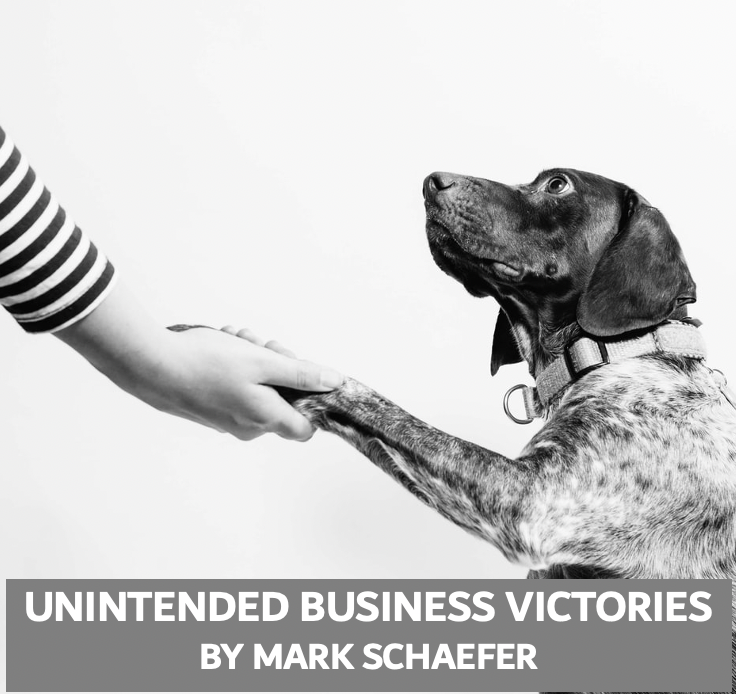 Here's a round-up of ideas and observations too short for a normal blog post. Have fun.
Unintended business victories
It's been fascinating to watch many products flourish during the pandemic, creating unexpected business victories. For example, when the pandemic started, Home Depot stores cut back staff and cleared inventory expecting a severe downturn — but the opposite happened. People turned to home improvement projects during the lock-down and sales increased 30 percent!
I would not want to be in the travel or luggage business right now, but there are many bright spots for marketers, too. Here are some non-obvious products that have had soaring sales during the crisis:
dog toys and care supplies (dog adoptions and sales have boomed)
Clearasil (mask acne!)
guns and ammo (local shooting range: "I don't know of a store in our area that has any ammo at all right now."
inflatable pools, hot tubs, and anything that holds water
boats and boat repair
arts and craft supplies
small, cheap desks
bread machines and baking supplies
bidets (afraid of toilet paper shortages?)
backyard playsets
sewing machines
nail care products
spiral-cut ham sales are up 380% since March
hair dye
security and home protection
hand tools
kayaks
water shoes
popcorn
plants and gardening supplies (up 200%)
WIFI equipment and boosters
hardware and software associated with live streaming/Zoom
bikes and bike accessories (bikes are sold out most places)
jigsaw puzzles (a vibrant secondary market has emerged for used puzzles, too!)
RVs
running shoes (sales have doubled during the pandemic)
What other non-obvious and unintended business victories are you seeing out there?
Growth marketer?
Recently posted this on LinkedIn: "What is a "growth marketer?" I am seeing this title often in LinkedIn bios. How can you be a non-growth marketer?"
Had a lot of funny responses but several people actually said it's OK to be a non-growth marketer. Of course there are plenty of businesses out there that bump along every year without growth and that can be a viable business. But in that case, do you really need marketing or do you just need people to take orders?
My word(s)!
I hate it when I write a post and later find a mistake so last November, I signed up for an app called Grammarly to help me find mistakes before I publish. Turns out it is also keeping my stats:
Since I started, I've used 4,617 unique words, which is in the 99th percentile. Bumfuzzle. Just added one more.
This analysis of the tone of my writing made me super happy: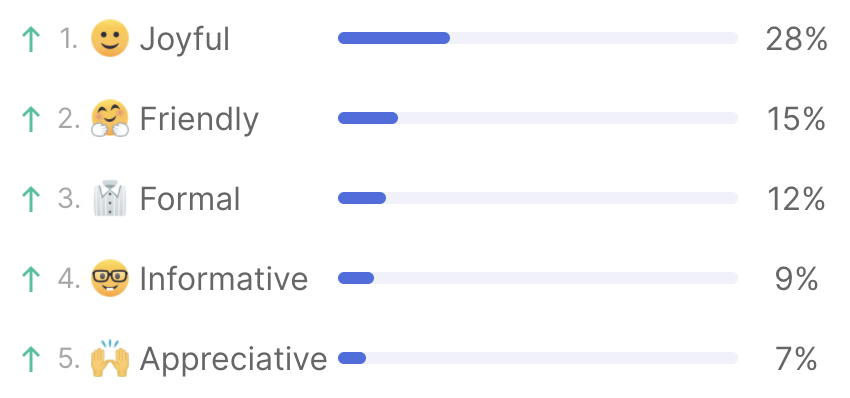 Just no
One of the greatest marketing guru myths is that your content strategy starts with your "why," or your "narrative" or the "arc of your story."
Here's the truth. Nobody cares.
Your customers/consumers only really care about THEIR why and THEIR narrative. Make them the hero of the story.
Show time
The other day my wife and I saw a Netflix documentary about the sensational JonBenét Ramsey crime, which has never been solved. Here is something you did not know about me. I was personal friends with Jon Benet's mother when I was in high school. Her maiden name was Patsy Paugh and she was Miss West Virginia at one time. I performed in some musical performances with her. Yes. I performed in musicals. Any way, she was a super nice person when I knew her I'm sad her life became so tragic in almost every way.
Yes, I can see that …
In my research for a new book I'm writing, I came across this quote from Facebook founder Mark Zuckerberg. This originated from an email on his computer that was used as evidence in a lawsuit against him:
"You can be unethical and still be legal. That's the way I live my life."
This explains a lot.
Text success
Now that universities are resuming, I'm seeing both Marketing Rebellion
and KNOWN
books being assigned as required reading to many courses, including classes at Northwestern, Boston College, Indiana University, and many others. This is the ultimate compliment for an author, I think! It has been fun "zooming" into classes for Q&A. The best questions will end up being future blog posts!
Hard news
I was asked to provide an upbeat quote for a project from a person who has devoted his life to online banner ads. Here was my quote:
"The click-through rate on banner ads is so low it is basically equivalent to the people who hit the button by mistake. Look at the data. It's not effective"
He admitted this fact was true but said he would probably not include my quote. Folks, the truth might hurt, but the truth is the truth. You cannot be credible if you don't embrace the truth.
Watch your data
Somebody sent me a newly-published report on digital marketing trends, summarized the last 12 months of data. I would not waste my time looking at it. The only data that matters is what has happened since the pandemic blew up in March. A compilation of the last year of data is literally meaningless at this point. If you're counting on "annual data" don't assume you know anything right now.
Hope you enjoyed the short takes today! I appreciate you. Thanks for reading my blog!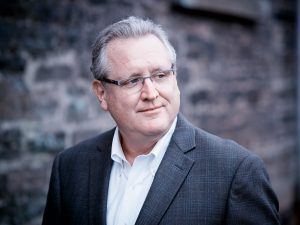 Mark Schaefer is the executive director of Schaefer Marketing Solutions. He is the author of several best-selling digital marketing books and is an acclaimed keynote speaker, college educator, and business consultant.  The Marketing Companion podcast is among the top business podcasts in the world. Contact Mark to have him speak to your company event or conference soon.